In September 1984, Kelly LeBrock was the woman in red, and Stevie Wonder was the artist singing about her. Stevie's album of songs from the hit movie The Woman In Red, starring LeBrock in the title role alongside director Gene Wilder, was a new entry on the U.S. album chart on the 22nd of that month.
The soundtrack disc had a great start in the shape of a single that was already on its way to becoming one of the biggest hits of Wonder's career. "I Just Called To Say I Love You" had been climbing the bestsellers since August, becoming a multi-million-seller that topped almost every chart that it entered around the world, from Austria to Australia and Norway to New Zealand.
The song was already at No. 1 in the U.K. (Stevie's first-ever solo No. 1 there) as it climbed to No. 9 in the States, in the week that the album made its U.S. chart debut at No. 75. Curiously, he had also been at No. 9 exactly ten years before, with "You Haven't Done Nothin'." "I Just Called" thus became Wonder's 25th top ten pop hit, a total that, at the time, was bettered only by Elvis Presley with 38 and The Beatles with 33.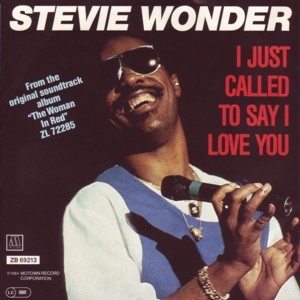 The Woman In Red featured new vocal and instrumental performances by Stevie including another top five soul single, "Love Light In Flight," and three appearances by Dionne Warwick, on "It's You," "Moments Aren't Moments" and "Weakness." The soundtrack extended his stellar history on the R&B album chart — even if that survey was not launched by Billboard magazine until 1965, two years after Recorded Live: The 12 Year Old Genius and its single "Fingertips Part 1 & 2" had both topped the U.S. pop album and singles charts respectively.
Wonder's first soul chart album entry was with Up-Tight Everything's Alright, as it was spelt, which went to No. 2 in 1966. He didn't top that listing until Talking Book did the trick early in 1973, but then there was no stopping him. The Woman In Red made it seven R&B No. 1 albums for Stevie in less than 12 years.