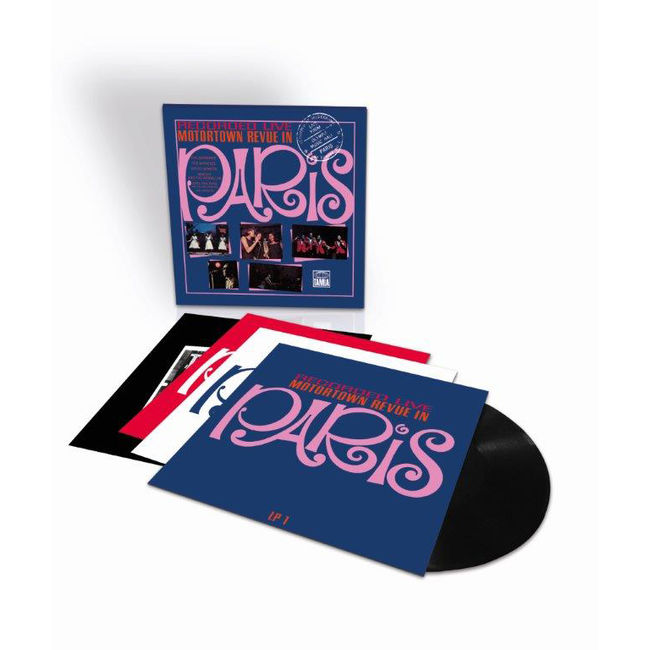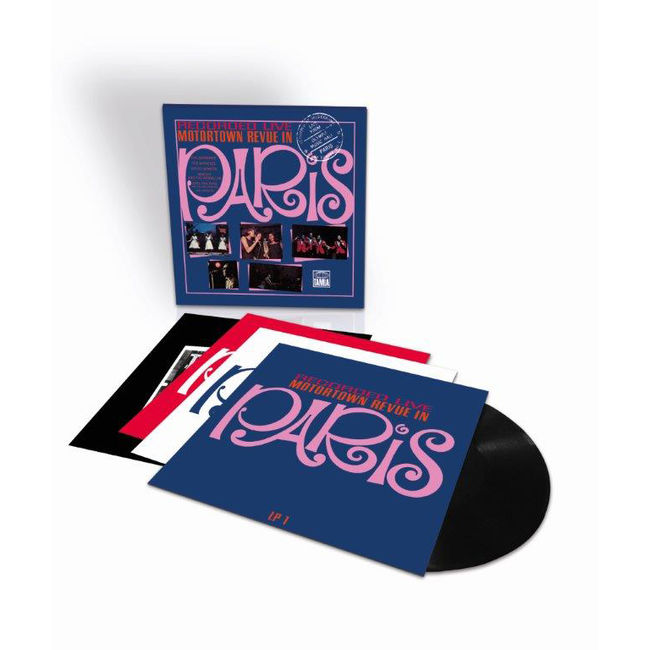 Motortown Revue Live In ParisMotown, Various Artists
£18.99
$24.99
Not available in CAD
€21.99
Unfortunately the shop is not available for your country.
---
Format: Triple Vinyl LP
Motortown Revue Live In Paris' line-up features performances from Motown/Tamla legends The Supremes, The Miracles, Stevie Wonder, Martha And The Vandellas and Earl Van Dyke.
Originally released on the Tamla Motown label in the US in 1965 and in the UK in February 1966, this live album was taken from the Paris stint of the 1965 Motortown Revue European tour. Following shows in Great Britain, Paris was the final stop on the road and this live recording captures the sounds and atmosphere of this Parisian Motown party, with the finest of Berry Gordy Jr's travelling roadshow delivering in vintage form.
Side A
Introduction by emcee Harold Kay
All For You - Earl Van Dyke Sextet
See See Rider - Earl Van Dyke Sextet
Too Many Fish In The Sea - Earl Van Dyke Sextet ^
Side B
Heat Wave - Martha & The Vandellas *
Wild One - Martha & The Vandellas *
If I Had A Hammer - Martha & The Vandellas ^
Nowhere To Run - Martha & The Vandellas ^
Dancing In The Street - Martha & The Vandellas ^
Side C
Jazz-Blues Instrumental - Stevie Wonder *
Make Someone Happy - Stevie Wonder *
Hi-Heel Sneakers - Stevie Wonder ^
Funny How Time Slips Away - Stevie Wonder
Fingertips - Stevie Wonder ^
Side D
Introduction by emcee Harold Kay - Harold Kay
All About My Girl - Earl Van Dyke Sextet *
Too Many Fish In The Sea - Earl Van Dyke Sextet *
Soul Stomp - Earl Van Dyke Sextet *
Come See About Me - The Supremes *
Side E
Baby Love The Supremes ^
People The Supremes *
Somewhere The Supremes ^
Stop! In The Name Of Love The Supremes ^
You're Nobody Til Somebody Loves You The Supremes
Shake The Supremes
Side F
I Gotta Dance To Keep From Crying - The Miracles *
That's What Love Is Made Of - The Miracles
Wives And Lovers - The Miracles *
OOO Baby Baby - The Miracles
Come On Do The Jerk - The Miracles *
Mickey's Monkey [unedited version] - The Miracles *
^ from original LP, issued November 1965 (U.S.), February 1966 (U.K./Europe)
+ included as bonus track on reissue/compilation
* PREVIOUSLY UNRELEASED