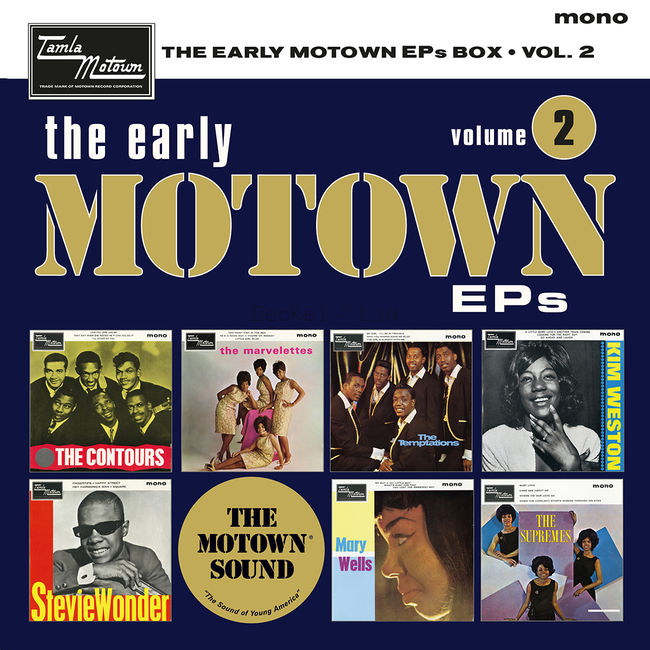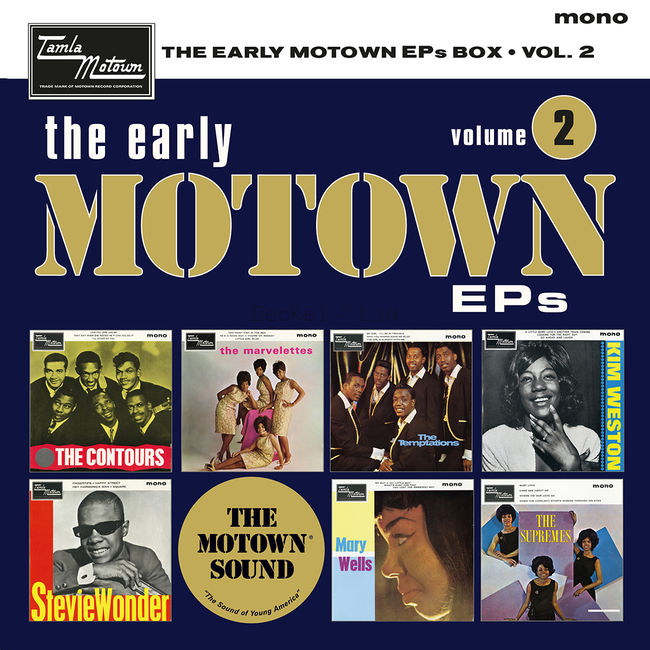 The Early Motown EPs Volume 2Motown, Various Artists
£26.99
$35.99
Not available in CAD
€29.99
Unfortunately the shop is not available for your country.
---
Format: Vinyl Box Set
clearance
March 1965, saw the release in the UK of five Tamla Motown EP's from The Contours, The Marvelettes, The Temptations, Kim Weston and Stevie Wonder. Following these just two months later came another batch that included a Mary Wells and a Supremes set capitalising on the recent chart success the girls had achieved. Motown was unstoppable force and these EPs uniquely showcased the talented young Motown performers who would become part of our Musical landscape.
The seven EP's or extended play records featured on this second box set chronicle the peculiar phenomena of the UK Motown EP catalogue. This set is a collectors' dream set with each of the originals fetching sky high prices (If you can find them) on the classic vinyl resale market. Some like the Kim Weston, The Marvelettes and The Contours being very rarely seen.
The box set is a beautifully reproduced recreation of the TME series in faithful 'Garrod and Lofthouse' style covers these EP's will be cherished by collectors wishing to complete their collections, filling gaps and brand new vinyl enthusiasts who will appreciate the opportunity to own a slice of Motown history.
Tracklist:
EP1 - The Contours
A - Can You Jerk Like Me
A - That Day When She Needed Me
B - Can You Do It
B - I'll Stand By You

EP2 - The Marvelettes
A - Too Many Fish In The Sea
A - He's A Good Guy (Yes He Is)
B - You're My Remedy
B - Little Girl Blue

EP3 - The Temptations
A - My Girl
A - I'll Be In Trouble
B - (Girl) Why You Wanna Make Me Blue
B - The Girls Alright With Me

EP4 - Kim Weston
A - A Little More Love
A - Another Train Coming
B - Looking For The Right Guy
B - Go Ahead And Laugh

EP5 - Stevie Wonder
A - Fingertips
A - Happy Street
B - Hey Harmonica Man
B - Square

EP6 - Mary Wells
A - My Guy
A - Oh Little Boy (What Did You Do To Me)
B - What's Easy For Two Is So Hard For One
B - You Lost The Sweetest Boy

EP7 - The Supremes' Hits
A - Where Did Our Love Go
A - Baby Love
B - Come See About Me
B - When The Lovelight Starts Shining Through His Eyes