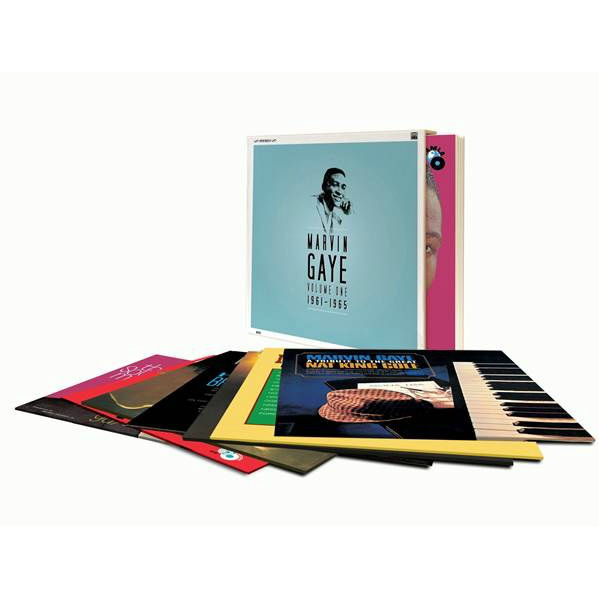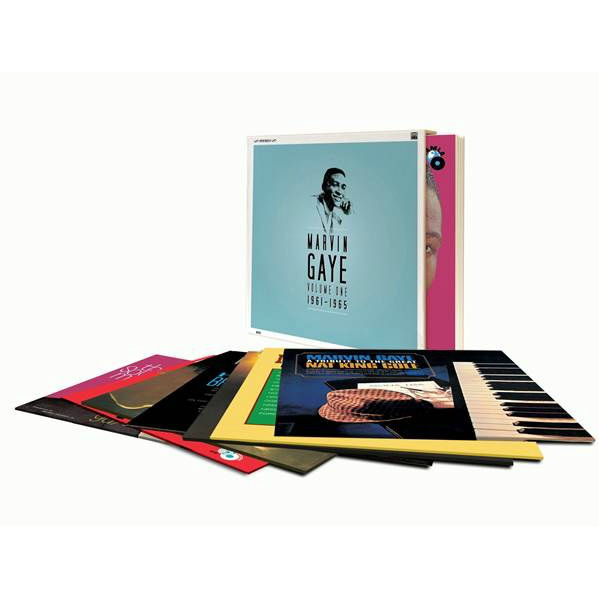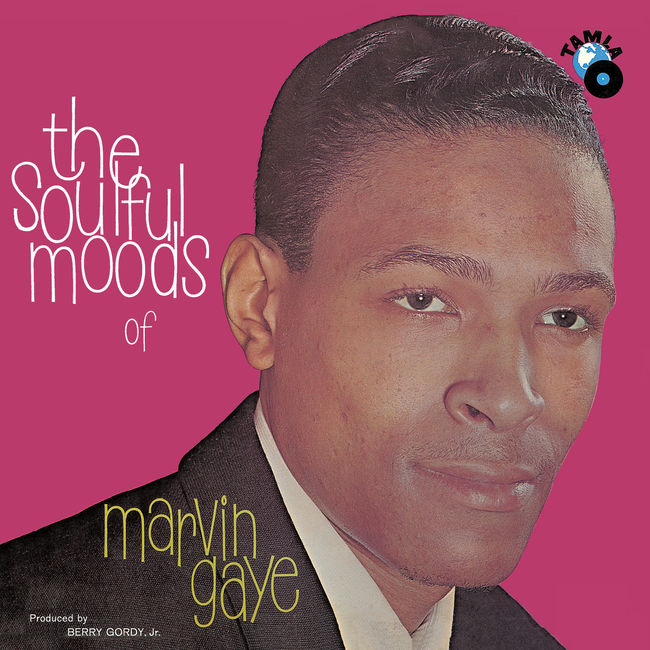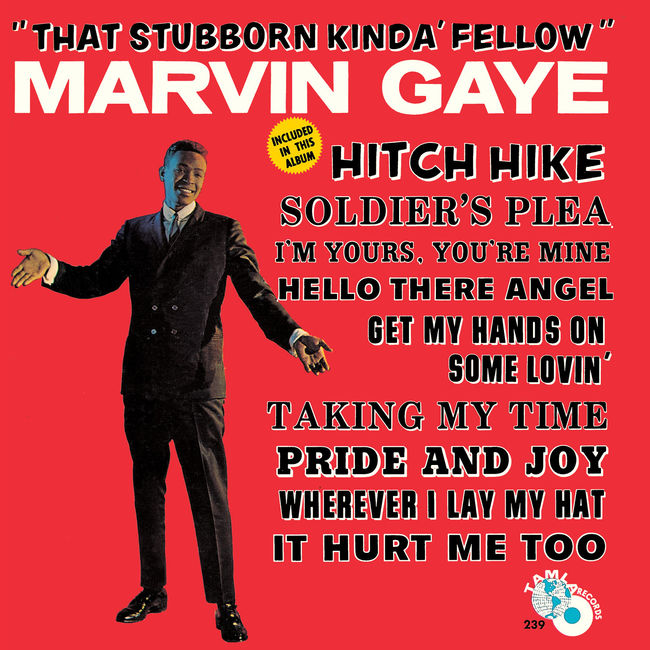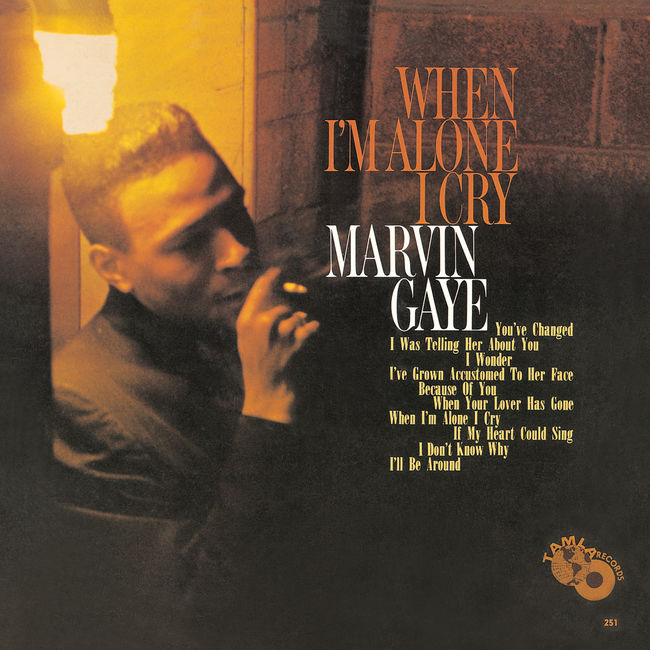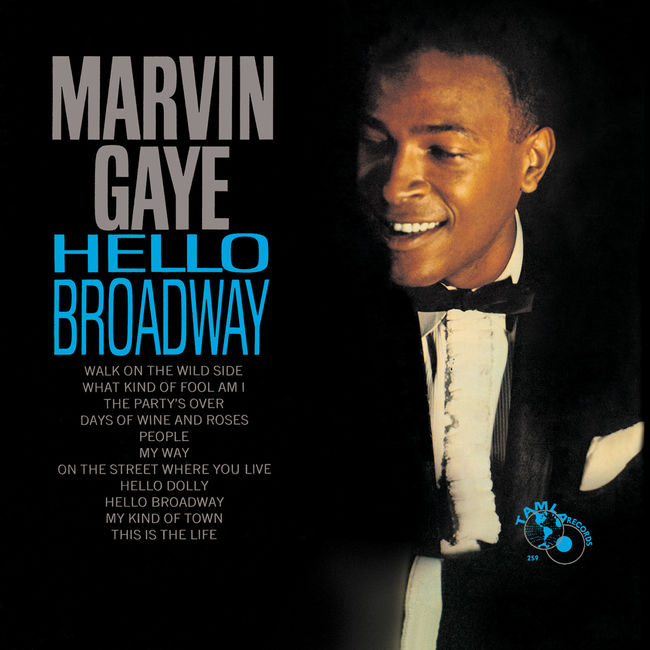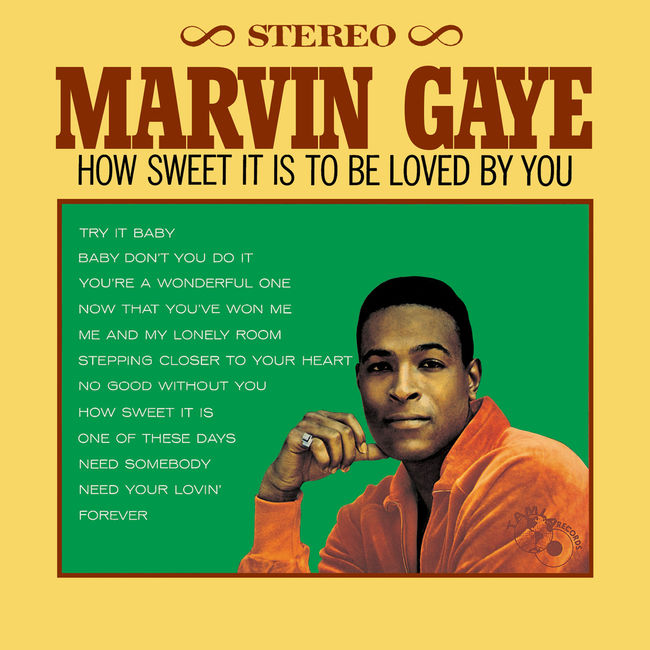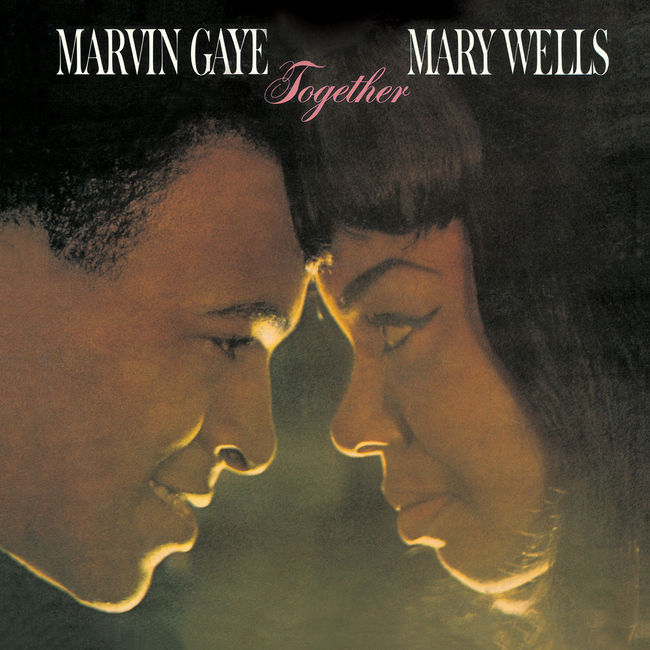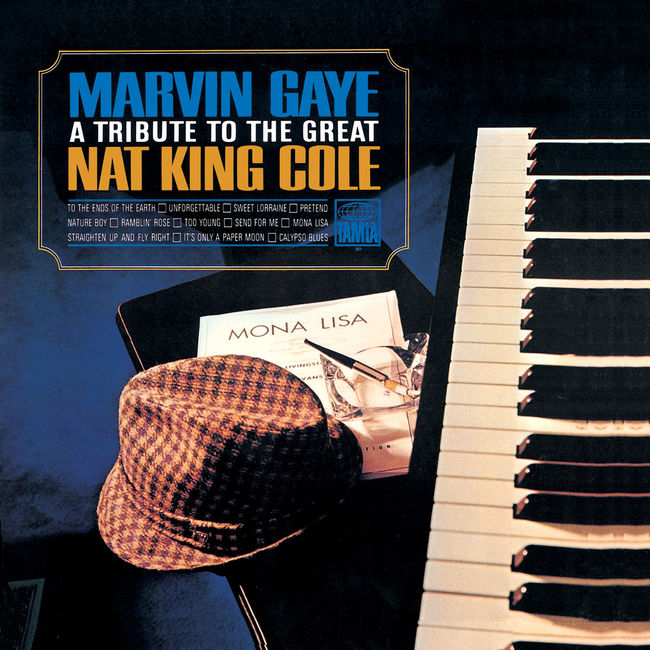 Vol. 1: 1961-1965Marvin Gaye
£20.00
$30.00
$166.99
€25.00
Unfortunately the shop is not available for your country.
---
Format: Vinyl Box Set
USM are pleased to announce the release of Marvin Gaye: 1961-1965, a collection of his first seven studio albums on 180g vinyl in one fantastic box.
This includes the stereo mixes of The Soulful Moods Of Marvin Gaye, That Stubborn Kind Of Fellow and When I'm Alone I Cry released as LPs for the first time ever.
Marvin Gaye was originally a member of The Marquees, later known as The New Moonglows under co-founder Harvey Fuqua's direction. The group recorded several sides for Chess in 1959, including the song "Mama Loocie", which was Marvin's first lead vocal recording. The group found work as session singers for established acts such as Chuck Berry, singing on the hits "Back in the U.S.A." and "Almost Grown". In 1960 the group disbanded and Marvin relocated to Detroit with Fuqua where he signed with Tri-Phi Records as a session musician. Impressed by the singer, Motown president Berry Gordy fought Fuqua on his contract with Marvin and shortly afterwards, Marvin signed with Motown subsidiary Tamla.
In 1962, he found success as co-writer of the Marvelettes hit, "Beechwood 4-5789". His first solo hit, "Stubborn Kind of Fellow", was later released that September, reaching number 8 on the R&B chart and number 46 on the Billboard Hot 100. He reached the top 50 with the dance song, "Hitch Hike", speaking at number 30 on the Hot 100. "Pride and Joy" became his first top ten single after its release in 1963.
In 1964, he recorded a successful duet album with singer Mary Wells titled Together, which reached 42 on the pop album chart. The album's two-sided single, including "Once Upon a Time" and "What's the Matter With You Baby", each reached the top 20. Marvin's next solo hit, "How Sweet It Is (To Be Loved By You)", written for him by Holland-Dozier-Holland, reached number 6 on the Hot 100 and reached the top 50 in the UK.
Commonly referred to as the 'Prince of Soul', Marvin Gaye helped to shape the sound of Motown Records during this period and was one of the greatest voices to emerge from the label. Here we celebrate his early years, the first of three vinyl boxed sets spanning his catalogue.
Tracklisting
THE SOULFUL MOODS OF MARVIN GAYE
SIDE A
1. MASQUERADE
2. FUNNY VALENTINE
3. WITCHCRAFT
4. EASY LIVING
5. HOW DEEP THE OCEAN
SIDE B
1. LOVE FOR SALE
2. ALWAYS
3. HOW HIGH THE MOON
4. LET YOUR CONSCIENCE BE YOUR GUIDE
5. NEVER LET YOU GO
6. YOU DON'T KNOW WHAT LOVE IS
THAT STUBBORN KIND OF FELLOW
SIDE A
1. STUBBORN KIND OF FELLOW
2. PRIDE & JOY
3. HITCH HIKE
4. GET MY HANDS ON SOME LOVIN'
5. WHEREVER I LAY MY HAT
SIDE B
1. SOLDIER'S PLEA
2. IT HURT ME TOO
3. TAKING MY TIME
4. HELLO THERE ANGEL
5. I'M YOURS, YOU'RE MINE
WHEN I'M ALONE I CRY
SIDE A
1. YOU'VE CHANGED
2. I WAS TELLING HER ABOUT YOU
3. I WONDER
4. I'LL BE AROUND
5. BECAUSE OF YOU
SIDE B
1. I DON'T KNOW WHY
2. I'VE GROWN ACCUSTOMED TO HER FACE
3. WHEN YOUR LOVER HAS GONE
4. WHEN I'M ALONE I CRY
5. IF MY HEART COULD SING
HELLO BROADWAY....THIS IS MARVIN!
SIDE A
1. HELLO BROADWAY
2. PEOPLE
3. THE PARTY'S OVER
4. ON THE STREET WHERE YOU LIVE
5. WHAT KIND OF FOOL I AM
6. MY KIND OF TOWN
SIDE B
1. THE DAYS OF WINE AND ROSES
2. THIS IS THE LIFE
3. MY WAY
4. HELLO DOLLY
5. WALK ON THE WILD SIDE
TOGETHER with Mary Wells
SIDE A
1. ONCE UPON A TIME
2. DEED I DO
3. UNTIL I MET YOU
4. TOGETHER
5. (I love you) FOR SENTIMENTAL REASONS
SIDE B
1. THE LATE LATE SHOW
2. AFTER THE LIGHTS GO DOWN LOW
3. SQUEEZE ME
4. WHAT'S THE MATTER WITH YOU BABY
5. YOU CAME A LONG WAY FROM ST.LOUIS
HOW SWEAT IT IS TO BE LOVED BY YOU
SIDE A
1. YOU'RE A WONDERFUL ONE
2. HOW SWEET IT IS (TO BE LOVED BY YOU)
3. TRY IT BABY
4. BABY DON'T YOU DO IT
5. NEED YOUR LOVIN' (WANT YOU BACK)
6. ONE OF THESE DAYS
SIDE B
1. NO GOOD WITHOUT YOU
2. STEPPING CLOSER TO YOUR HEART
3. NEED SOMEBODY
4. ME AND MY LONELY ROOM
5. NOW THAT YOU'VE WON ME
6. FOREVER
A TRIBUTE TO NAT KING COLE
SIDE A
1. NATURE BOY
2. RAMBLIN' ROSE
3. TOO YOUNG
4. PRETEND
5. STRAIGHTEN UP AND FLY RIGHT
6. MONA LISA
SIDE B
1. UNFORGETTABLE
2. TO THE ENDS OF THE EARTH
3. SWEET LORRAINE
4. IT'S ONLY A PAPER MOON
5. SEND FOR ME
6. CALYPSO BLUES
Disc 1
1
(I'm Afraid) The Masquerade Is Over
2
My Funny Valentine
3
Witchcraft
4
Easy Living
5
How Deep Is The Ocean (How High Is The Sky)
6
Love For Sale
7
Always
8
How High The Moon
9
Let Your Conscience Be Your Guide
10
Never Let You Go (Sha Lu Bop)
11
You Don't Know What Love Is
Disc 2
1
Stubborn Kind Of Fellow
2
Pride And Joy
3
Hitch Hike
4
Get My Hands On Some Lovin'
5
Wherever I Lay My Hat (That's My Home)
6
Soldier's Plea
7
It Hurt Me Too
8
Taking My Time
9
Hello There Angel
10
I'm Yours, You're Mine
Disc 3
1
You've Changed
2
I Was Telling Her About You
3
I Wonder
4
I'll Be Around
5
Because Of You
6
I Don't Know Why
7
I've Grown Accustomed To Her Face
8
When Your Lover Has Gone
9
When I'm Alone I Cry
10
If My Heart Could Sing
Disc 4
1
Hello Broadway
2
People
3
The Party's Over
4
On The Street Where You LIve
5
What Kind Of Fool Am I
6
My Kind Of Town
7
Days Of Wine And Roses
8
This Is The Life
9
My Way
10
Hello Dolly
11
Walk On The Wild Side
Disc 5
1
Once Upon A Time
2
Deed I Do
3
Until I Met You (Corner Pocket)
4
(I Love You) For Sentimental Reasons
5
The Late Late Show
6
After The Lights Go Down Low
7
Just Squeeze Me (But Don't Tease Me)
8
What's The Matter With You Baby
9
You Came A Long Way From St. Louis
Disc 6
1
You're A Wonderful One
2
How Sweet It Is (To Be Loved By You)
3
Try It Baby
4
Baby Don't You Do It
5
Need Your Lovin' (Want You Back)
6
One Of These Days
7
No Good Without You
8
Stepping Closer To Your Heart
9
Need Somebody
10
Me And My Lonely Room
11
Now That You've Won Me
12
Forever
Disc 7
1
Nature Boy
2
Ramblin Rose
3
Too Young
4
Pretend
5
Straighten Up And Fly Right
6
Mona Lisa
7
Unforgettable
8
To The Ends Of The Earth
9
Sweet Lorraine
10
It's Only A Paper Moon
11
Send For Me
12
Calypso Blues