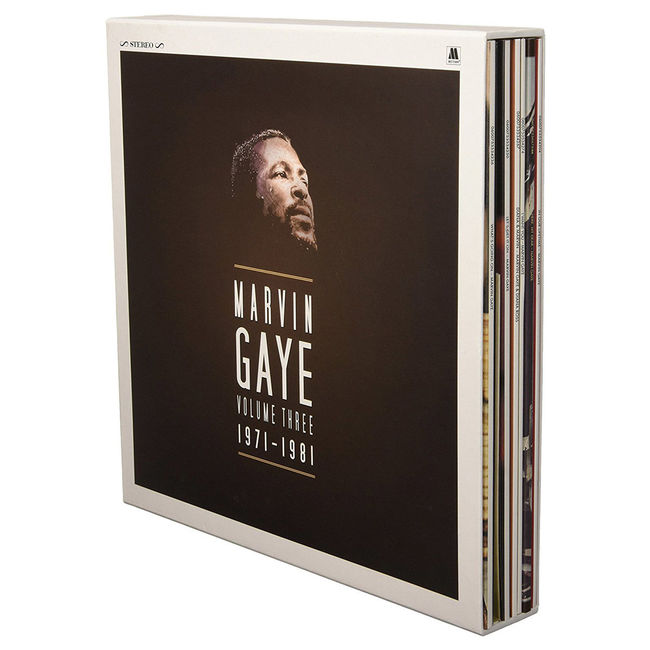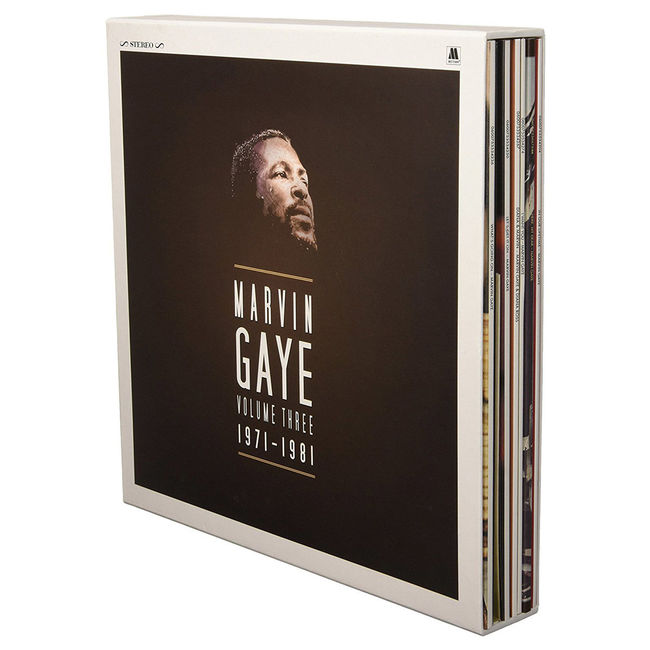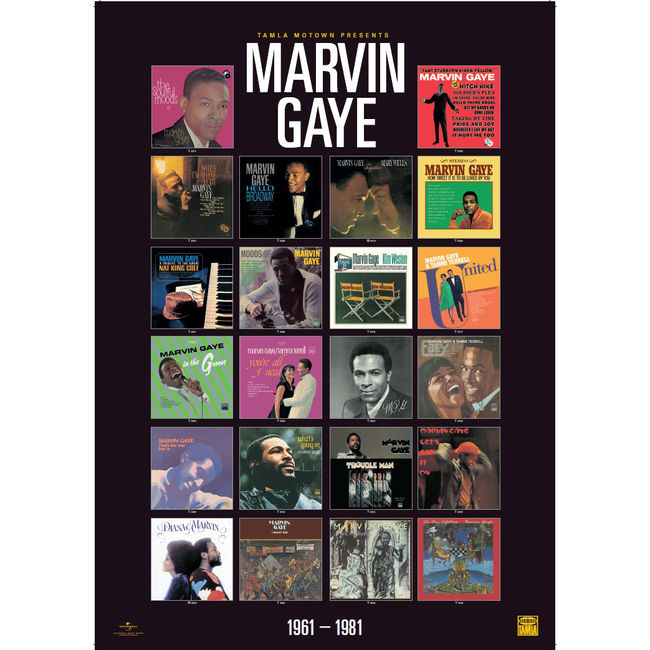 Vol.3: 1971-1981 + A2 PosterMarvin Gaye
£79.99
$114.99
Not available in CAD
€102.99
Unfortunately the shop is not available for your country.
---
Format: Vinyl Box Set
Following on from the previously released Volume One and Two, Marvin Gaye Volume Three: 1971-1981 is a collection of his last seven Motown studio albums on 180g vinyl in one fantastic box.
Commonly referred to as the 'Prince of Soul', Marvin Gaye helped to shape the sound of Motown Records and was one of the greatest voices to emerge from the label.
On June 1, 1970, Gaye recorded his new composition What's Going On in Hitsville U.S.A., inspired by an idea from Renaldo "Obie" Benson of the Four Tops after he witnessed an act of police brutality at an anti-war rally in Berkeley. Released in 1971, it reached number one on the R&B charts within a month, staying there for five weeks. It also reached the top spot on Cashbox's pop chart for a week and reached number two on the Hot 100 and the Record World chart, selling over two million copies. The album became Gaye's first million-selling album launching two more top ten singles, Mercy Mercy Me (The Ecology) and Inner City Blues. One of Motown's first autonomous works, its theme and segue flow brought the concept album format to rhythm and blues. An AllMusic writer later cited it as "...the most important and passionate record to come out of soul music, delivered by one of its finest voices."For the album, Gaye received two Grammy Award nominations and several NAACP Image Awards. The album also topped Rolling Stone's year-end list as its album of the year. Billboard magazine named Gaye Trendsetter of the Year following the album's success.
In 1971, Gaye signed a new deal with Motown worth $1 million, making it the most lucrative deal by a black recording artist at the time. Gaye first responded to the new contract with the soundtrack and subsequent score, Trouble Man, released in late 1972. In 1973, Gaye released the Let's Get It On album. Its title track became Gaye's second number one single on the Hot 100. The album subsequently stayed on the charts for two years and sold over three million copies. The album was later hailed as "a record unparalleled in its sheer sensuality and carnal energy." Other singles from the album included Come Get to This, which recalled Gaye's early Motown soul sound of the previous decade, while the suggestive You Sure Love to Ball reached modest success but received tepid promotion due to the song's sexually explicit content.
Marvin's final duet project, Diana & Marvin, with Diana Ross, garnered international success despite contrasting artistic styles. Gaye's next studio album, I Want You, followed in 1976 with the title track becoming a number-one R&B hit. That summer, Gaye embarked on his first European tour in a decade, starting off in England.
In December 1978, Gaye issued Here, My Dear, inspired by the fallout of his first marriage to Anna Gordy. Recorded as an intent for Gaye to remit a portion of its royalties to her to receive alimony payments, it flopped on the charts but turned into a cult album in later years. Gaye then reworked Love Man from its original disco concept to another personal album invoking religion and the possible end time from a chapter in the Book of Revelation. Titling the album, In Our Lifetime?, Gaye worked on the album for much of 1980 in London studios such as Air and Odyssey Studios.
What's Going On
Side A
1. What's Going On
2. What's Happening Brother
3. Flyin' High (In The Friendly Sky)
4. Save The Children
5. God Is Love
6. Mercy Mercy Me (The Ecology)
Side B
1. Right On
2. Wholy Holy
3. Inner City Blues (Make Me Wanna Holler)
Trouble Man
Side A
1. Main Theme From Trouble Man (2)
2. "T" Plays It Cool
3. Poor Abbey Walsh
4. Break In (Police Shoot Big)
5. Cleo's Apartment
6. Trouble Man
7. Theme From Trouble Man
Side B
1. "T" Stands For Trouble
2. Main Theme From Trouble Man (1)
3. Life Is A Gamble
4. Deep-In-It
5. Don't Mess With Mister "T"
6. There Goes Mister "T"
Let's Get It On
Side A
1. Let's Get It On
2. Please Don't Stay (once You Go Away)
3. If I Should Die Tonight
4. Keep Gettin' It On
Side B
1. Come Get To This
2. Distant Lover
3. You Sure Love To Ball
4. Just To Keep You Satisfied
Diana & Marvin
Side A
1. You Are Everything
2. Love Twins
3. Don't Knock My Love
4. You're A Special Part Of Me
5. Pledging My Love
Side B
1. Just Say, Just Say
2. Stop, Look, Listen (To Your Heart)
3. I'm Falling In Love With You
4. My Mistake (Was To Love You)
5. Include Me In Your Life
I Want You
Side A
1. I Want You (Vocal)
2. Come Live With Me Angel
3. After The Dance (Instrumental)
4. Feel All My Love Inside
5. I Wanna Be Where You Are
Side B
1. I Want You (Intro Jam)
2. All The Way Around
3. Since I Had You
4. Soon I'll Be Loving You Again
5. I Want You (Intro Jam)
6. After The Dance (Vocal)
Here, My Dear
Side A
1. Here, My Dear
2. I Met A Little Girl
3. When Did You Stop Loving Me, When Did I Stop Loving You
4. Anger
Side B
1. Is That Enough
2. Everybody Needs Love
3. Time To Get It Together
Side C
1. Sparrow
2. Anna's Song
3. When Did You Stop Loving Me, When Did I Stop Loving You (Instrumental)
Side D
1. A Funky Space Reincarnation
2. You Can Leave, But It's Going To Cost You
3. Falling In Love Again
4. When Did You Stop Loving Me, When Did I Stop Loving You (Reprise)
In Our Lifetime
Side A
1. Praise
2. Life Is For Learning
3. Love Party
4. Funk Me
Side B
1. Far Cry
2. Love Me Now Or Love Me Later
3. Heavy Love Affair
4. In Our Lifetime