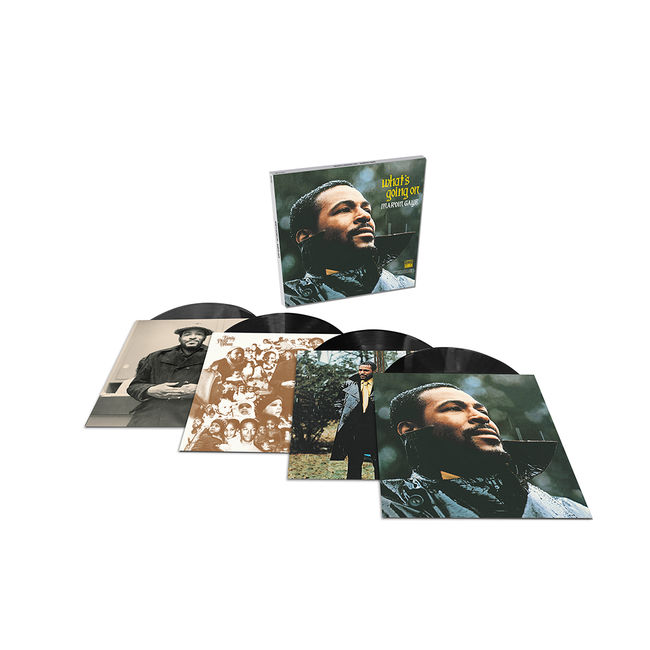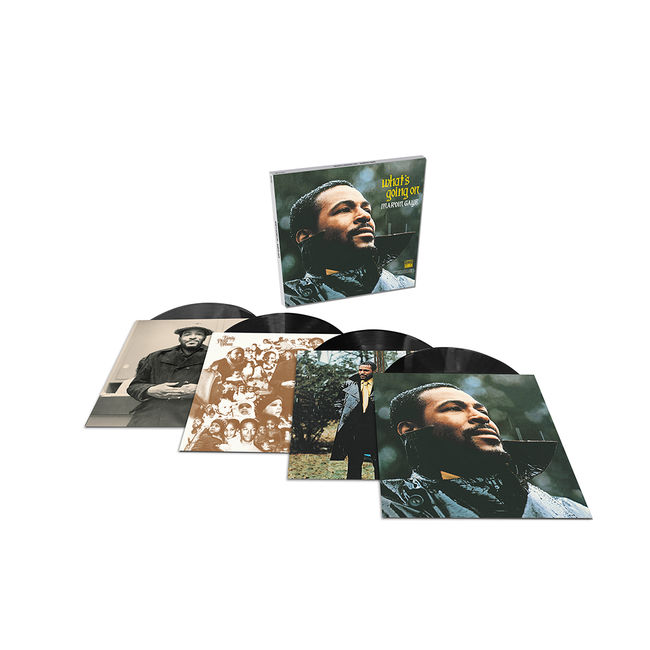 What's Going On: Deluxe Edition – Half Speed MasterMarvin Gaye
£36.99
$48.99
Not available in CAD
€44.99
Unfortunately the shop is not available for your country.
---
Format: Quadruple Vinyl LP
Marvin's masterwork, and the single most revered album in Motown history. You may think you know it, but dive deep – again and again – for the subtleties of voice and musicianship, alongside the timeless lyrics.
Four LPs with inner picture sleeves housed in a hard card slipcase.
Released on 21st May 1971 Marvin Gaye's What's Going On is regarded by many as one of, if not the best soul album of all time.
Recorded in several locations including the famous Hitsville U.S.A. in Detroit and The Sound Factory in West Hollywood, it was also the first album that gave a credit the Funk Brothers, Motowns legendary house band.
The original album consisted of nine songs mainly focused on the suffering and injustice in the US in the late 1960's from the eyes of a US veteran on returning home after fighting in the war in Vietnam.
The 2 CD Deluxe Edition released in 2001 brought together the original LP as released, the "Detroit Mix" of the album, which was rejected at the time, plus a live recording from The Kennedy Centre Washington from 1st May 1972 which was his first live show after the death of his close friend and singing partner Tammi Terrell.
Both versions of the album and the live recordings feature on the 4LP Deluxe Vinyl Edition of What's Going On plus several other tracks including mono versions of the singles taken from the LP.
Tracklist:
Original LP Release
Side one
1. What's Going On
2. What's Happening Brother
3. Flyin' High (In The Friendly Sky)
4. Save The Children
5. God Is Love
6. Mercy Mercy Me (The Ecology)

Side two
7. Right On
8. Wholy Holy
9. Inner City Blues (Make Me Wanna Holler)

Original Detroit Mix
Side three
10. What's Going On
11. What's Happening Brother
12. Flyin' High (In The Friendly Sky)
13. Save The Children
14. God Is Love
15. Mercy Mercy Me (The Ecology)

Side four
16. Right On
17. Wholy Holy
18. Inner City Blues (Make Me Wanna Holler)

Live At The Kennedy Center (May 1 1972)
Side five
19. Sixties Medley - That's The Way Love Is / You / I Heard It Through The Grapevine / Little Darling (I Need You) / You're All I Need To Get By / Ain't Nothing Like The Real Thing / Your Precious Love / Pride And Joy / Stubborn Kind Of Fellow
20. Right On

Side six
21. Wholy Holy
22. Inner City Blues (Make Me Wanna Holler)
23. What's Going On
24. What's Happening Brother

Side Seven
25. Flyin' High (In The Friendly Sky)
26. Save The Children
27. God Is Love
28. Stage Dialogue
29. Inner City Blues (Make Me Wanna Holler) (Reprise) 5:12
30. What's Going On (Reprise)

Additional tracks
Side Eight
31. What's Going On (Single version)
32. God Is Love (Single version)
33. Sad Tomorrows
34. Head Title (AKA "Distant Lover")
35. What's Going On (Rhythm & Strings mix)