Gladys Knight & The Pips: London Calling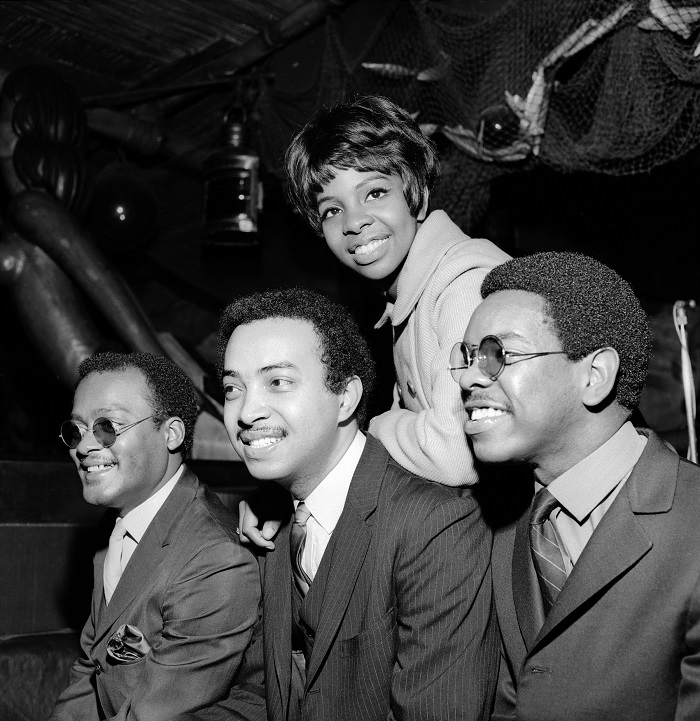 From left: Edward Patten, William Guest, Gladys Knight, Merald Knight in December 1967
Towards the end of 1967, Gladys Knight & the Pips were in demand as never before. "I Heard It Through The Grapevine," their latest release on Motown's Soul label, was racing towards the top of the Billboard R&B and pop charts. Even so, Motown found time in that busy schedule for a U.K. promotional trip, and the group traveled to London in late November.
The British had earned Knight time. That August, the quartet's second Soul single, "Take Me In Your Arms And Love Me," was a U.K. Top 20 hit – their first major pop chart success anywhere in the world since joining Motown. For this, they and the record company had to thank pirate radio stations off Britain's coast, broadcasting a diet of near-constant pop music, including many American artists. Until then, listeners' choice was limited to the BBC Light Programme – which featured not only music in its schedules – and at night, Radio Luxembourg.
One of Gladys Knight & the Pips' biggest fans was DJ Mike Raven, heard on the Radio Atlanta and Radio Invicta pirate ships. So when the first of what was to become a highly successful series of compilation albums, British Motown Chartbusters, was released, it was no surprise who was responsible for the liner notes. "In particular," Raven wrote, "I must draw your attention to a group who have not been in the Motown stable for that long, but who are amongst my all-time favourites." This was, of course, Gladys & the Pips, represented on the LP by "Take Me In Your Arms And Love Me." Raven added, "For me, this song alone is worth the price of the album."
The photo above was taken at the Beachcomber Bar of the May Fair Hotel in central London, after Gladys & the Pips played the Saville Theatre on Dec. 3, 1967. Their show included "Take Me In Your Arms And Love Me," "Everybody Needs Love," "I Heard It Through The Grapevine" and their first Motown 45, "Just Walk In My Shoes," together with their pre-Motown hit, "Every Beat Of My Heart." Blues & Soul magazine hailed not only the foursome's soulful sound, but also their dance routines: "so slick that it became no surprise why so many American performers call Gladys Knight and the Pips THE best group in the Union."
Yet despite the quartet's U.K. promotional presence on stage, radio and TV, "I Heard It Through The Grapevine" was not a hit there, failing to reach the Top 40 that Christmas. The success of British Motown Chartbusters – a Top 5 album – may have been some compensation, but the group had to wait five years before gaining a second Top 20 entry: "Help Me Make It Through The Night." Even so, Gladys kept crossing the Atlantic over the decades, and most recently played London's Royal Albert Hall this summer. Once again, British fans took her in their arms, so to speak, and loved her.
This iconic image is now available to purchase as part of our Motown Collection with Sonic Editions, who make limited edition high quality and affordable photographic prints. Click here to buy this image now or view the rest of the collection.