Story
Story Behind The Image
THE JACKSON 5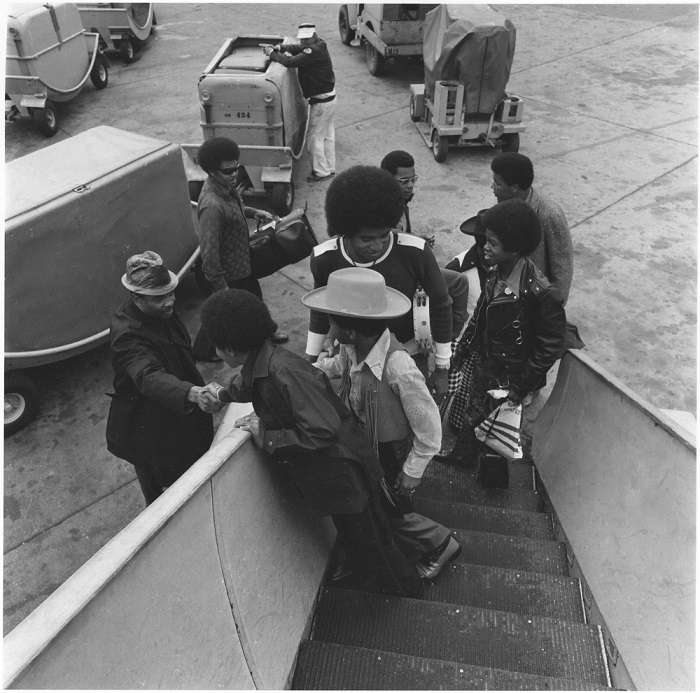 Michael, Jermaine, Jackie, Tito and Marlon take to the skies once more, circa 1970
The Jackson 5's nomadic life as superstars of the 1970s is captured perfectly in this one photograph, the brothers climbing aboard another airplane for another flight to another show, somewhere in the world. "The crazy days of the big Jackson 5 tours began right after the successes we had with our records," wrote Michael Jackson in his autobiography, Moonwalk. "It started with a big arena tour in the fall of 1970; we played huge halls like Madison Square Garden and the Los Angeles Forum."
Actually, it started earlier. The first "official" Motown concert by the brothers – Michael, Jermaine, Tito, Jackie, Marlon – took place May 2, 1970, in Philadelphia as their second hit single, "ABC," ruled the top of the Billboard Hot 100. "It was like the beginning of a small earthquake: a first tremor felt in the balls of our feet," remembered Jermaine in his own book, You Are Not Alone. The group was just a few songs into its set at the Spectrum in Philadelphia, when hundreds of fans from an audience of 16,000 rushed the stage to be closer to their idols. This was the beginning of Jacksonmania.
Such adoration wasn't evident the previous year, when the Jackson 5 opened for Diana Ross & the Supremes August 16 at the Los Angeles Forum. Other support acts included the Edwin Hawkins Singers and Motown's Edwin Starr. The Jacksons were just beginning to attract national attention: five days earlier, they had been introduced to media at the Daisy Club in Beverly Hills, Los Angeles, at a reception hosted by Diana Ross. On Oct. 7, the group's first Motown single, "I Want You Back," was released. On Oct. 18, they performed it for a national TV audience on ABC-TV's The Hollywood Palace. Soon, the single sizzled onto the charts, en route to No. 1 in January.
The Jackson 5 returned to the Forum in Los Angeles on Saturday, June 20, 1970, drawing more than 18,000 fans and grossing $105,000 – a record for the venue at the time. The set included their first three No. 1 hits, "I Want You Back," "ABC" and "The Love You Save," as well as covers of the Miracles' "Who's Lovin' You," the Isley Brothers' "It's Your Thing" and James Brown's "There Was A Time," among others. That concert and a 1972 Jackson 5 performance at the Forum was released in 2010 as a two-CD set, Live At The Forum, and is now available on digital streaming services.
Boarding aircraft once again, the Jackson 5 set off on their first national U.S. tour in the fall of 1970, with shows in Boston, Cincinnati, Memphis, New York, Detroit, Chicago, Nashville and other cities through December. Almost all were sell-outs in major stadiums. They continued to play a packed schedule of concerts through 1971-72, then embarked on a European tour in November '72, with shows in Holland, Germany, France and England. "I recall most of that time as a period of extreme closeness with my brothers," declared Michael in Moonwalk. Never can say goodbye…
Story

Story Behind The Image

Story Behind The Im ...

Read story

Story

Lionel Richie: Can't Slo ...

Lionel Richie: Can& ...

Read story

Story

MOTOWN'S TOP 10: THE UNEXPEC ...

MOTOWN'S TOP 10: ...

Read story
See all stories