ARTIST OF THE WEEK
Motown makes their light shine. The quartet from Atlanta, Georgia, had earned respect and one major hit by the time they signed to Berry Gordy's business in 1966. But then the royal circle at Hitsville knights them with no fewer than twelve Top 10 R&B chartbusters, plus a pop crossover giant which could only be held from No. 1 by The Beatles: "I Heard It Through The Grapevine."
FAST FACTS:
Motown Milestone: Gladys and her guys' first hit for Motown, "Everybody Needs Love" – with credit due to writer/producer Norman Whitfield – is released on June 12, 1967.
First hit: "Every Beat Of My Heart"
Biggest hit: "I Heard It Through The Grapevine"
Top album: Neither One Of Us
Career highlight: A double Grammy® win in 1973
KEY INFORMATION:
Gladys and older brother Merald ("Bubba") Knight embark on a singing career in their Atlanta hometown in the 1950s, enlisting various relatives and calling themselves the Pips. Hard work and good luck combine with talent and, eventually, deliver an arresting hit in 1961, "Every Beat Of My Heart."
When Motown Records comes calling in '66, the quartet – by now featuring Gladys, Bubba and cousins Edward Patten and William Guest – exercise their democratic right. "The guys voted to sign," Gladys says years later. "I voted 'no.' I got out-voted." The quartet puts pen to paper in Detroit and is placed under the banner, logically, of the company's Soul label.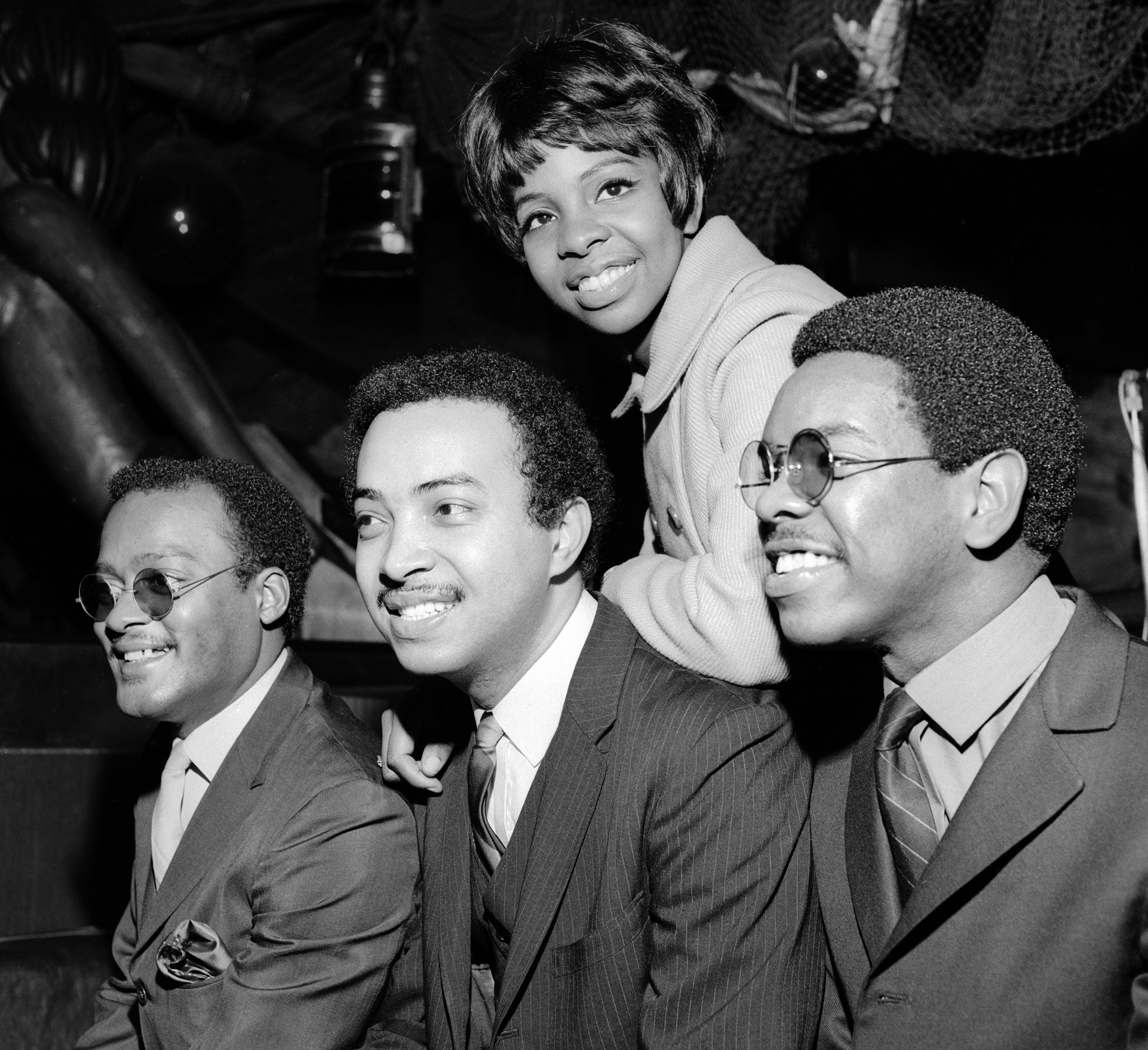 Gladys Knight & the Pips: London, 1967
At first, finding the sweet spot of sales is tough. Norman Whitfield gets busy sourcing and producing a variety of songs for the foursome, such as 1967's slow-burning "Take Me In Your Arms And Love Me." This barely bothers the Billboard pop charts, but the British buy in: it's a Top 20 torch song over there.
Finally, the breakthrough. Norman had previously lab-tested "I Heard It Through The Grapevine" with others, but nothing proved fruitful. With Whitfield pointing the way, Gladys & her Pips turn in a gospel-grounded, brash and gloriously percussive floorshaker. It becomes their biggest success of the 1960s, No. 2 on the pop charts and No. 1 on the R&B rankings.
More hits follow, including "The Nitty Gritty" and "Friendship Train," then a barbecue lunch washed down with champagne helps songwriters Gloria Jones and Pam Sawyer to serve up the Atlanta quartet's second R&B No. 1. The meal inspires the pair to pen "If I Were Your Woman," and put it in the hands of producer Clay McMurray. "He got the performance out of Gladys," recalls Gloria.
By 1972, Atlanta's finest are getting itchy feet, but their first and only date with producer Joe Porter provides a fitting farewell, penned by a former college football whiz, Jim Weatherly: "Neither One Of Us (Wants To Be The First To Say Goodbye)." The single reaches No. 2 on the pop charts (and No. 1 R&B, of course) and nets the group a Grammy® award, their first, early the following year.
As "Neither One Of Us" rules the roost, Gladys Knight & the Pips join Buddah Records, where they steam up the charts with another Grammy-winning Weatherly song, "Midnight Train To Georgia." The group travels together for many more years of acclaim and popularity, followed by Gladys' solo turn at the wheel. In 1989, she even cuts the title song of a James Bond movie, Licence To Kill. Then again, musically, she always slays them.