ARTIST OF THE WEEK
Marvin Gaye broke the rules. Sure, Berry Gordy set them, and sometimes – in the 1960s, often – the singer fell into line. But the enigmatic and headstrong "Prince of Motown" constantly sought to chart his own course, even when plagued by a divided soul. Marvin's ultimate legacy is one of the most socially conscious, celebrated and timeless works of 20th century popular art: his 1971 album, What's Going On.
FAST FACTS:
Motown Milestone: "What's Going On" is released as a single January 21, 1971.
First Hit: "Stubborn Kind of Fellow"
Biggest Hit: "I Heard It Through The Grapevine"
Top Album: What's Going On
Career Highlight: Asserting an independent voice within the machine, to make the masterwork that is What's Going On
KEY INFORMATION:
Born Marvin Pentz Gay Jr. in Washington, D.C., in 1939, he sings in church as a child, becoming a soloist in the choir and learning to play piano and drums. In 1955, at odds with his father and unhappy at home, he quits high school and joins the Air Force. A subsequent honorable discharge notes that Marvin is unable to adjust to "regimentation and authority."
Marvin loves the sound and ethos of doo-wop singing. Back in his hometown, he forms a group, the Marquees, to exult in the harmonies of the genre. (He also adds an "e" to his name.) Good fortune brings them into the orbit of a successful combo, the Moonglows, led by the man who is to be Marvin's lifetime musical mentor, Harvey Fuqua. Marvin becomes one of the Moonglows, then finds himself at Motown in 1960 through Harvey's closeness with Berry Gordy's sister, Gwen.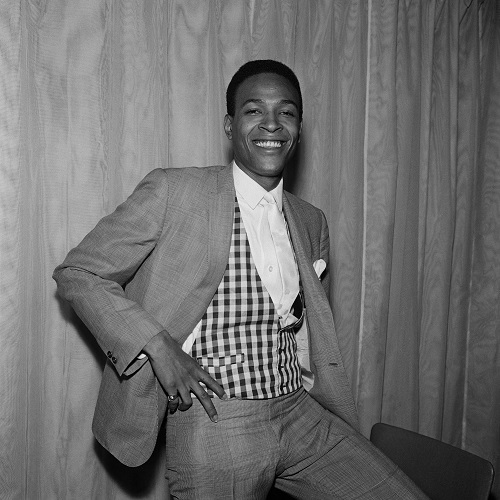 At Motown, Marvin's popularity helps to offset his stubborn tendencies, especially when he proves to have the perfect voice for a mystical re-rendering of "I Heard It Through The Grapevine," produced by Norman Whitfield. The song has already been a hit for Gladys Knight & the Pips, but Norman – who could be headstrong himself – wants Marvin's interpretation to be heard. When airplay finally forces its release in November 1968, this becomes Motown's single greatest hit of the decade, a seven-week chart-topper ablaze with the white heat of Marvin's voice, the voodoo rhythms of the Funk Brothers, and the vindicated wisdom of Norman Whitfield.
As the '70s dawn, Marvin no longer bows to Motown's commercial imperatives. He wants to make music to reflect troubled times: a divisive Asian war, the disillusion of a generation of young people, and the continuing struggle by millions of Americans for racial justice. Marvin pours this and more into the melting pot that is What's Going On, collaborating with others and drawing together the finest of Motown musicians. After the album's release in May 1971, its huge success elevates expectations for Marvin. Berry Gordy did not favour his star's provocative dissent, but acknowledges that he was wrong.
Marvin continues to make his personal life public through song, never more evident than in 1978's Here, My Dear, a sprawling double-album chronicling his divorce from Anna. His alienation from Motown is the undercurrent of 1981's deeply philosophical In Our Lifetime, by which time Marvin's woes – with the IRS, among other pursuers – see him relocate to Europe.
Refreshed by exile in Belgium, Marvin returns to prominence (and to his homeland) with 1982's Midnight Love, the first album for his new label, Columbia. It is prefaced by "Sexual Healing," a chart-busting and Grammy® -winning single. Marvin tours amid this renewed appetite for his talents, and scores a televised coup in early '83 with a magnetic performance of the national anthem at the NBA's All-Star Game in Los Angeles. Yet on April 1, 1984 – one day before his 45th birthday – the superstar is shot to death by his father in the aftermath of a heated argument. Following a star-studded funeral, his ashes are scattered in the Pacific Ocean.