Rick James propels Motown into the '80s with rhythm, rock and attitude, but that's because he already knows about convention – and how to ignore it. More than a decade earlier, he makes music with Neil Young and others, giving him the experience and determination to earn a crown of his own: the king of punk-funk.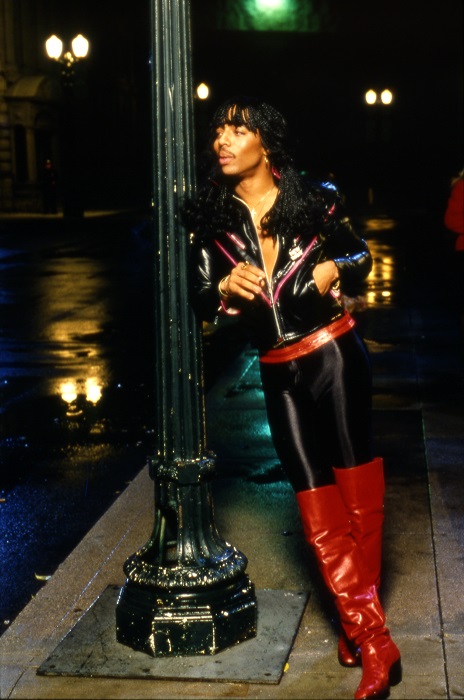 FAST FACTS:
First Hit: "You and I"
Biggest Hit: " Super Freak"
Top Album: Street Songs
Career Highlight: U can't beat "Super Freak" as an antidote to the conservative 1980s
KEY INFORMATION:
Buffalo, New York, is the birthplace (on February 1, 1948) of James Ambrose Johnson Jr. – Rick James to you. Little surprise he becomes a musician: Miles Davis, John Coltrane, Wes Montgomery, Etta James and many more play his hometown. Thanks to his mother's record collection, Rick's childhood soundtrack includes Billie Holiday, Billy Eckstine, Sarah Vaughan.
More disregard for the rules: Ricky Mathews, as he calls himself, joins the U.S. Navy, then goes AWOL and moves to Toronto. He sings with various rock groups, one of which becomes the Mynah Birds; his band mates include a young folkie, Neil Young, and bassist Bruce Palmer.
The Mynah Birds record at Motown. Rick sings lead on "It's My Time," which he co-writes, but it's not released – in part because he gives himself up for deserting the Navy, and goes to jail. ("Time" eventually comes out in 2006.) Neil Young and Bruce Palmer make tracks for Los Angeles, to make history later in Buffalo Springfield.
Rick woodsheds with rock bands in Canada and the US, such as Salt 'n' Pepper, Heaven & Earth and White Cane. Of the last of these, he says, "Some people thought it had something to do with cocaine, but it didn't." Their album for Lion Records does not roar, saleswise.
Street Songs is the defining album of Rick's career, musically and commercially. "Give It To Me Baby" is the opening hit, an R&B No. 1 which clears the road for "Super Freak" (with the Temptations on backing vocals), a Top 20 pop smash. The musician later says he intended the track "just as a joke, something [white folk] could dance to." He adds, "My whole life changed drastically after Street Songs. I was no longer a black artist, I had officially crossed over."
The album spends almost 18 months on the Billboard pop charts, peaking in the Top 3 and selling millions. At the end of the '80s, M.C. Hammer samples "Super Freak" in his "U Can't Touch This" smash, earning Rick a Grammy for his part in the best R&B song of 1990.
Two more RJ albums, Throwin' Down and Cold Blooded, follow Street Songs into the Top 20, while other artists bathe in the glow of Motown's newest superstar. They include his backup musicians, the Stone City Band, and an eye-catching vocal quartet, the Mary Jane Girls. Earlier, he writes and produces (with Art Stewart) much of the debut LP by Teena Marie, 1979's Wild and Peaceful.
Teena hits the concert stage with Rick on his hugely successful 1981 concert tour, including a summertime show in California, recorded and later released with the deluxe edition of Street Songs. In 1982, he writes and produces "Standing On The Top" for the Temptations.
Rick earns the respect of a new generation of musicians, as hip hop stars start sampling his grooves or guesting on his records – among them, DJ Jazzy Jeff & the Fresh Prince, Salt-N-Pepa, Jay-Z, Snoop Dogg, Busta Rhymes and Roxanne Shante. No wonder he titles one of his albums Urban Rapsody.
Tragically, Rick's demons – especially drugs – keep calling him to account. Two years in jail encourages him to write his memoirs, when he confesses that making music saved him from "my undisciplined life." But in 2004, a heart attack takes that life, at the age of 56. His street songs remain unsilenced.