TEENA MARIE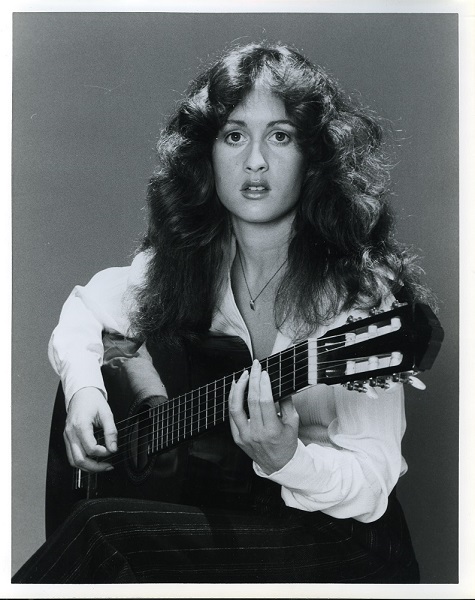 Tina/Teena tries to impress the boss, with success
The young, hopeful Tina Tryson opens her song "Don't Turn Your Back On Me" with acoustic guitar strums and restrained vocalizing. But about one minute in, as the second verse arrives ("So I'll just gather up my dreams/And walk away alone"), she attacks, bends and sustains a note so forcefully, so soulfully that we immediately recognize the style. Ladies and gentlemen, please put your hands together for the one and only Teena Marie.
The image here was taken by photographer Bobby Holland in 1976, when the future Teena Marie (née Marie Christine Brockert) was recording at Motown's Sunset Studio in Los Angeles, with no less than Berry Gordy in the producer's chair. The company was trying to find a sweet spot for this barely 20-year-old singer/songwriter, who had initially been signed up as part of a group called Entourage, but then was thought to have more promise as a soloist, under the Tryson name.
For a while, Tina/Teena was living at the home of Winnie Jones, a staffer at Motown's Jobete Music and the partner of Fuller Gordy, Berry's brother. In the liner notes of First Class Love: Rare Tee, a 2011 Motown/Hip-O Select release, Winnie's daughter Jill told Harry Weinger, "Berry Gordy had to be nurtured to see Teena for who she was. There were a lot of family dinners to sway him. But he got it, especially, it seemed to me, when Rickie Lee Jones hit." Jill added, "These early songs show the evolution of what was happening: how Teena grew, how she stepped to people, how she began to say, 'This is who I am.' "
It took time for an audience to hear the real Teena, despite studio sessions with Berry and other Motown creatives, such as singer Ronnie McNeir and producer Winston Monseque. The latter cut one of her songs for Tata Vega's debut album in '76, but nothing that Teena herself recorded was released until…
"While walking through Motown one day," the late Rick James remembered in his autobiography, Memoirs of a Super Freak, "I heard this beautiful voice. I looked in the office where it was coming from and sitting at the piano singing was this little white chick named Teena Marie." When Winnie Jones subsequently called James to ask if he was interested in working with that "chick," the reaction was positive-plus. "I was geeked to produce her," Rick declared.
The outcome was Teena Marie's debut album on the Gordy label in 1979, Wild and Peaceful, produced by Rick and Art Stewart, and including "I'm A Sucker For Your Love," her first hit single. "Teena, being only five feet tall, had the voice of someone seven feet high," Rick recalled. "I mean she could sing her ass off." Anyone who has since heard the 20-year-old Teena Marie acoustically strumming "Don't Turn Your Back On Me" would second that emotion.