HEADING UPTOWN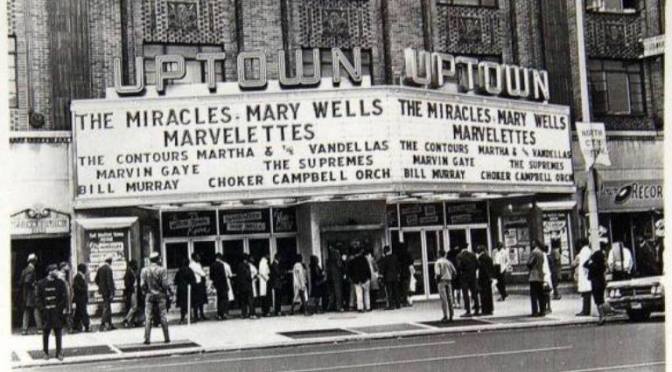 The first Motortown Revue was a legendary roadshow, remembered in countless Motown biographies and autobiographies, including the chairman's own memoir, To Be Loved. "We had in-house everything," wrote Berry Gordy. "Artists, producers, musicians, chaperones and road managers. It was a perfect opportunity not only to expose the artists who already had hits, but to break in lesser-known acts." The caravan of stars, originally tagged as the "Motor Town Special," set out to play more than 30 shows up and down the east coast of the U.S., from late October to mid-December 1962.
Philadelphia's Uptown Theater, pictured above, was among the venues which welcomed Motown's young stars in '62 and 1963. As the photograph indicates, most of Motown's hitmakers – and one or two without hits – were featured for this particular booking, including the Marvelettes (the company's first act to reach Number One on the Billboard Hot 100, with "Please Mr. Postman"), the Miracles and Mary Wells. Lower down the bill were Marvin Gaye, Martha & the Vandellas, the Contours and…the Supremes.
"We had records out," Florence Ballard later recalled for author Peter Benjaminson's The Lost Supreme, "they just weren't hits. But regardless of that, we still went over [in concert]. I think it was the way we carried ourselves, plus our good looks; plus we had talent. Maybe not a hit record, but we had talent, that's for sure." Backing the Supremes and all the other acts on the show was Choker Campbell's Big Band, led by the man whom Gordy found conducting music for shows in Idlewild, Michigan's most popular black resort during the 1950s and '60s. The Master of Ceremonies was Bill Murry, who performed those duties for a number of Motortown Revues over the years.
An Art Deco building constructed in 1927, the Uptown was a popular showbiz venue in the City of Brotherly Love, accommodating some 2,000 souls and – after its 1961 renovation – with a large stage. It was part of America's so-called "Chitlin Circuit" of theatres which booked mostly R&B acts. Motown's stars played there regularly, whether part of the Revue or on bills with other acts: in April 1962, for instance, the Miracles, the Marvelettes and the Temptations appeared on an Uptown show headlined by Jerry Butler, and hosted by hometown hero, disc jockey Georgie Woods of WDAS-AM.