It's still so hard to say goodbye to yesterday.
The debut album by Philadelphia's Boyz II Men, the celebrated street-corner vocal quartet who made chart history in the 1990s, is coming back. This time, it's a 25th anniversary vinyl reissue of Cooleyhighharmony, and in the company of the group's sophomore album, II – which has never previously been available on vinyl. Order both albums here.
Both Grammy®-winning albums are coming October 28 from Universal Music.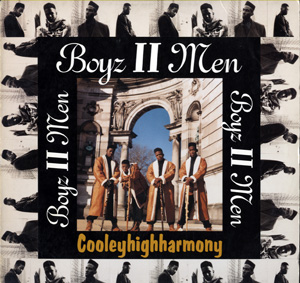 Boyz II Men were formed in the City of Brotherly Love by Nathan Morris and Marc Nelson (who eventually left), later joined by fellow school choir members Wanya Morris, Shawn Stockman and Michael McCrary. They were inspired by New Edition, taking their name from one of their songs, and then impressing the group's Michael Bivins with an impromptu backstage audition. Bivins agreed to manage and produce the Philly hopefuls, who were then known as Unique Attraction, and brought them to Motown Records.
Cooleyhighharmony was originally released by Motown in February 1991, going on to sell nine million copies and winning a Grammy®. The album's first major hit was "Motownphilly," followed by "It's So Hard To Say Goodbye To Yesterday," a new version of a song first performed by Motown's G.C. Cameron and featured in the 1975 movie, Cooley High. For more information on the vinyl albums and the impact of Boyz II Men, read here.
The group's album II was issued in August 1994, and included two consecutive No. 1 singles, "I'll Make Love To You" and "On Bended Knee." With them, Boyz II Men became only the third act in chart history to succeed themselves on the Billboard Hot 100, after Elvis Presley and the Beatles. The forthcoming two-LP vinyl edition of II will include the Philly foursome's cover of the Beatles' "Yesterday."
[livefyre_shortcode]