The Songwriters Hall of Fame ceremony was held on Thursday, June 15 at New York's Marriott Hotel. Musical titans Kenneth "Babyface" Edmonds, Jimmy Jam & Terry Lewis, Robert Lamm & James Pankow, Max Martin, Shawn "JAY Z" Carter and Motown Records' founder, Berry Gordy, were all inducted into the Songwriters Hall of Fame.
Rhonda Ross Kendrick surprised her father and performed a soulful rendition of "To Be Loved" before welcoming music titan Berry Gordy whom she called a "guiding force," into the Songwriters Hall of Fame. Gordy, who shared a special moment with his daughter on stage, told stories from throughout his career, adding "a song is not only a force that evokes emotion; it takes us to another time and place."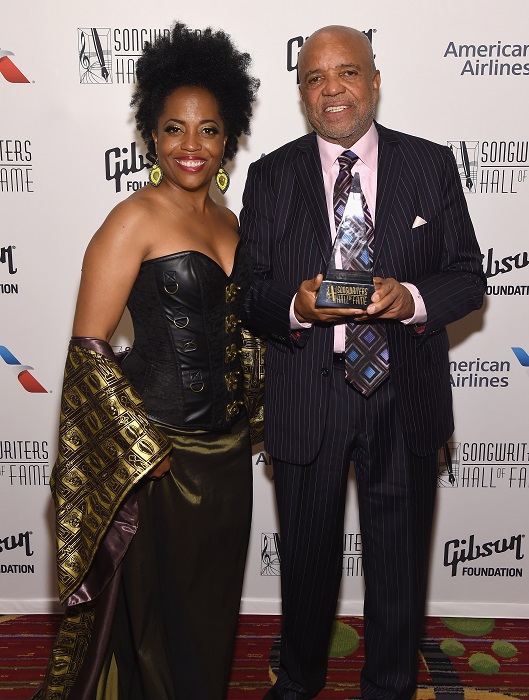 Berry Gordy with his daughter Rhonda Ross Kendrick
It may seem odd that music legend Berry Gordy isn't already in the Hall. In fact, he is, for his publishing acumen, a lifetime achievement award, and a pioneer award. But this year's induction, for his songwriting prowess, was the one that meant the most to him. In a long and humorous speech, Gordy, whose short list of hits include Jackie Wilson's "Reet Petite," Barrett Strong's "Money (That's What I Want)" and the Jackson 5's "I Want You Back," detailed how every time he was told he was being honored in prior years he would say "it's for my songwriting, right" only to be told it was for his other skills. "It's about time!" he exclaimed. "Most people think I got this award many years ago but that's not the case. Songwriting is my first love and protecting that love was the motivation for everything else I did."
For more information click here.