Legendary Motown singer Diana Ross twirled around the red carpet at the 2017 American Music Awards before receiving the Lifetime Achievement Award in an all black ensemble, complete with an extravagant headpiece and tulle train. She also brought out her entire clan of children and grandchildren on the red carpet to celebrate the special occasion, including daughter and actress Tracee Ellis Ross who is hosting the awards show.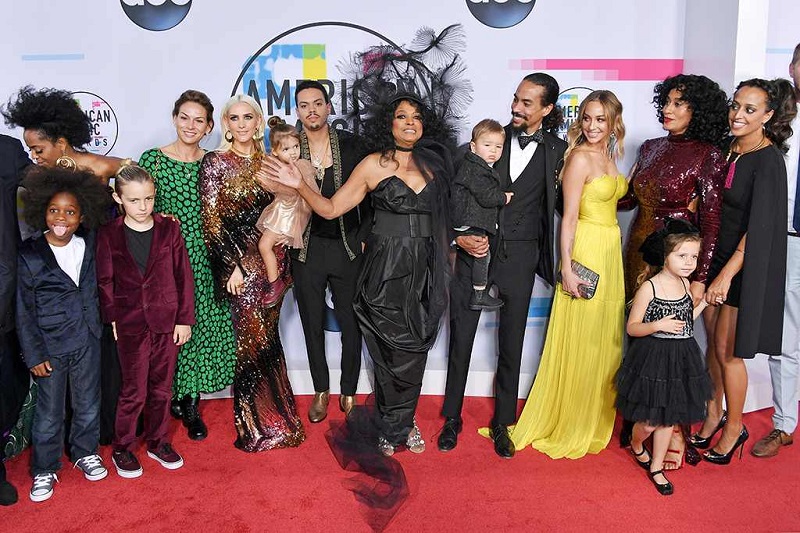 Diana Ross became a breakout star with the classic Motown trio The Supremes. The group signed to the record label in 1961 and produced twelve #1 hits between 1965-1970, including "Where Did Our Love Go," "Baby Love," and "Stop! In the Name of Love," all of which hit #1 during 1964-1965.
During her solo career with Motown, Ross scored six  #1 hits, including "Ain't No Mountain High Enough" in 1970 and "Upside Down" in 1980. Ross also received a #1 album with the soundtrack to Lady Sings the Blues in 1973.
Diana Ross' acting career also took off at Motown, starring in three of Motown's most classic movies – Lady Sings the Blues (1972), Mahogany (1974), and The Wiz (1978) – all of which were produced by Motown Productions.
Ross hosted the American Music Awards in 1986 and has won eight American Music Awards during her career.