ALBUM OF THE MONTH
FIVE REASONS TO LISTEN:
Stevie's first No. 1 album of the 1970s on the Billboard pop charts.
His second Grammy®-honored Album of the Year.
Features two No. 1 singles, "You Haven't Done Nothin' " and "Boogie On Reggae Woman."
Singing in back: the Jackson 5, Syreeta, Minnie Riperton, the Persuasions and Deniece Williams.
George Michael, Jamie Foxx, Josh Groban and Shawn Colvin are among those who have since covered the album's songs.
FOUR FAST FACTS:
Original release date: 22 July, 1974.
Spent 65 weeks on the Billboard pop album charts.
Stevie's fourth studio album since turning 21.
His first Top 5 album on the British charts.
STORE OFFER:
Go check out the Classic Motown store for some great offers on Stevie's catalogue of music, including Fulfillingness' First Finale LP for only £19/€23/$25. Click here to view offers.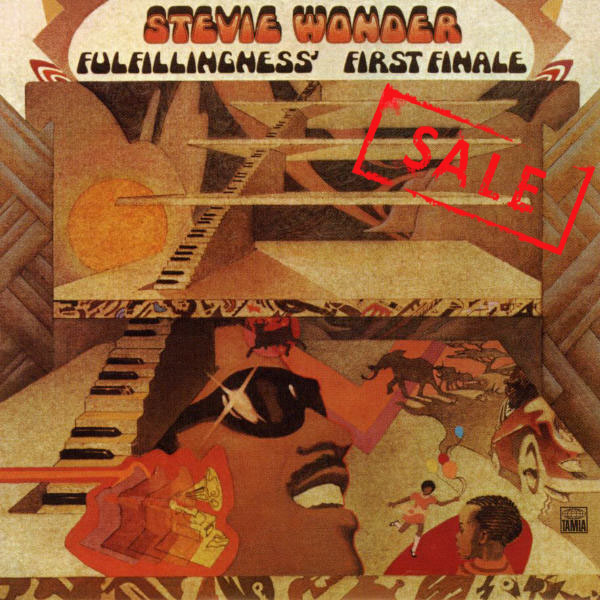 VIDEO:
FULL TRACK LISTING:
DETAIL:
Stevie Wonder's fourth studio album of his adult career – that is, after he turned 21 – was released during the height of Watergate, the worst political scandal of 20th century America, and featured one explicit song about promises not kept, and at least a couple of others about justice. "The best way to get an important and heavy message across," said the musician at the time, "is to wrap it up nicely. With songs, I've found out, it's better to try and level out the weight of the lyrics by making the melody lighter."
Fulfillingness' First Finale was originally intended to be a two-LP set. According to author James Haskins in The Stevie Wonder Scrapbook, it was to have drawn on material not used on his previous three albums – that is, songs written before the star's near-fatal auto accident in the summer of '73. Whatever the truth, the single LP which emerged from Motown on July 22, 1974, found Stevie in reflective mood. Even the cover art looked backwards, with retro images of his bow-tied younger self, and of John Kennedy, Martin Luther King and the Motortown Revue tour bus. The past was also apparent on the album's third track, "Too Shy To Say." Playing acoustic bass was James Jamerson, a former member of Motown's revered house band, the Funk Brothers, who helped to musically educate a teenage Wonder at Hitsville U.S.A.
"You Haven't Done Nothin' " was the first single, the opening shot from an album released shortly before Richard Nixon resigned the presidency. No lighter melody here to level out the weight of the lyrics. The track's engines are synthesizer riffs and pumping brass, and Stevie's indictment of politicians come complete with powerful background vocals from the Jackson 5. "Sing it loud for your people," commands Wonder in the song. The album's associate producer, Bob Margouleff, remembered that Michael Jackson arrived at the recording studio in Los Angeles with his tutor. "It was done in Studio B, and there was a party-like atmosphere," he said. "Everyone was so blown away with the harmonies they did."
After "You Haven't Done Nothin' " was released, Stevie declared that he would have liked the Osmonds on the record as well as the Jacksons, as a symbol of integration. "I think they could really bring people together," he said. By this stage in his musical growth, racial harmony was a recurring theme in Wonder's work, explicitly or otherwise. On "Heaven Is 10 Zillion Light Years Away," the album's second track, he sings. "Why must my color black make me a lesser man?/I thought this world was made for every man." Reviewers noticed. In assessing the album for Rolling Stone, Ken Emerson opined that Stevie's appeal cut across social and ethnic barriers. "In this respect," Emerson wrote, "he's ideally suited to Motown, which has never been content with an exclusively black market. But unlike so many Detroit acts, whose wooing of white listeners leaves them pallid and gutless, Wonder's music expands and its integrity is strengthened, not diminished."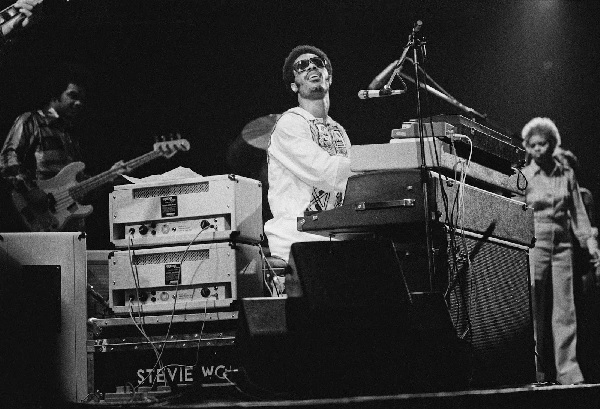 "Cinematic – that's the way Stevie perceives the world," said Bob Margouleff, the Moog synthesizer master who, with audio engineer Malcolm Cecil, enabled Wonder to focus and direct his creative energy in the early 1970s, virtually from their first meeting at New York's Mediasound studios. The Motown star had heard the ground-breaking Moog on an album by Tonto's Expanding Headband – who were Margouleff and Cecil – and wanted to know everything about its capabilities. So began a remarkable three-year union, as the pair programmed, engineered and recorded the new music Wonder was creating. "We never stopped working from that moment, night and day," remembered Margouleff. "He'd do the playing, we'd do the programming, and we started to accumulate a huge library of songs."
Those years together saw Cecil and Margouleff serve as associate producers to Wonder for four extraordinary albums – Music Of My Mind, Talking Book, Innervisions, Fulfillingness' First Finale – after he had redefined, contractually and creatively, his relationship with Motown in 1971. Wonder cut the fourth LP at Electric Lady and Mediasound in New York, and Record Plant and Westlake Audio in Los Angeles. "[Stevie] is very straight to the point, very clear on what he wants," Cecil explained in The Billboard Book of Number One Rhythm & Blues Hits. "You can also tell him the truth [about] his work, you could tell him what you really thought. That's what he wanted, and he would listen to us."
Most instrumentation and the arrangements on Fulfillingness' First Finale are Wonder's work, indeed, but several other musicians add magic and muscle: guitarist Michael Sembello on "Smile Please" and "Please Don't Go," bassist Reggie McBride also on "Smile Please," as well as "You Haven't Done Nothin'." The latter features percussionist Bobbye Hall, too. Meanwhile, Syreeta Wright and Minnie Riperton (whose Perfect Angel LP Stevie was co-producing that year) sparkle with background vocals through the album, as do rotating members of his band, Wonderlove: Deniece Williams, Jim Gilstrap and Shirley Brewer. The Persuasions sing on "Please Don't Go," while onetime pop idol Paul Anka vocalizes with Wright, Brewer and Larry Latimer on "Heaven Is 10 Zillion Light Years Away."
As noted, James Jamerson plays bass on "Too Shy To Say," which also features an atmospheric pedal steel guitar fingered by "Sneaky" Pete Kleinow. Another celebrated musician who helps is Sergio Mendes, translator of the lyrics of "Bird of Beauty" into Portuguese to enable Stevie "to speak to my people of Mozambique and the beautiful people of Brazil," as he reveals in the liner notes. All but one of the album's songs are written by Wonder; the exception is "They Won't Go When I Go," which he created with Yvonne Wright. Previously, she had collaborated with him on "You've Got It Bad Girl" and "I Believe (When I Fall In Love It Will Be Forever)" for Talking Book, and "Girl Blue" and "Evil" for Music Of My Mind.
Fulfillingness' First Finale claimed the top of the Billboard pop charts on September 14, 1974, ending a four-week run by Eric Clapton's 461 Ocean Boulevard and giving Stevie his first No. 1 LP there since The 12 Year Old Genius Recorded Live in 1963. Over the next three decades, a variety of singers and musicians were drawn to the album's material, from jazzmen like Herbie Mann and Marcus Miller to pop stars such as George Michael and Josh Groban. For his 1985 album, The Night I Fell In Love, Luther Vandross covered "Creepin'," which led actor/singer Jamie Foxx to tackle the song for 2005's all-star tribute album to Vandross. For Tales of Wonder, Nnenna Freelon's homage to Stevie in 2002, she chose "Creepin' " and "Bird of Beauty."
For its part, "You Haven't Done Nothin' " was an across-the-board smash, powering to No. 1 on the Billboard Hot Soul Singles ranking in September and to the top of the pop best-sellers in November. The album's second single was "Boogie On Reggae Woman," released in October 1974; it matched its predecessor's success on the soul charts, and peaked at No. 3 on the pop listings. No further 45s were issued from Fulfillingness' First Finale. The album spent eight weeks at No. 1 on the Billboard Soul LPs chart, and two weeks at the top of the magazine's 200-position Top LPs & Tapes countdown during a 65-week run there.
As Fulfillingness' First Finale was the nation's most popular album, Stevie embarked upon a coast-to-coast concert trek, his first since touring with the Rolling Stones in 1972. He opened with a show at Nassau Coliseum on New York's Long Island (tickets, $6.50-$8.75), played in more than 30 cities through the fall, and returned to the Big Apple for a date at Madison Square Garden in December. Among the roadshow's other highlights: a performance at San Francisco's Cow Palace, where the opening act was Rufus, basking in the glory of their Stevie-penned breakthrough hit that summer, "Tell Me Something Good."
While the fans voted with their wallets, the music industry hailed Stevie at the annual Grammy® awards on March 1, 1975. Just like Innervisions one year earlier, Fulfillingness' First Finale was declared 1974's Album of the Year. A blue-suited Stevie accepted the prize from Bette Midler, and performed "You Haven't Done Nothin' " during the Grammy® telecast. The album was also honored in the best pop vocal performance (male) category, while "Boogie On Reggae Woman" gained a Grammy® for best R&B vocal performance (male). Stevie could also take pleasure from the Grammy® given for best R&B vocal performance by a duo, group or chorus: Rufus won that prize with "Tell Me Something Good."
JUST SAYIN':
"After Stevie released his first concept album, Music Of My Mind, in early '72, I could see him developing a writing and producing style all his own. His lyrics were emotional, poetic and visual; his chord patterns intricate and different. His music covered many spectrums – Blues, Pop, Reggae, Classical, Jazz and Stevie himself. For the first time, he began recording in studios other than ours, experimenting with synthesizers and other strange technological apparatus. That unique texture that was all his own broadened the base of the Motown Sound tremendously" – Berry Gordy, in his autobiography, To Be Loved.
VOTE FOR YOUR FAVORITE TRACK ON THE ALBUM:
Producer: Stevie Wonder
Songwriters: Stevie Wonder, Yvonne Wright.
Re-makes: "Bird Of Beauty" (Herbie Mann, 1975; Marilyn Scott, 1996; Nnenna Freelon, 2002), "Boogie On Reggae Woman" (Chuck Brown & the Soul Searchers, 1988; Stanley Turrentine, 1987; Phish, 1999; Marcus Miller, 2005), "Creepin'" (Herbie Mann with Cissy Houston, 1976; Luther Vandross, 1985; Nnenna Freelon, 2002; Bob James, 2003; Jamie Foxx, 2005), "Heaven Is 10 Zillion Light Years Away" (Ann Nesby, 2006; Shawn Colvin, 2015), "They Won't Go When I Go" (George Michael, 1990; Josh Groban, 2010), "Too Shy To Say" (Walter Jackson, 1976; Anita Kerr, 1979; Gloria Lynne, 1992); "You Haven't Done Nothin'" (Chris Farlowe, 1975; Joe Cocker, 2007).