ARTIST OF THE MONTH
There are relatively few recording artists with a legacy as powerful and influential as Marvin Gaye. His extraordinary music at Motown includes, of course, the landmark album, What's Going On, first released 45 years ago this spring. Listen to a timeless Marvin Gaye playlist, watch Berry Gordy and Mary Wilson praise his talents, and read more in this extensive feature about his continuing influence. Plus, test your knowledge about the superstar with the quiz.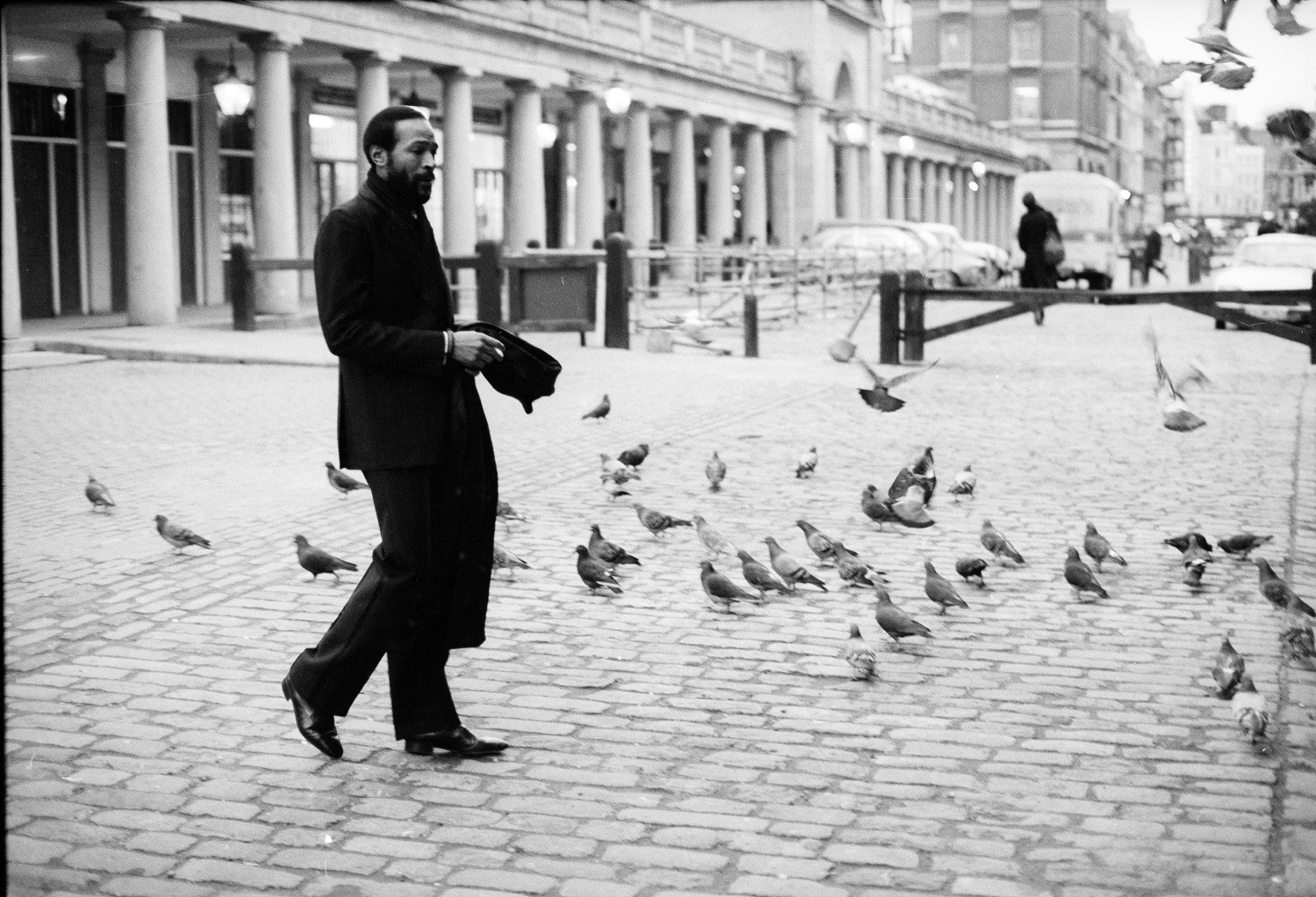 KEY INFORMATION:
The title track of What's Going On has been recorded by numerous artists since the original single reached No. 2 on the Billboard Hot 100 in April 1971. Among them: Michael Bolton, Ella Fitzgerald, Donny Hathaway, Richie Havens, Etta James, Stanley Jordan, Cyndi Lauper, Los Lobos, Herbie Mann, Michael McDonald, Mica Paris, the Undisputed Truth, Paul Weller and Jesse Colin Young. Cyndi's was the most successful remake, which reached the Top 20 in 1987.
On May 27, Universal Music releases the third boxed set of Marvin's collected albums, pressed on 180gm vinyl. Marvin Gaye Volume Three: 1971-1981 contains the superstar's last seven Motown studio albums, including What's Going On, Trouble Man, Let's Get It On, I Want You and Here, My Dear. The previous vinyl sets, Volume One: 1961-1965 and Volume Two: 1966-1970, were issued in April 2015 and February 2016, respectively.
That same month, Universal Music is making available a special 10-inch vinyl edition of the single, "What's Going On" b/w "God Is Love," coinciding with the 45th anniversary of the original release of the album. The two songs, featured on the A-side, are different versions than what appeared on the final album. On the B-side we are treated to 21st Century "Motown Re-Imagined" creations: a duet version of "What's Going On," using additional vocals by new Motown artist with BJ The Chicago Kid; and an acoustic version of Marvin's song, a new "Coffeehouse Mix" that uses bare original parts spotlighting a previously buried acoustic guitar and Marvin's delicate harmonies.
After The Dance: My Life with Marvin Gaye is the recently published memoir of the singer's second wife, Jan, whom he met while working on 1973's Let's Get It On in Los Angeles. Published last year, the book was written with David Ritz, author of the earlier Gaye biography, Divided Soul. "I think [Marvin] knew he was talented," Jan told The Detroit News, "but he was shy. It was part of his personality." Two other members of Marvin's family have written books: Frankie Gaye's Marvin Gaye, My Brother in 2003 and Zeola Gaye's My Brother, Marvin in 2011.
Motown The Musical opened this past March at London's Shaftesbury Theatre, bringing the classic Motown catalog to its biggest global fans. Sifiso Mazibuko, as Marvin Gaye, shines in a portrayal of a complicated man who was Motown founder Berry Gordy's creative "prince" and brother-in-law. The celebratory musical, a Tony® nominee in the U.S., returns to Broadway's Nederlander Theatre for a limited 18-week engagement starting July 12.
Marvin's I Want You, once described as his "boudoir masterpiece," was released 40 years ago this spring. To coincide with the anniversary, Pitchfork published an edited version of a 2009 interview with Leon Ware, producer and co-writer of I Want You. Ware spoke at the Audio Engineering Society convention in New York with Jason King, artistic director of New York University's Clive Davis Institute of Recorded Music, and Harry Weinger, vice president of A&R at Universal Music Enterprises. "The time when we did I Want You had to be the most happy time in Marvin's life," Ware explained, "because he was freshly in love, and the album exhibits that atmosphere." Click here for the full story.
In chart history, "I Heard It Through The Grapevine" remains Marvin's most successful single. Produced and co-written by Norman Whitfield, it was released on Motown's Tamla label in October 1968. It was No. 1 on the Billboard Hot 100 for seven weeks, including the entire month of January '69. That year in Britain, too, the single was No. 1 – and returned to the Top 10 seventeen years later when the song was used in a Levi's TV commercial. In recent years, Marvin's "I Heard It Through The Grapevine" has been inducted into the Rock & Roll Hall of Fame and the Grammy® Hall of Fame.
IN MARY WILSON'S WORDS:
IN HIS OWN WORDS:
"I looked at what was happening at Woodstock and thought to myself, 'Here's a whole generation of people about to travel a new path.'  I understood that musically I'd have to go on a path of my own" – as told to David Ritz in Divided Soul.
IN BERRY GORDY'S WORDS:
"Every artist [at Motown] had their own notion of how to reach the top.  Marvin Gaye was the one who always wanted to prove he could do things his way" – as quoted in his autobiography, To Be Loved.
WHAT'S YOUR FAVOURITE MARVIN GAYE TRACK?
QUIZ:
What are your favorite memories of Marvin Gaye? Tell us in the comments below:
ARTIST LINKS: