ARTIST OF THE MONTH
Each year around this time, the world's attention returns to the extraordinary talent of Michael Jackson, in recognition of his birthdate on August 29, 1958.  So listen here to music by Michael and his brothers, read about the Jackson 5's beginnings and success at Motown, test your knowledge of their career and enduring catalog.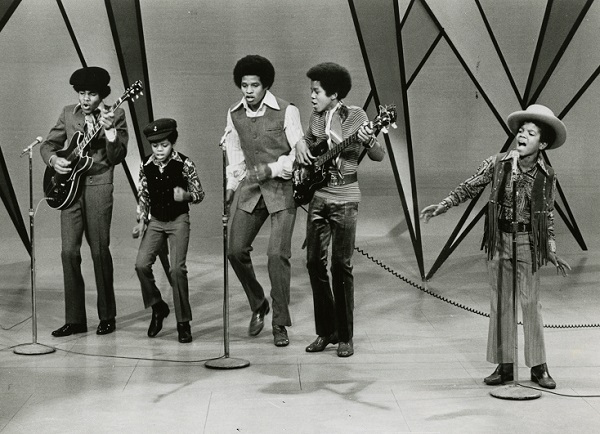 KEY INFORMATION:
This summer, the Jackson brothers have been touring at home and abroad, just as they have done for decades – and the shows must go on.  They've recently played concerts in Canada and Japan, while in October, they head for South Africa.  In Asia, audiences have been enjoying the Jackson 5 for more than 40 years, and their April 1973 show in Osaka, Japan, was even recorded and released – years later – by Hip-O Select/Motown.  In 2011, Marlon, Tito and Jackie performed in Tokyo at a Michael Jackson tribute concert.  The following year, the three brothers plus Jermaine set out on their Unity Tour; it was the first time the four eldest Jacksons had toured together without Michael, who died in 2009.
The 2012-13 itinerary took the Jacksons all over the world, from North America (including Detroit's historic Fox Theatre) to Europe, the Middle East, Australasia and Africa.  The show included many of their Motown and post-Motown hits, as well as some material originally recorded by Michael as a solo artist.  In Asia, the tour included dates in Singapore, the Philippines and Hong Kong.  Coincidentally, Bobby Taylor, one of the key figures in the Jackson 5's discovery and development at Motown, has lived in Hong Kong for some years.
Another player during the Jackson 5's early days was Gordon Keith, whose Steeltown Records – based in their hometown of Gary, Indiana – issued the group's first recordings.  Last year, Keith was honored at an event in Chicago as part of National Black Business Month.  In Chicago in 1968, Bobby Taylor – then a Motown artist, fronting his group, the Vancouvers – caught the Jackson 5 in concert, and his endorsement helped them to gain a Motown audition in Detroit. After they were signed, Taylor produced the Jackson 5 in a new version of a song they had previously cut at Steeltown, "You've Changed."  It was included on their first Motown album.
"Got To Be There" was also a major hit in Britain, although Michael's greatest solo success there for Motown occurred nine years later. His "One Day In Your Life" was a U.K. No. 1 when released as a single in 1981; the track had first appeared on his 1975 Motown album, Forever, Michael. Another British Top 10 entry was his interpretation of Bill Withers' first hit, "Ain't No Sunshine." This was lifted for single release from Michael's album Got To Be There. (In the U.S., the track was never made available as a 45.) Motown also took him high in the U.K. charts in 1984, when a previously unreleased recording, "Farewell My Summer Love," became a Top 10 success.
The Jackson 5's body of work for Motown is available on leading digital download and streaming services, including their twelve albums from Diana Ross Presents The Jackson 5 in 1969 to Moving Violation in 1975.  The same is true of Michael's solo albums, from Got To Be There to Forever, Michael, and his music was also assembled into Hello World, a three-CD set in 2009 from Hip-O Select/Motown.  Previously unavailable material by the group was compiled into 2010's Live At The Forum, a two-CD package of concert recordings from the early '70s, and 2012's Come And Get It: The Rare Pearls, a two-CD set of 1969-73 tracks.  The latter release included liner notes by its producer, the late Deke Richards, who had worked closely with the Jacksons at Motown.  The first time he saw the group, Richards wrote, "My jaw dropped to the floor.  I didn't know how else to respond to seeing Frankie Lymon, James Brown and Jackie Wilson portrayed by the same little cat at the same time."
The Jacksons' history has been documented frequently, and most recently by storied movie director Spike Lee in his 2016 release, Michael Jackson's Journey From Motown To Off The Wall.  Lee, who hosts an annual tribute to the singer in Brooklyn, New York, had directed an earlier film, Bad 25, an anatomy of that post-Motown Jackson solo album.  Lee's new look at the Jacksons features members of the family – notably, parents Joe and Katherine, brothers Marlon and Jackie – and the Motown clan, including Berry Gordy, Suzanne de Passe and Stevie Wonder.  Quincy Jones, the late Maurice White, John Legend, Pharrell Williams, David Byrne and Greg Phillinganes are among the musicians interviewed, as is Universal Music A&R exec Harry Weinger, who has long supervised the Motown catalog.
This year, Tito Jackson has become the ninth and final Jackson sibling to reach the Billboard charts as a soloist. His track "Get It Baby," featuring Big Daddy Kane, has enjoyed streaming and airplay action during the summer, prefacing his album Tito Time, scheduled for fall release. As a solo hitmaker, he follows in the footsteps of Michael, Jermaine, Jackie and Marlon, as well as Randy (who joined the Jacksons officially in 1976), Rebbie, LaToya and, of course, Janet. At Motown, Michael enjoyed three Top 10 pop hits from 1971-75, including the chart-topping "Ben," and six Top 10 R&B successes. Jermaine claimed two Top 10 solo smashes while at Motown, including 1980's "Let's Get Serious."
The Jackson 5 hits continue to be a fixture in popular music, via samples, remakes, movie and TV soundtracks and, of course, in episodes of American Idol, The X Factor and Glee.  "Never Can Say Goodbye" is one of the most popular; since the Jackson 5's 1971 original, the song has returned to the charts in versions by Isaac Hayes, Gloria Gaynor and, from Britain, The Communards, and has been recorded by Vanessa Williams, Roland Kirk, Melba Moore, James Brown, Donnie Elbert, Andy Williams, Peter Nero and the California Raisins, among others.  The Jackson 5 track has been sampled by 50 Cent, Ghostface Killah, Raekwon, De La Soul, Blaq Poet and more.
The Jackson 5's debut Motown single, "I Want You Back," was No. 1 in the U.S. in January 1970, and a Top 10 hit twice in Britain:  once in 1970 and again in 1988 in a remixed version, while girl group Cleopatra took the song back to the U.K. Top 10 in 1998.  In 2001, "I Want You Back" was performed live by all five Jackson brothers during Michael Jackson's 30th Anniversary Special, a pair of New York concerts at Madison Square Garden which were later adapted for broadcast by CBS-TV.  That event saw Michael reunited with his brothers on stage for the first time since 1984.
IN BERRY GORDY'S WORDS:
"All the right clues were there – their professionalism, their discipline, their talent.  And something that Michael had, an unknown quality that I didn't completely understand but I knew was special.  Somehow even at that first meeting, he let me know of his hunger to learn, and how willing he was to work as hard as necessary to be great, to go to the top."
IN MICHAEL JACKSON'S WORDS:
"My brothers and I – our whole family – were very proud.  We had created a new sound for a new decade.  It was the first time in recording history that a bunch of kids had made so many hit records."
ITUNES:
Michael Jackson and The Jackson 5 are Motown artists of the month, so check out the Motown room on the store or click here for some great discounts on his incredible albums.
QUIZ:
[livefyre_shortcode]