THELMA HOUSTON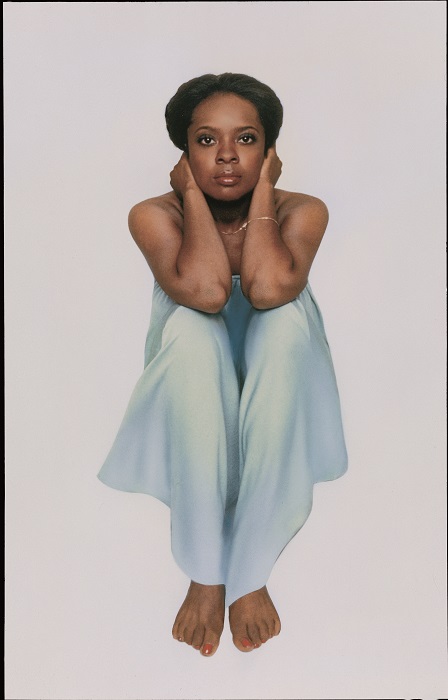 When Motown commissioned celebrity photographer Harry Langdon in 1976 to shoot Thelma Houston, the omens must have been good. The singer had been signed to the record company for five years by that point, with no significant hits. But the album which featured the Langdon photos – including the front-cover portrait above – soon delivered. Any Way You Like It was released on the Tamla label in October '76, and by the following April, one of its tracks, "Don't Leave Me This Way," was Number One on the Billboard Hot 100. Finally, Thelma ruled the world.
"It feels great," she told Associated Press that spring. "This is why you make records. You want to sell them." Also unusual: that this was one of the few Motown hits to reach the Billboard summit with a non-Motown song. "Don't Leave Me This Way" was co-written by Kenny Gamble and Leon Huff from rival music company Philadelphia International, and first recorded by their act, Harold Melvin & the Blue Notes. The producer of Houston's breakthrough, however, was decidedly a Motown stalwart: Hal Davis, who had joined the company in Los Angeles years before it moved lock, stock and barrel from Detroit in 1972. "Everybody in the world had produced [Thelma]," Davis said in The Billboard Book Of Number One Rhythm & Blues Hits, "and nobody could come up with a hit. We needed to bring Thelma home."
Before 1977, Thelma's luck hadn't been all bad. She had made a critically-acclaimed album, Sunshower, with songwriter Jimmy Webb, and achieved some brief chart presence with a single on Motown's MoWest label, "You've Been Doin' So Wrong For So Long," which was also nominated for a Grammy award. Her first MoWest album, too, was well-received, containing songs by Kris Kristofferson, Severin Browne (Jackson's brother), Barry Mann and Cynthia Weil, and Patti Dahlstrom. The photo featured its front-cover was taken by Jim Britt, who shot many Motown stars.
Likewise, Harry Langdon had been commissioned by Motown before his Thelma shoot – most notably, photographing Diana Ross for her debut album – and had snapped other black heroines, including Cicely Tyson. Later, he photographed Donna Summer, Curtis Mayfield, Halle Berry and Missy Elliot, among others. Thelma had something else in common with Miss Ross. The basic tracks for "Don't Leave Me This Way" were recorded by Hal Davis during the same period that he created Diana's "Love Hangover." Both were cut at the Paramount studios in Los Angeles, with a common core of musicians, including Art Wright on guitar, Henry Davis on bass, and James Gadson on drums. But for the cover art of Diana Ross, which contained "Love Hangover," Motown commissioned not Harry Langdon, but another renowned celebrity photographer, Victor Skrebneski. Any way you like it, Mr. Gordy.