THE TEMPTATIONS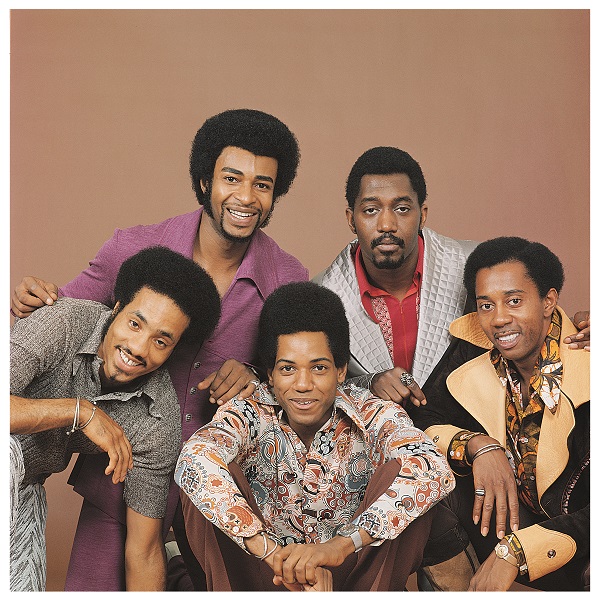 Times change: welcome to new recruits.
Sharp-eyed Temptations fans may recognise this: it's a photo from the same shoot which gave the group's 1972 album, All Directions, its front-cover portrait. (No photographer was credited there, although it's probably Jim Hendin.) Here, from left to right, are Richard Street, Dennis Edwards, Damon Harris, Otis Williams and Melvin Franklin. All Directions was, of course, the quintet's most successful LP on the Billboard pop charts, spending 44 weeks there and rising to No. 2 (held from the summit by Cat Stevens and then the Moody Blues) in December 1972. The catalyst was "Papa Was A Rollin' Stone," the Temptations' fourth Number One on the Billboard Hot 100, produced by Norman Whitfield.
When this photo was taken, Richard Street and Damon Harris were new recruits, the former replacing Paul Williams, the latter taking over from Eddie Kendricks. (At first, Ricky Owens filled Kendricks' place, but not for long.) Street had history: this Detroit-born singer was in the Distants, a pre-Motown group with Melvin Franklin and Otis Williams. Later, he was part of the Monitors, signed to Motown's V.I.P. label. In 1971, he officially became a Temptation, and was first pictured in the line-up on the cover of their '72 album, Solid Rock. "Just like the name, we, as a group, were solid as a rock," Street wrote in his 2014 autobiography, Ball Of Confusion: My Life As A Temptin' Temptation.
Damon Harris came from Baltimore, and "was really influenced by Eddie Kendricks," he revealed in a Motown bio after becoming a Temptation. "He was my inspiration throughout school." Before he joined, he was a member of the Vandals, signed to T-Neck, the Isley Brothers' label. Harris' big break occurred when the Temptations performed in Washington, D.C., and an acquaintance arranged a meeting, which turned into an audition, which eventually led to an offer to join. As with Richard Street, Solid Rock was the album showcasing Damon's initial recordings with the group: "Take A Look Around," "Superstar (Remember How You Got Where You Are)" and "Smooth Sailing," his first lead performance.
In time, Street and Harris left the Temptations, as others did before and afterwards. It is the group as a whole which has become an institution of popular music, and the most successful R&B act of all time, according to Billboard. In January 2019, it will be 30 years since the quintet was inducted into the Rock & Roll Hall of Fame. To this day, the Temptations – with founder member Otis Williams as the center of gravity – continue to play concerts around the world and make records; All The Time is their most recent, released in the spring of 2018. Evidently, they are still tempting.