THE SUPREMES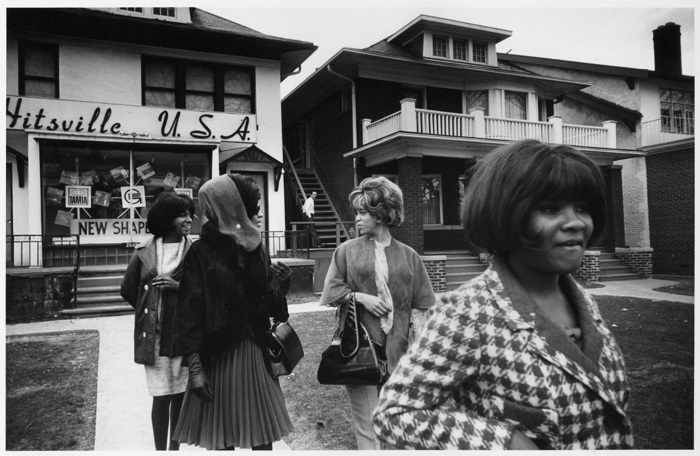 Mary Wilson, Diana Ross, Florence Ballard, Ariane Sorps, 1965
It's spring in Detroit, and the Supremes are back in their hometown – and at the Motown headquarters on West Grand Boulevard – with a new friend, Ariane Sorps. This is the "different and exotic" French model whom the group met, with Berry Gordy Jr., during April in Paris, when they were performing at the historic Olympia concert venue. This was for the Motortown Revue's first excursion to Europe, with a line-up which included Martha & the Vandellas, Stevie Wonder and the Miracles as well as the Supremes, all backed by the Earl Van Dyke Six. After the April 13 show, there was an after-party which also served to launch the Tamla Motown label in France, just as it had been introduced in the U.K. in March.
It was Gordy and Diana Ross who befriended Ariane Sorps in Paris, according to Mary Wilson in her autobiography, Dreamgirl: My Life As A Supreme. "Berry always was a collector of interesting people," she wrote, "and Diane constantly craved new diversions. Ariane was different and exotic, and she was no doubt flattered by Diane's and Berry's attention." When the Motown tour party returned to the U.S., Sorps accompanied them. On April 23, she and the Supremes were stylishly photographed together at the offices of the Detroit News – and it's possible that the photo above was taken when the quartet were heading for that shoot.
In Paris, of course, the Supremes had been snapped before, during and after their Olympia performance. There are iconic shots of the trio by the Eiffel Tower, and taking tea at a sidewalk café, seated in striking, colourful outfits; they were also pictured posing at the Bois de Boulogne in the French capital. Another incident during the same trip saw the Supremes filmed while skipping down the Champs Elysees, lip-syncing to "Where Did Our Love Go" and dodging the traffic. "Suddenly we saw gendarmes approaching us, yelling angrily," recalled Wilson, adding, "The policemen weren't at all impressed with our explanation." It seems that permission was required for such promotional exploits on Paris' most famous avenue.
Ariane Sorps, meanwhile, maintained her connections with the music industry and worked for America's A&M Records in France during the 1970s. Later still, she appeared to be part of the creative team around French singer (and former model) Chantal Benoist, better known as Jennifer. The artist had a local dance hit in 1976 with "Do It For Me" – which Motown picked up for U.S. and U.K. release the following year. Another figure involved with the project was Johanan Vigoda, otherwise renowned as Stevie Wonder's lawyer. The record was not a major American success, although it charted on Billboard's National Disco Action Top 40.