MARY WELLS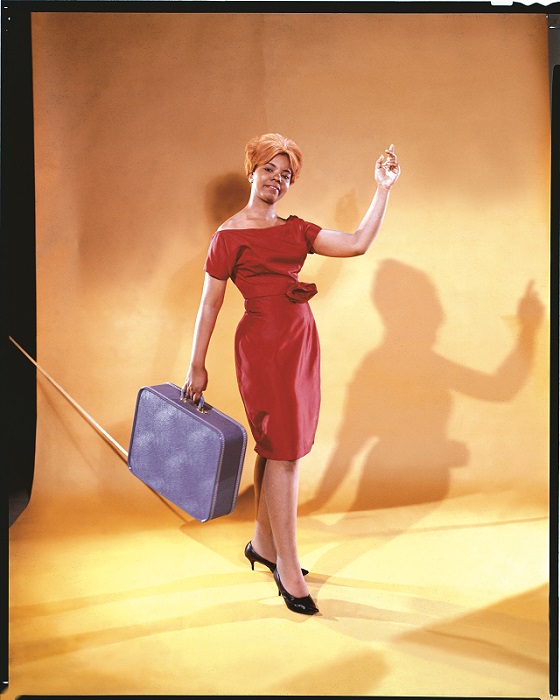 Motown's first female solo star gets ready to hit the road
This is an early photograph of Mary Wells, dating from late 1960 or early 1961, at the time of her self-penned debut 45 for Motown, "Bye Bye Baby." The record, produced by Berry Gordy, was released in September '60, but didn't start motoring up the Billboard Hot 100 until the following year. It peaked inside the Top 50 in April, but was a Top 10 success on the R&B charts. The single was also the first major hit for the Motown label, established after the Tamla imprint was launched in early 1959.
Mary became the Detroit company's first consistent pop chart achiever of those early years, with Top 10 rankings for three consecutive 1962 singles: "The One Who Really Loves You," "You Beat Me To The Punch" and "Two Lovers." All were written and produced by Smokey Robinson (Miracles member Ronnie White was co-author of "Punch"). Bye Bye Baby was Mary's first LP, released in late 1961; it was also the first long-player issued on the Motown label. The singer's third, Two Lovers and Other Great Hits, was her first charted album.
Suitcase at her side, touring soon became commonplace for Mary, with solo dates and as part of the multi-artist Motortown Revue roadshow which criss-crossed the U.S. in the first half of the 1960s. "Mary was a typical Detroit teenager," Claudette Robinson of the Miracles told author David Ritz for liner notes to Wells' Looking Back 1961-1964 collection. "She had her loafers, her white bobby sox, her pleated skirt and her pink sweater. She had a whispering speaking voice and unusual sensitivity. She also had values. She'd grown up poor but hard-working."
The demands on Mary at home and abroad grew greater with the release of 1964's "My Guy." Written and produced by Smokey Robinson, the finger-snapping single soon became Motown Records' first significant international hit, with high chart achievements in countries as far apart as Britain and Australia. Wells travelled abroad for promotion, and later in '64, she opened for the Beatles on their fall tour of the U.K. For that itinerary, she needed a good-quality suitcase.