THE MARVELETTES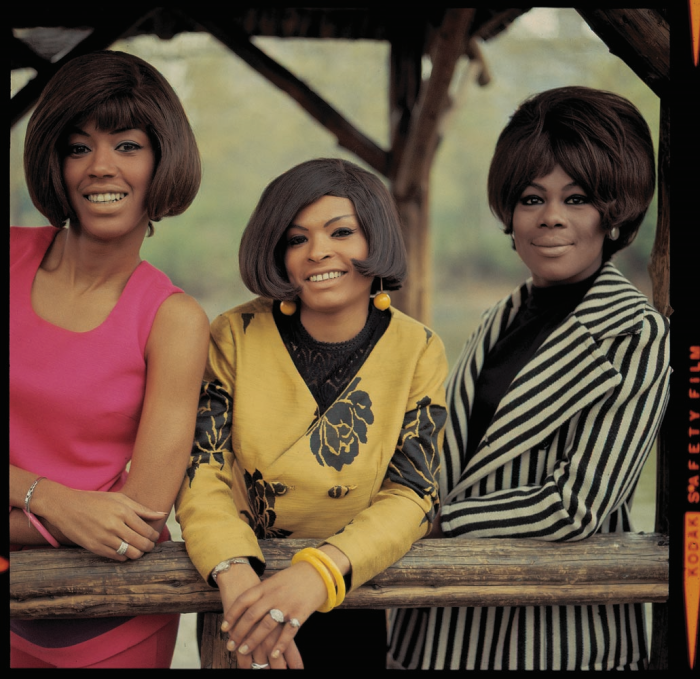 Captured on film, and on the charts.
The group of five, excitable teenagers whose voices gave Motown Records its first Number One on the Billboard Hot 100 with 1961's "Please Mr. Postman" had been reconfigured as a trio of sophisticated young women by the time this photograph was taken in early 1967. Their music displayed the difference, too. That first chart-topper was a fizzing 45 of energy. Five years later, their fifth Top 20 hit on the pop charts was "The Hunter Gets Captured By The Game," a slower, seductive piece of work from the pen of William "Smokey" Robinson, and a worthy successor to the hit he had crafted for the Marvelettes the previous year, "Don't Mess With Bill."
Pictured above are the three Marvelettes of '67 – Katherine Anderson, Wanda Rogers, Gladys Horton – in a shot from the photo session which also yielded the front cover of their Tamla album that year, The Marvelettes (and better known to their fans as "the pink album"). Gladys had assembled the group in the spring of 1961, and Katherine was a founder member; Wanda joined when another of the original five bowed out before the release of "Please Mr. Postman" (for more about their career, read here). Almost all the material on The Marvelettes was recorded in Detroit during 1966 with producers such as Smokey, Norman Whitfield, Brian Holland and Lamont Dozier, and William Weatherspoon and James Dean.
The front cover of The Marvelettes portrayed Katherine, Wanda and Gladys in the same, striking outfits as above, and in the same left-to-right sequence – although Anderson's portrait is more prominent on the LP sleeve. "The photographer we had said I had very expressive eyes," she remarked later. "I think he was trying to capture something." Katherine recalled the shoot for Marc Taylor, author of the group's biography, The Original Marvelettes: Motown's Mystery Girl Group. That said, it was Wanda and Gladys who handled most of the lead vocals on the album, and Wanda, in particular, on its two hit singles, "The Hunter Gets Captured By The Game" and "When You're Young And In Love."
And the cameraman captured by Katherine's eyes? That was Frank Dandridge, who had done previous projects for Motown – his was the cover shot for The Supremes A' Go-Go, for example – and was fast becoming one of the most successful photographers of his day. Dandridge had already covered extraordinary events in America's civil rights struggle, including Rev. Martin Luther King's "March on Washington" in 1963, and he was married to another important activist, Gloria Richardson. "Frank was very handsome, very dashing and had a great personality," said former Motown art director Harry Webber in his essay for The Complete Motown Singles Volume 11A: 1971. "His devil-may-care attitude meshed well with the artists and therefore with [Motown graphics chief] Esther Edwards." Evidently, he captured the Marvelettes to perfection, including Katherine, pretty in pink.