Marvin Gaye: searching for solace, abroad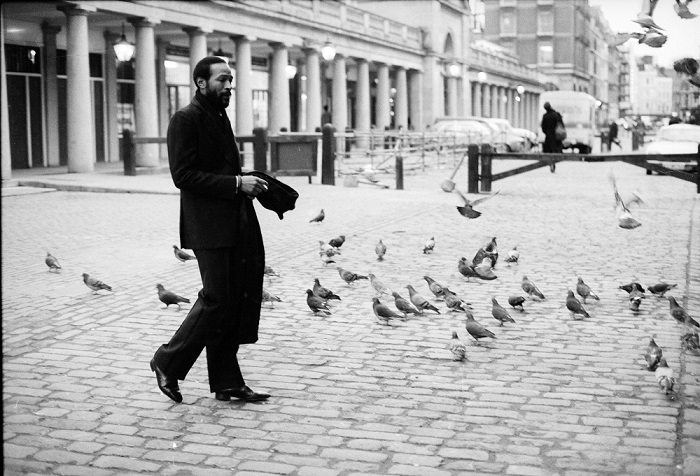 Marvin Gaye is pictured strolling around the Covent Garden area of London, February 1981.
Almost a decade after "I Heard It Through The Grapevine," Europe played a significant role in the final, fraught years of Marvin Gaye's extraordinary career. His U.K. shows during the mid-1970s at the Royal Albert Hall and the London Palladium bestowed on British fans the rare opportunity to see him perform on stage. Moreover, the latter concert yielded a live double-album, which became a Top 3 success in the U.S. in 1977.
Marvin found solace again in the British capital in the early 1980s, when he was being pursued by his personal demons and the U.S. tax authorities. European impresario Jeff Kruger helped to support him financially during this period, when the singer lived close to London's Marble Arch. At the nearby Odyssey Recording studios, he shaped and reshaped songs with members of his band, and with Odyssey engineer Nick Patrick. Eventually, material from those days and nights appeared in February 1981 on In Our Lifetime, Gaye's final album for Motown.
"It was amazing how Marvin worked while his entourage carried on conversation," Nick Patrick later told Universal Music's Harry Weinger, for a 2007 Motown release of those recordings, entitled In Our Lifetime? Expanded "Love Man" Edition. "Marvin had an extraordinary presence," said Patrick. "He could go from charming to intimidating, and the sessions were intense. It was an emotional time for him."
"Everybody loved Marvin," said Sharon Davis, Motown's U.K. press officer at the time, "but every day was mayhem." The superstar subsequently left London for his well-documented exile in Belgium. There, in Ostend, he began crafting the songs, including "Sexual Healing," which formed the singer's comeback. But the few who knew Marvin in London during those days will never forget the experience.