ARTIST OF THE MONTH
These sons of Philadelphia are enjoying this 25th anniversary year, working with the same drive and positivity evident when their debut album for Motown Records, Cooleyhighharmony, was first released in 1991.  The only difference is that these days, the reach of the Boyz extends far beyond the charts, whether that's playing with symphony orchestras or appearing on TV, duetting with country music stars, or welcoming delegates to one of America's major political events.  Get up to date here with Boyz II Men's activities, check out how much you really know about them and, most of all, listen again to their way-cool harmonies.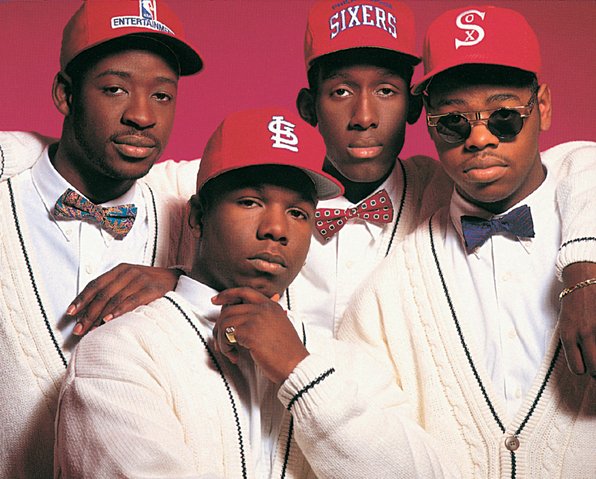 KEY INFORMATION:
Whether on your phone, tablet or TV, the chances are that you've seen and heard Boyz II Men on-screen more than once or twice this year. The trio's Wanya Morris spun vividly into view on Dancing With The Stars in the spring with partner Lindsay Arnold, while the latest season of Black-ish featured "It's So Hard To Say Goodbye To Yesterday" in one of its early episodes. And the group guested in an episode of The Odd Couple, as a result of some lobbying by cast member Yvette Nicole Brown, and also on Oprah Winfrey's Where Are They Now?
Another highlight this year was the trio's performance of their very first hit, "Motownphilly," at the opening of the Democratic National Convention in their Philadelphia hometown in July. Motown artists have appeared for politicians in the past – in 1968, for example, the Supremes endorsed the Democratic presidential candidate – while President Obama recently honored Stevie Wonder and Motown founder Berry Gordy at White House ceremonies. You may also remember that Obama featured Stevie's "Signed, Sealed, Delivered (I'm Yours)" as an election campaign theme song in 2008.
On Where Are They Now? with Oprah, Boyz II Men – tenors Wanya Morris and Shawn Stockman, baritone Nathan Morris – recalled when they were a foursome, until the 2003 departure of original member Michael McCary, who sang bass. "Mike came into the group on a whim," said Wanya. "His voice was ridiculous. There was no voice like it." But McCary subsequently became distracted by health problems. "It could have been fixed," said Wanya. "Instead he stopped coming to work and we had to move forward without him."
In concert, Boyz II Men have just completed a three-night run with the Kansas City Symphony Orchestra at the city's Kauffman Center, just as they did a two-night show at the Kennedy Center in May with the National Symphony Orchestra. In September, they played in California with SWV, En Vogue, K-Ci & JoJo, and Ginuwine. Next up is a November run at The Mirage Hotel in Las Vegas, where they've been performing regular headline gigs in recent years. Those dates will be followed by a three-night holiday show in the casino capital, starting Dec. 23. The most recent Boyz II Men album, Collide, even featured a song called "What Happens In Vegas," an ode to strippers. Naturally, the group features their classic Motown – and Grammy®-winning – hits, such as "End Of The Road," "I'll Make Love To You" and "On Bended Knee" throughout these shows.
Holiday sentiments figure, too, in another Boyz II Men project: their guest spot with country music star Chris Young for a track on his new album, It Must Be Christmas, released Oct. 14. The song is the seasonal standard "Silent Night," which the Boyz previously recorded on their 1993 Motown set, Christmas Interpretations. Young said the trio was very specific about their contribution, singing behind him after each verse "like angels" with the chorus. "I was, like, 'This is just so cool,'" he told Taste of Country, "because it's different than everything else that's on the rest of the album."
That history also came back into view Oct. 20 when Boston Mayor Martin Walsh dedicated a basketball court to Michael Bivins – the man who discovered Boyz II Men in Philadelphia in 1989. Bivins was a member of Roxbury's New Edition at the time, and he was just about to embark on a new career as artist manager (as well as being one-third of a New Edition spin-off, Bell Biv DeVoe). Bivins heard and signed Boyz II Men – known then as Unique Attraction – to Motown Records, and steered their career to multi-platinum success. Michael's name attached to a basketball court came about because of his dedication to the game as a young man. "I'm not a hockey player getting a basketball court named for me," Bivins told the Boston Globe recently. "Until I met my brothers in New Edition, ball was gonna be my way out."
IN WANYA MORRIS' WORDS:
"The very first day an envelope came to our house that had the Motown logo on it…It was nothing special, just a letter. But to know someone sent us a letter with the Motown logo on it freaked us out. It was huge being on that label, just huge."
ITUNES:
Boyz II Men are Motown artist of the month, so check out the Motown room on the store or click here for some great discounts on their incredible albums.
QUIZ: