ALBUM OF THE MONTH
FIVE REASONS TO LISTEN:
The Commodores' first Top 3 album on the Billboard pop charts.
Hit singles "Easy" and "Brick House."
Songs written by every member of the group.
Thomas McClary's signature guitar solo on "Easy."
"Zoom," a hit for the band in Britain, but never released as a U.S. single.
FOUR FAST FACTS:
Original release date: 15 March, 1977.
Reissued on vinyl worldwide June 16, 2017.
The Commodores' longest-charted hit album on the Billboard pop charts, at 53 weeks.
Their second No. 1 album on the Billboard Soul charts.
VIDEO:
FULL TRACK LISTING:
DETAIL:
Commodores, featuring the band's name as its title but also known as the "blue" album, was released during what may have been the busiest 12 months of their working lives. They had embarked on a series of overseas concert dates in the first half of the year, followed by an extensive domestic tour – their largest to date – in the second. In May, the mayor of Tuskegee, the Alabama city where the quintet first coalesced, proudly declared a "Commodores Day." In June, they were honored in Los Angeles at an event attended by the city's mayor and the widow of civil rights leader Rev. Martin Luther King. That same month, Commodores became the group's first thundering, Top 3 success on the Billboard pop charts, while also spawning a pair of Top 10 pop hits, "Easy" and "Brick House."
As if all that activity wasn't enough, the Commodores graduated to the silver screen in '77, making an appearance (as minstrel singers) in Motown Productions' biopic of celebrated ragtime musician Scott Joplin, and, later in the year, filming their part in Thank God It's Friday, a disco movie which starred Donna Summer. For the soundtrack, the group wrote and recorded a new song, "Too Hot Ta Trot," which became a hit early the following year.
Oh, and did we mention that the Commodores were cited in the Congressional Record of America's 95th Congress? In 1977, Alabama legislator Bill Nichols commended them for "achieving the pinnacle of success in the recording industry." Resolutions received from the City of Los Angeles, the City of Tuskegee and the Martin Luther King Center for Social Change in Atlanta were also read into the record at that time, adding Washington, D.C. to their list of urban conquests.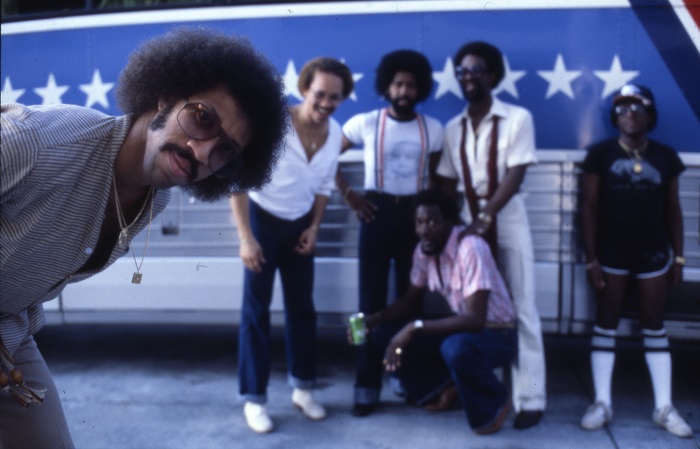 Commodores was the band's fifth album for Motown Records, to which they signed in June 1971. Several years earlier, the six musicians – Lionel Richie, Milan Williams, Walter "Clyde" Orange, Thomas McClary, William "WAK" King, Ronald LaPread – had gotten together in Alabama, where they were attending college, as much to meet girls, according to Richie, as to make music and money. Being in a group, he said, would guarantee them the favourable attention of Tuskegee Institute's female campus quotient. Once signed to Motown, they toured for several years as opening act for the Jackson 5. Their first single for the company came in 1974: "Machine Gun," a Top 10 hit on the soul charts.
Two powerful, Richie-written ballads, "Sweet Love" and "Just To Be Close To You," established their Top 10 crossover credentials in 1976, and after the March '77 release of Commodores, "Easy" morphed into the band's biggest pop hit yet. To Spin magazine, Lionel explained, " 'Easy like Sunday morning' applies to anybody who lives in a small Southern town. Small Southern towns die at 11:30pm Saturday night. They roll up the sidewalk. So I kind of got that from my own experiences – that was Lionel Richie from Tuskegee, Alabama, where there is no such thing as four-in-the-morning partying."
"Easy" was the only song on Commodores created solely by Richie, but he co-wrote five others with members of the group. The ballad's memorable guitar solo was the work of Thomas McClary. "When it came down to something serious," McClary explained to A. Scott Galloway in liner notes for 1995's The Best Of The Commodores, "I had to have the [party people] excused from the studio. That solo was one of those times. I played it straight through [the studio] board with some overdrive and a compressor. It took about three hours to get that sound, but I got my first solo Rolling Stone write-up because of it."
"Easy" earned more, including a country music remake in 1978 by Barry Kaye and a unexpected rock version by Faith No More which was in 1993 a Top 3 British hit and No. 1 in Australia. Lionel himself recut the song for his 2012 multi-platinum solo album, Tuskegee, doing so with none other than country music monarch Willie Nelson. In 2016, Richie also chose "Easy" for a commercial to promote the DIRECTV channel, featuring retired NFL quarterback Peyton Manning. "It's Peyton on Sunday morning," Lionel crooned.
By contrast, the story behind "Zoom," the album's fourth track, is suffused with tragedy. Its primary writer, bassist Ronald LaPread, was working on material for Commodores when his wife, Kathy, was taken ill. Diagnosed with cancer, she and LaPread returned to Tuskegee. "When we got home, she went to bed," he recalled in Chicken Soup for the Soul: The Story Behind the Song. "I sat down at the piano and started fiddling around. Kathy got out of bed and came and sat down beside me. She told me that there were nice changes, but the melody should go up at a certain place. We sat there for about an hour and worked out the music." Later, Ronald took the song to a listening session with the rest of the Commodores, where producer James Carmichael "said it was nice but it needed a middle." LaPread explained that Lionel Richie had a song with a middle and no beginning, and so the two musicians put their heads together "Zoom" was the result.
In early 1977, the Commodores were committed to a European tour, but LaPread didn't want to leave wife Kathy alone at home. She persuaded him otherwise, and the bass player set off for the U.K. with his bandmates. After a show in Scotland, Ronald learned that her condition was worsening; he flew home to be at her side when she passed. Years later, he said, "I was on stage playing with Richie not too long ago, thirty-five years after we wrote this song, and the excitement of 80,000 people getting up out of their seats cheering was a great tribute [to Kathy]."
When Commodores was released, it bore the inscription, "This album is dedicated to Kathy Faye." In the U.S., "Zoom" remained an album track, but in Britain, it became a hit when released as a single; moreover, Commodores was retitled Zoom for release in that country. A ten-minute performance of the song was also featured on the band's next album, Live!, as recorded in concert in Georgia and Maryland during their '77 summer tour. Kathy was clearly not forgotten.
A central figure in the band's recording life was producer James Anthony Carmichael, who began his career as a musician and arranger, contracted by various labels. By 1974, he was working for Motown in Los Angeles, and soon with the Commodores. Together, they arranged and produced most of the group's debut LP for the company, including its title hit, Machine Gun. Carmichael continued that essential collaboration through the '70s, with engineers Cal Harris and Jane Clark by his side.
The Commodores' 1977 tour of the U.S. was hugely successful, as was the live album recorded during the coast-to-coast swing, and their crossover record sales encouraged Motown to brand its star sextet as "the black Beatles." The comparison referred to "the group's obvious popularity," declared trade magazine Variety in reviewing their Los Angeles show that August, "plus their usual versatility. Many write, many sing, and a number of different styles are threaded throughout the Commodores' set." Variety added, "Group was backed by a supplementary horn section and auxiliary guitarist."
Those "supplementary" musicians were the four-member Mean Machine, whose Darrell Jones co-wrote (with Walter Orange) "Squeeze The Fruit," the opening track of Commodores. In concert, Jones played guitar and drums, and did background vocals. The quartet – with Harold Hudson, David Cochrane and Winston Sims, all of whom were similarly versatile – was an integral part of the Commodores' sound in the 1970s and beyond. Keyboardist/trumpeter Hudson, for example, co-wrote "Lady (You Bring Me Up)," the group's 1981 hit.
Lionel Richie left for his solo career in 1983, but the band – most recently on the road featuring original members King and Orange, plus 1980s recruit, J.D. Nicholas – naturally includes songs in concert from their shared past. Among them: "Brick House," "Easy" and a third song from Commodores, "Won't You Come Dance With Me," written by Richie and McClary.
Lionel, too, calls on his Commodores years when performing in the 21st century. "The versions we've been playing are going to be as close to the originals as possible," he said on the eve of headlining the Glastonbury Festival in 2015. "If a crowd comes out to hear 'Easy,' they're not going to get a new arrangement, with a harmonica solo and Willie Nelson coming on to sing it. They're going to get it down the barrel."
The original release of Commodores was on vinyl and tape in 1977, accompanied by a large, autographed poster of the band. When the album was remastered for compact disc release in 1998, all but two of the tracks were discovered to have been shortened for vinyl's running-time restrictions, 21 years earlier. "Funny Feelings," for instance, ran for 4:50 on the LP in '77, but was extended to 5:56 for CD in '98. For the high-quality vinyl reissue this year, the longer time has been preserved, as have those for most other tracks, including "Easy" and "Brick House."
JUST SAYIN':
"You can't really put the group into a category. They have the ability to do so many things. The only phrase I would use to characterize their music generally is universal music, and that doesn't limit them." – James Anthony Carmichael, arranger/producer with the Commodores of all their major hits.
VOTE FOR YOUR FAVORITE TRACK ON THE ALBUM:
Producers: James Anthony Carmichael, the Commodores.
Songwriters: Darrell Jones, William King, Ronald LaPread, Thomas McClary, Walter Orange, Lionel Richie, Milan Williams.
Re-makes: "Brick House" (Dread Zeppelin, 1992; Clarence Carter, 1997; Rob Zombie with Lionel Richie and Trina, 2003), "Easy" (Barry Kaye, 1978; Faith No More, 1992; Westlife, 2006; Boyz II Men, 2007; Lionel Richie with Willie Nelson, 2012).
Samples: "Brick House" (Mayte's "House Of Brick," 1995; Foxy Brown's "Ill Na Na," 1996), "Easy" (Geto Boys' "Six Feet Deep," 1993; Cam'ron's "Hey Ma," 2002); "Zoom" (Tricky's "Tricky Kid," 1996; Fergie's "All That I Got," 2006; Snoop Dogg's "Pimpin' Aint EZ," 2009; Bone Thugs-n-Harmony's "Everytime," 2010).