ARTIST OF THE MONTH
This summer marks the 50th anniversary of the release of their mightiest hit, "Reach Out I'll Be There," so what better time to celebrate the talent of the Tops?  Listen here to the album which followed that all-conquering, global hit, read more about the group's past and present, test your knowledge of their career, and vote for your top track from their timeless music-making.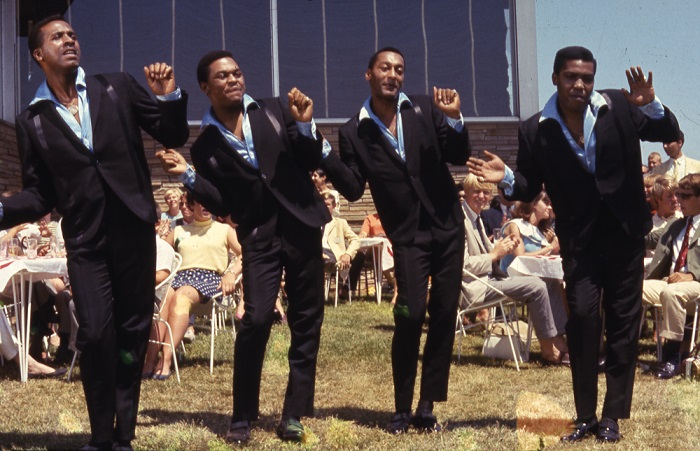 KEY INFORMATION:
It was July 8, 1966, when Motown's songwriting/production power trio, Holland/Dozier/Holland, laid down the foundations of "Reach Out I'll Be There" in the studio at Hitsville U.S.A.  Lamont Dozier once explained how the sessions went:  "At first we would start out with Benny [Benjamin] on the drums, 'Here is the way the beat is going to go,' and then we'd get to [James] Jamerson, 'The bass line goes like this.'  Or if it wasn't really a bass line, like on 'Reach Out I'll Be There,' something that was a little sparser, then he would follow the chords, because the chords would be moving fast sometimes." After the rhythm track, producers Lamont and Brian Holland would overlay the strings and horns, played by members of the Detroit Symphony Orchestra.
Recording logs show that for "Reach Out I'll Be There," the Tops' vocals – and those of Motown's background angels, the Andantes – were completed on July 21, 26 and 27.  The song's lead by Levi Stubbs is one of Motown's peaks: revelatory for its power and command, unforgettable for its urgency and passion.  Yet as with "I Can't Help Myself (Sugar Pie, Honey Bunch)," Levi initially wasn't sure his was the voice to carry the load.  "When I first heard it," he once said, "it was a little foreign from what I thought my bag was as a lead singer."  Could another of the Tops front it?  Levi's request gained no traction, and neither did his suggestion, after completing the vocal, that he should re-record it.  That can be done tomorrow, responded the Holland/Dozier/Holland team, knowing the day would not come:  Levi had already scaled the mountain top.
Motown released "Reach Out I'll Be There" on August 18, 1966, and swiftly, the world surrendered to its force and imagination.  The record rose to No. 1 on both sides of the Atlantic, and in the U.K., the Tops made their concert debut in November.  At home, "Reach Out…" reached the Top 10 in its fourth chart week, climbing to No. 1 in mid-October.  That same week, Motown had three further titles in the Top 20, which was also home to the Left Banke's "Walk Away Renee" and Bobby Darin's "If I Were A Carpenter."  The Tops cut versions of both songs for their Reach Out album, issued in July 1967, and both were hits when released as singles.  During December '66, the quartet recorded "Reach Out I'll Be There" in Italian, for release the following year.  In March 1968, they did the same for "Walk Away Renee."
The Four Tops were Levi Stubbs, Renaldo ("Obie") Benson, Lawrence Payton and Abdul ("Duke") Fakir. They first sang together at a high school party in Detroit in the early 1950s – a harmonic happenstance which was eventually to yield a career of worldwide reach, fuelled by a succession of momentous Motown hits. The original quartet held together for 43 years; today, Duke Fakir is the last surviving member, and he continues to entertain audiences at home and abroad with a group line-up which includes the late Lawrence Payton's son, Roquel.  Among many accolades, the Four Tops were in 1990 inducted into the Rock & Roll Hall of Fame, and honored in 2009 with the Grammy® Lifetime Achievement Award.
Duke Fakir was among more than 40 artists and musicians who went to Washington, D.C., recently to lobby for legislation introducing U.S. performance rights for sound recordings on terrestrial radio.  They want American broadcasters to compensate singers, musicians and record companies when playing their music, which is common practice elsewhere in the world.  The lobbying was billed as "Fair Play Fair Pay Day" by a coalition of organizations representing musicians, artists, record labels and collecting rights societies.  Trade paper Music Week noted that Americans are unable to collect royalties from foreign performances of their music due to the lack of reciprocal agreements.  At the May 11 event in the capital, Duke said, "If America would do that reciprocal agreement…there were so many millions that would come that it would be life-saving for some people, life-extending for some people."  One month earlier, current Motown artist Kem, from Detroit, was among those voicing support for the new law, at a Washington, D.C. event organized by the Recording Academy.
This summer, the Four Tops are performing from Massachusetts to California, including shows in Cape Cod during August and San Diego during September. Tickets are available here. The foursome comprises Duke Fakir, Roquel Payton, Ronnie McNeir and Harold ("Spike") Bonhart.  Growing up with the Tops "was like having a concert at our house every week," recalled Roquel recently.  "Dad did vocal arrangements for Motown for a lot of different groups, and they would come over, sit and talk and chew the fat, groups like the Miracles, the Marvelettes, the Temptations, Smokey.  It was always like that; they were just Dad's friends.  It wasn't until I was a teenager that I realized they were entertainers, songwriters and arrangers."  Another generation is keeping the faith:  Levi Stubbs' granddaughter, Kourtney, is part of DMK, a new girl trio from Detroit, which has appeared on hit TV series Empire.  Read more about DMK here.
This fall, the Four Tops and the Temptations are touring together – as they have for many years – in the U.K., with October concerts in Liverpool, Manchester, Leeds, Nottingham, Birmingham, London, Bournemouth and Southend.  View the dates here. "I have so many great memories [of Britain]," Duke Fakir said this past spring, "and one of my favorites is the first time we were being promoted.  The manager of the Beatles called us up and said, 'Gents, if you do the best show you have ever done, I promise you I will make you front page news.'"  Brian Epstein was true to his word:  the Tops' first London concert on November 13, 1966, at the Saville Theatre, which Epstein owned, was a major success.  The impresario subsequently booked the group for a nationwide UK tour in 1967, and their popularity, fuelled by a sequence of classic Motown hits, has continued to this day.  The Tops have eleven Top 10 hits in Britain to their credit, while a twelfth – a remix of "Reach Out I'll Be There" – reached No. 11.
IN DUKE FAKIR'S WORDS:
"Holland/Dozier/Holland were the great tailors of music.  They would just fit you with a song that was perfect.  We'd go into the studio and we'd know that they would have a top five [hit] waiting for us.  It was a remarkable partnership."
IN BERRY GORDY'S WORDS:
"The Four Tops were a combination of some of the greatest entertainers I had seen throughout my life – the Mills Brothers, the Treniers, the Ink Spots, the Will Mastin Trio and many others.  They were not only one of the hottest groups of the sixties but great showmen."
ITUNES:
The Four Tops are also this month's Motown Artist of the Month, so go check out the Motown room on the store or click here for some great discounts on the group's incredible albums.
WHAT'S YOUR FAVORITE FOUR TOPS TRACK?
QUIZ:
[livefyre_shortcode]