ARTIST OF THE MONTH
Rick James helped to re-energize Motown in the 1980s with his multi-platinum masterpiece, Street Songs, and his outrageous lifestyle.  Listen here to music by the so-called "King of Punk-Funk," read about his life and times, including his rocky relationship with Prince and test your knowledge of Rick's career.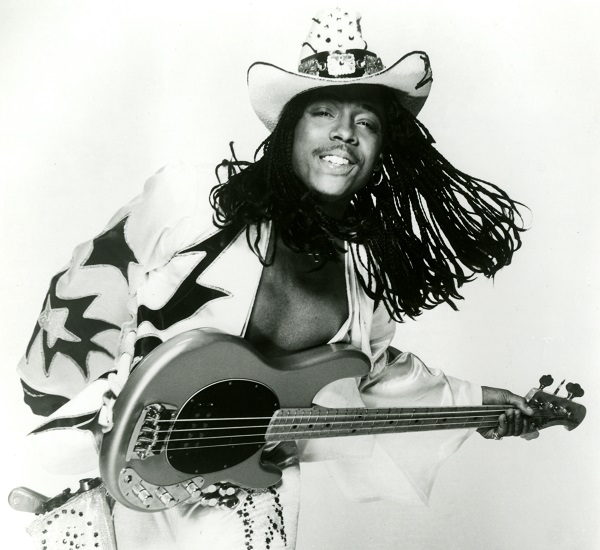 KEY INFORMATION:
A dozen years have passed since Rick James' tragic, premature death, but his influence is as resonant as ever.  Former New Edition singer Bobby Brown is just one of many in music, showbiz and even fashion who has recently acknowledged that.  The funk of Rick, as well as that of George Clinton and James Brown, "was everything to me [growing up]," he declares in his newly-published autobiography, Every Little Step.  Bobby also recalls when New Edition opened for Rick in concert:  the Motown superstar, holding a joint in one hand, told them, "Don't ever do drugs, it'll kill you."
Rick's music has been sampled on hundreds of recordings, most famously by M.C. Hammer in 1990 when he used part of "Super Freak" (from Street Songs) in his million-selling hit, "U Can't Touch This."  Rick and co-writer Alonzo Miller received royalties from the sample, and also a Grammy® award when "U Can't Touch This" was named best R&B song of 1990.  "Super Freak" continues to be heard around the world:  it was, for instance, adapted for use in a recent ad campaign in France for soft drink Orangina.
Among the many other artists who have sampled Rick's grooves are Kanye West, Busta Rhymes, Lana Del Ray, Jay-Z, Erykah Badu, DJ Jazzy Jeff & The Fresh Prince, Ol' Dirty Bastard, the Snoop Dogg-endorsed Eastsidaz, and Kendrick Lamar.  Snoop himself appeared on Rick's 1997 post-Motown album, Urban Rapsody.
Rick's entire Motown catalog was re-released in digital form in July 2014, to coincide with the publication of an authorized biography, Glow, by David Ritz.  All of the musician's nine albums, first released on the Gordy label, were made available in a 109-track digital set with exclusive bonus tracks.  Simultaneously, five Rick-produced albums by his Stone City Band, Bobby M and Val Young were reissued for the first time.
An earlier assembly of his Motown work, 1994's Bustin' Out: The Best Of Rick James, came with an unusual twist at the album launch.  At the time, he was incarcerated at the California Rehabilitation Center in Riverside County, but permitted to address the party at trendy Los Angeles nightspot Tatou by telephone.  Later, he wrote in his memoirs, "I always used to tell people that a few years in jail would probably sober me up, so all in all, it seemed like an OK deal to me."
One of Rick's Stone City Band members, bassist Oscar Alston, recently spoke about the rivalry with Prince, newsworthy again following the latter's passing in April.  Alston recalled when Prince was James' opening act on tour in 1980.  "He made Rick work hard, there was never a night when we didn't watch Prince perform – we loved it."  In his 2007 autobiography, Memoirs of a Super Freak, Rick himself remarked, "I always felt our competition was healthy, although I was jealous when he started getting big – more than jealous – I was pissed."
Rick came from Buffalo, New York.  There, he was born James Ambrose Johnson Jr. on February 1, 1948. When time came to create Street Songs, Rick told biographer David Ritz that he made a number of "secret trips" home.  "If I had gone with my entourage, everyone would have guessed that some big shot was coming through."  He added, "I could have written Street Songs in Buffalo, but after revisiting my old haunts, I realized that I needed to distance myself from the memories."
The star is not forgotten in his hometown.  Buffalo's historic Forest Lawn Cemetery holds tours annually, and recently started its 2016 season, with Rick's memorial and that of civil rights pioneer Mary Burnett Talbert among the stops.  The inscription on Rick's gravestone reads:  I've had it all/I've done it all/I've seen it all/It's all about love/God is love.
There are other memorials. "Super Freak" is heard every night wherever Berry Gordy's Motown The Musical is playing, at home and abroad.  Also in the show is "Square Biz," one of the biggest Motown hits of Rick's protégé, Teena Marie.  Meanwhile, recent concerts by Public Enemy have featured a tribute to him.  And Rick would have been pleased to know that his thigh-high red boots (as seen on the cover of Street Songs) still draw attention.  At a recent catwalk show in New York, fashion firm Hood By Air displayed a pair of Jamesian fire-engine-red boots, while Vogue magazine hailed Rick's "audacious ensembles" and noted that he took a "fearless approach" to dressing.  Just as he did with everything else in life.
IN BERRY GORDY'S WORDS:
"And then there was outrageous Rick James, taking our music in a totally new direction, coining phrases I had never heard before.  Cocky and wild, he was considered the King of Punk Funk, coming out with smash hits like "You And I" and "Super Freak."  His live shows were so daring they shocked me."
IN RICK JAMES' WORDS:
"My journey has taken me through hell and back,  It's all in my music – the parties, the pain, the oversized ego, the insane obsessions.  When I look back, I see how the discipline of my music was one of the things that saved my undisciplined life."
ITUNES:
Rick James is Motown Artist of the Month, so go check out the Motown room on the store or click here for some great discounts on his incredible albums.
QUIZ:
[livefyre_shortcode]