He is as a brother to Berry Gordy, and without Smokey, perhaps Motown would not have risen to become "the Sound of Young America." After an extraordinary career fronting the Miracles, creating hits for the group and many others, he decides to step onto a solo path. In fact, it's 46 years ago this month – in January of 1972 – that Smokey begins his farewell tour with the Miracles. Thereafter, he forges a new body of work on his own, including a supremely influential album, A Quiet Storm, and an impressive round of chartbusting singles, including "Cruisin'" and "Being With You." And, by the way, this dude never stops touring.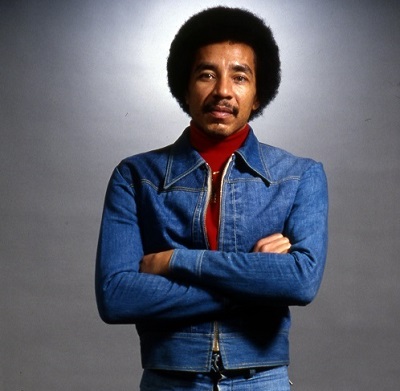 FAST FACTS:
First Hit: "Sweet Harmony"
Biggest Hit: "Being With You"
Top Album: A Quiet Storm
Career Highlight: Too many to count, but his Grammy® Lifetime Achievement Award will do, for starters
KEY INFORMATION:
For this son of the Motor City (born February 19, 1940), the first 15 years of his professional life are documented in the metaphorical filing cabinet marked "Smokey Robinson & the Miracles" and celebrated in his farewell album with the group, 1957-1972. It was Smokey who encouraged Berry Gordy to form Motown Records, and their legacy of music is playing, somewhere in the world, even as you're reading this.
But America loves a second act, and Smokey's begins when he leaves the Miracles, gets off the road, spends more time with wife Claudette, and tends to duties as talent scout and vice president of Motown – a rank bestowed on him ten years earlier. He also writes a song dedicated to the Miracles, "Sweet Harmony," which becomes the first hit single of his solo career, in the summer of '73. Accompanying it is an album, Smokey, co-produced with Willie Hutch, which includes the socially conscious "Just My Soul Responding."
As in the '60s, Smokey continues to work with fellow Motown artists, including the Supremes. Among his creations for the trio are "Floy Joy," a Top 20 pop success, and "Automatically Sunshine." At the same time, his catalog prospers, with artists as diverse as the Staple Singers and Petula Clark remaking his songs, while Linda Ronstadt sends "The Tracks Of My Tears" back to the Top 40 in 1976.
Before that, Pure Smokey is a second solo outing, featuring four collaborations with Marv Tarplin, the indispensable guitarist of the Miracles years. Two other songs, "Virgin Man" and "I Am I Am," are Top 10 R&B hits.
A Quiet Storm also yields a classic, "Baby That's Backatcha," which is the first R&B No. 1 of Smokey's solo years. He charges into other endeavors, including a movie, Big Time, with a soundtrack album, naturally. Nor can the man stay away from the stage: the 1978 album entitled Smokin' is his first-ever live solo set, in which he sings an abundance of Miracles hits as well as his own.
Guitarist Marv Tarplin helps to create "Cruisin'," another Smokey success with an irrepressible riff. It travels to the Top 5 of the Billboard Hot 100 in early 1980. The following year, the singer/songwriter works with producer George Tobin to make "Being With You," which stops only one slot short of No. 1, spending half a year on the charts. In Britain, the record takes the top spot.
Smokey is as busy as ever through the 1980s, with back-to-back Top 10 hits, "Just To See Her" and "One Heartbeat," and well-regarded albums such as Love, Smokey. His classic material still draws a crowd, too, with new interpretations of that work by everyone from the Rolling Stones to Tammy Wynette, Elvis Costello to D'Angelo, UB40 to the Grateful Dead's Jerry Garcia.
The freedom granted by enduring popularity and respect allows Smokey to unveil his own label, Robso; make an album of religious songs, and another featuring standards he admired as a young music fan; record with a variety of other artists, among them India Arie and Carlos Santana; and lend his seal of approval to a young Australian vocal group, Human Nature, who draw crowds in Las Vegas night after night by harmonizing the Motown songbook. Oh, and Smokey accepts an invitation to perform in the White House for President Barack Obama.
In 2014, Smokey & Friends is an album featuring stars new and familiar, duetting with the master on staples such as "The Tracks Of My Tears" (with Elton John), "Cruisin'" (Jessie J), "Being With You" (Mary J. Blige) and "Quiet Storm" (John Legend). In 2016, Smokey is honored with the Library of Congress Gershwin Prize for Popular Song, and in 2017, he closes the year with the release of his first-ever solo holiday album, Christmas Everyday.
The endless touring by Bob Dylan – a Robinson admirer from way back – is matched by that of Smokey, to this day. Hardly a week goes by without an SR concert somewhere in the world. "We're all just players, sidemen in a big show that has no end," he declares. "I think of myself as a guy with a good voice and a knack for songwriting who's had some big breaks and blessings." And, confirming that the show has no end, Smokey revealed at the end of 2017 that a biopic about his life and times is in the making. Time to second that emotion!