STEVIE WONDER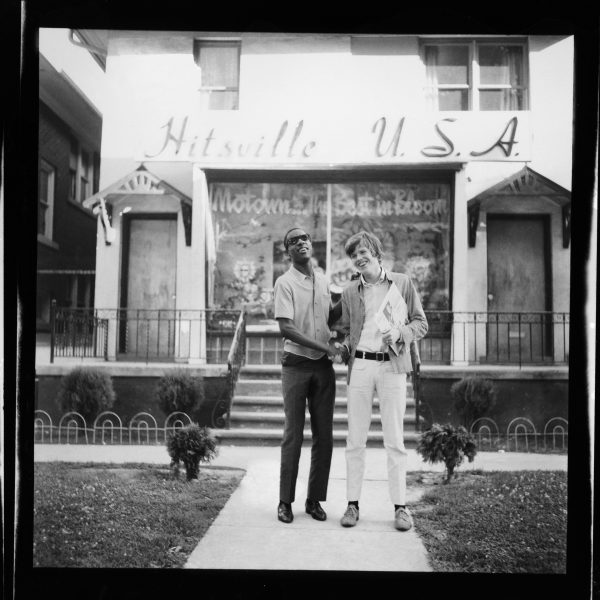 Stevie welcomes Peter Noone of Herman's Hermits to Hitsville in the summer of '66
As Motown Records' success and popularity increased exponentially during the mid '60s, its headquarters in Detroit became a magnet for artists and musicians from all over the world. Everyone wanted to know: how exactly did they get that "Sound of Young America"? And so it was on a summer's afternoon in 1966, one of Britain's biggest pop stars came to visit. It was Peter Noone, lead singer of Herman's Hermits – and who should he meet but Stevie Wonder?
Herman's Hermits were among the biggest bands of the first so-called British Invasion, which effectively began with the Beatles' appearance on The Ed Sullivan Show in early 1964. Lead singer Noone was "Herman," and he and his musical mates from Manchester, England, scored nine consecutive Top 10 hits on the Billboard charts, including two Number Ones in 1965-66. (During one competitive week, the Supremes' "Stop! In The Name Of Love" kept the group's second hit out of the top slot.)
The Motor City first heard and saw Herman's Hermits in concert in July 1965, followed by a return trip one year later for a show at the Olympia Stadium. And it was then – on Friday, July 29, 1966 – that Peter Noone visited Motown Records in the company of top Detroit disc jockey Scott Regan of WKNR. The singer was in-demand that afternoon from "all the girls who had stationed themselves" in the lobby of his hotel, according to a Detroit Free Press report. "Herman had to exit through the basement and make a run for Scott's car."
Stevie Wonder was working at Hitsville that July: in fact, he had recorded his vocals for "A Place In The Sun" just a couple of days before Noone's visit. The two stars hung out together, with Wonder playing the guest some of his new material. "Herman really dug one of them," reported the Detroit Free Press, "and Stevie promised to send it to him." Noone also asked Wonder to autograph his personal copy of Moods Of Marvin Gaye album (that's the LP under his arm in the photo above). "He signs it right on Marvin's face," the Briton later reported. "Fun times, fun people."
Another photo from the same place and time is familiar to many Motown fans: it shows Stevie, Peter and Margaret Phelps, who ran the Hitsville U.S.A. fan club (she was also secretary to Esther Edwards, one of the company's senior executives). All three are outside the front of the building, and Noone is still carrying his Marvin Gaye album. In the U.K., Margaret Phelps was known as the opening voice heard on the special 45 sent to members of the Tamla Motown Appreciation Society, with messages of thanks from Berry Gordy and his artists. You can find that photo here.