SMOKEY ROBINSON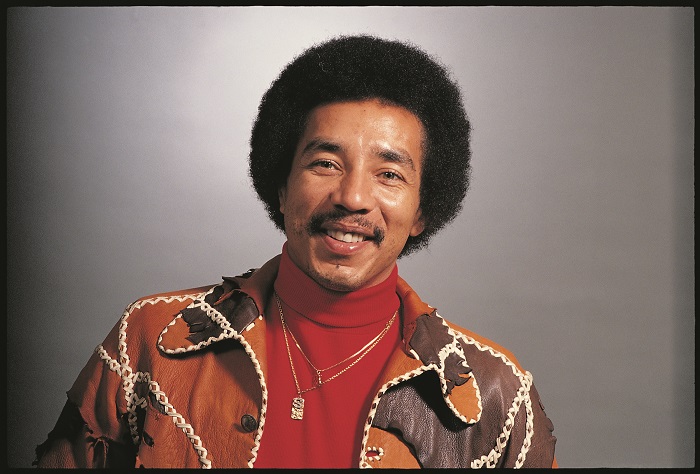 "I believe in miracles, if you can dream it, it can be done."
The Motown files indicate that this photo comes from 1972, so the chances are good that it was taken after Smokey Robinson left the Miracles for his solo career; his outfit suggests the same. The singer/songwriter's final shows with the group were in mid-July that year, and these were recorded and released as a "farewell" double-album. Smokey was planning to retire from performing to concentrate on duties as a Motown vice president. Yet he couldn't stop making music, and after writing "Sweet Harmony" – a song dedicated to the Miracles, including the lyric line shown above – he was advised by Motown executive Suzanne DePasse to include it on an album. "But I'm retired," Smokey remembered, in his autobiography, telling her. "You're retired from performing," she replied, "but not from writing and singing."
And so his first solo album, entitled Smokey, came to pass. It was released in June 1973, with "Sweet Harmony" as the first 45. The second, "Baby Come Close," proved to be its most popular track, reaching the Top 10 of the Billboard soul charts and the Top 30 of the pop best-sellers. Produced by Robinson and Willie Hutch, Smokey arrived in a gatefold sleeve, with photography by Jim Britt, who probably also took the photo above. On the album, too, was a protest song, "Just My Soul Responding," with Tom Bee of Motown's native Indian rock group, XIT, joining Smokey to sing a Sioux medicine man chant on the track. Although not issued as a 45 in the U.S., it was released in that format in the U.K., where it reached the Top 40.
To promote Smokey, the man himself turned to television. Specifically, he made his first appearance on NBC-TV's Midnight Special in mid-July 1973, hosting the show, with guests including fellow Motown acts Rare Earth and Martin & Finley, the Stylistics, Bonnie Bramlett and…the Miracles. With their new lead singer, William Griffin, the Tamla foursome performed two tracks from their current album, Renaissance, and "The Tears Of A Clown," the Miracles' last hit with Robinson. For his part, Smokey sang "Sweet Harmony" and another track from Smokey, "Wanna Know My Mind," plus a version of Stevie Wonder's "You Are The Sunshine Of My Life."
In August '73, the post-Smokey Miracles played their first show in Los Angeles, as part of "Soul Train Night" at the Forum. The line-up also featured Motown stars Eddie Kendricks and Edwin Starr. "William Griffin, making his debut as a Miracle, was convincing," wrote one reviewer, "as he blended smoothly into the tight, clean harmony and split-timed choreography that is part of the Miracle legend." In the Forum audience that night was Smokey himself. "Did you see how the audience reacted to William Griffin," he said afterwards. "That young man really has talent and loves being part of the group. Those guys are like members of my family, and to see L.A. open their hearts to them the way they just did is something I shall never forget." Now that's sweet harmony.