STEVIE WONDER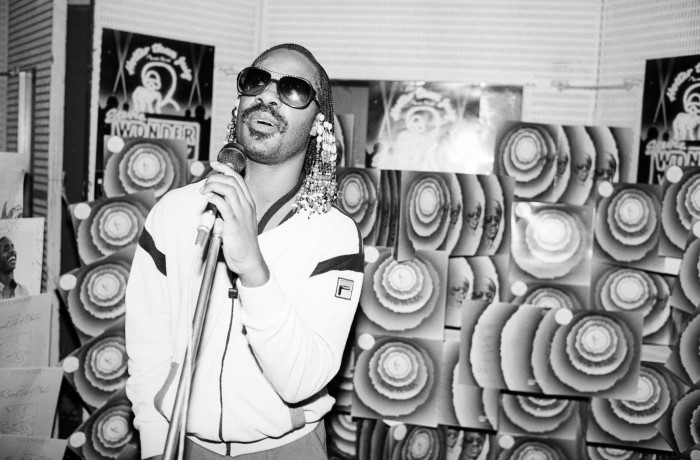 "July" in September, on Abbey Road.
 

Stevie Wonder has been a regular visitor to the U.K. over the past 50-plus years, from his first trip in December 1963 to his most recent in the summer of 2019, performing in Hyde Park for tens of thousands. The above photo dates from September 1980, when the Motown superstar was booked to perform a series of shows (dubbed the "Hotter Than July Music Picnic") at London's Wembley Arena. This shot was taken inside EMI Records' legendary Abbey Road recording studios, where Wonder previewed his forthcoming Hotter Than July album for local media. According to author Sharon Davis in Rhythms of Wonder, those present "were searched for tape recorders before admission."
Accompanying Wonder for these London shows were many of the musicians who had recorded Hotter Than July with him. They included guitarists Ben Bridges and Rick Zunigar, drummer Dennis Davis, bassist Nathan Watts, trumpeters Nolan Smith and Larry Gittens, saxmen Hank Redd and Bobby Malach, and percussionist Earl DeRouen. Also with the crew was Gary Olazabal, who had engineered and mixed the album. Singing behind Stevie on stage was Wonderlove, comprising singers Shirley Brewer, Alexandra Brown Evans, Melody McCully and Dolores "Windy" Barnes, all of whom were on the album, too.
The "Hotter Than July Music Picnic" concerts were highly successful, climaxed during the last night, when Diana Ross and Marvin Gaye joined Wonder on stage. Ross was visiting London with then-boyfriend Gene Simmons of Kiss, while Gaye was living in the city at the time. The latter led his Motown compadres in a three-way performance of his own "What's Going On." Wonder's performances during the entire sequence of shows received rave reviews, as he offered repertoire from the 1960s ("Fingertips," "My Cherie Amour," "For Once In My Life") and '70s ("Sir Duke," "Living For The City," "Superstition," "I Wish") right up to a couple of tracks from then-unreleased Hotter Than July, "Did I Hear You Say You Love Me" and "Master Blaster (Jammin')."

 
Hotter Than July

spent 55 weeks on the British charts, exceeding even its 40-week run on the U.S. best-selling lists. It peaked at No. 2 – held from the top by Barbra Streisand's Guilty – and delivered four consecutive Top 10 hit singles: "Master Blaster (Jammin')," "I Ain't Gonna Stand For It," "Lately" and "Happy Birthday." The last of these was the most popular, reaching No. 2 almost a year after Wonder's concerts in London.
Photographer Pete Vernon was on staff during the 1970s at EMI Records, which released and marketed Motown Records' output in the U.K. and elsewhere around the world. In addition to working with Wonder and the Temptations when they were in London, he snapped a succession of EMI artists, famous and otherwise. Among his better-known subjects: Cliff Richard, Deep Purple, the Hollies and the Sex Pistols, as well as music industry figures such as producer/label owner Mickie Most.