Martha Reeves & the Vandellas: forget them not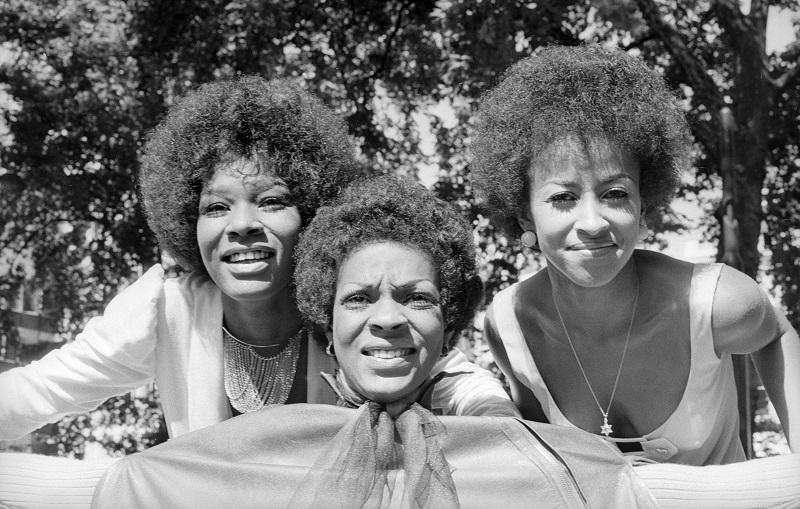 From left: Lois Reeves, Martha Reeves, Sandra Tilley, August 1970
Martha Reeves & the Vandellas were regular visitors to Britain during the late 1960s and into the '70s – not least because a reissue of "Dancing In The Street" had become a Top 5 smash there in 1969.  It proved to be their biggest-ever U.K. hit, followed in 1971 by the Top 20 success of "Forget Me Not," which had not charted back at home.
The photo was taken near the London headquarters of EMI Records, which represented Motown in the U.K.  With Martha were her sister Lois, who had replaced Betty Kelley in mid-1967, and Sandra (Sandy) Tilley, a former Velvelette who took over from Rosalind Ashford towards the end of 1969.  Coincidentally, the first song which Sandy recorded with the group, according to Martha, came from Britain:  a version of the Beatles' "Something."
In the U.S., Motown hosted a tenth anniversary celebration in August 1970 in San Francisco, complete with a riverboat cruise for all its distributors, business partners and overseas affiliates.  In the U.K., EMI also marked the anniversary on water, throwing a party on a Thames riverboat called the S.S. Cruisebuster.  For the occasion, the vessel was named after the Motown Chartbusters series of compilation albums which were so popular with British record buyers.
At the London boat party, Martha & the Vandellas were joined by Kiki Dee, who during the previous year had become the first British artist signed to Motown.  The four singers were on hand to cut the anniversary cake, as was EMI's Tamla Motown label manager of the time, John Reid.  He later went on to manage Elton John, with whom Kiki teamed up for the 1976 No. 1 hit, "Don't Go Breaking My Heart."
[livefyre_shortcode]