Stevie Wonder: Everything's alright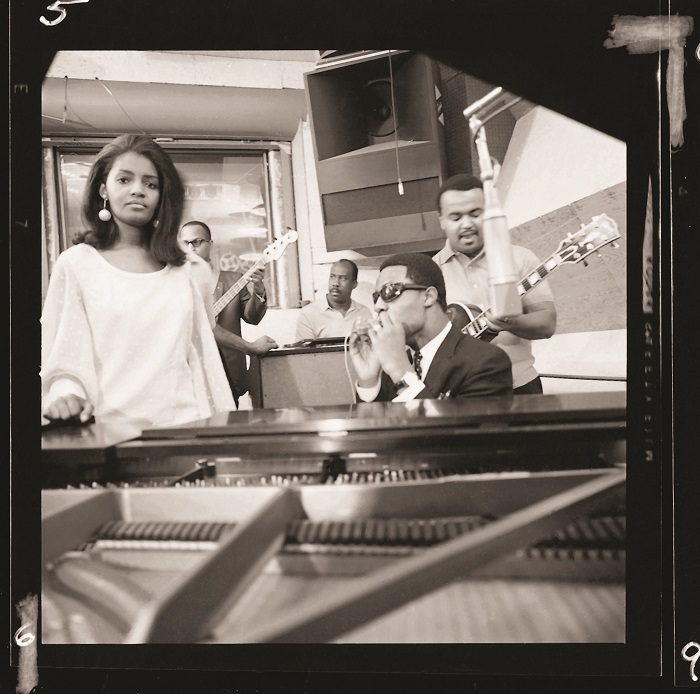 From left: Sylvia Moy, James Jamerson, Earl Van Dyke, Stevie Wonder, Robert White, 1968
Songwriter Sylvia Moy is recognized for her key role in helping Stevie Wonder to reassert his value to Motown after his original success with 1963's "Fingertips – Pt.2," a No. 1 record. Two years later, Stevie's voice had broken, and mentor/producer Clarence Paul was unable to break the youngster's cold spell on the charts. Sylvia approached Motown A&R chief Mickey Stevenson about working with Stevie, and the outcome was "Uptight (Everything's Alright)," which returned Wonder to the upper regions of the pop and R&B charts. The song was written by Sylvia, Stevie and the record's co-producer, Henry "Hank" Cosby.
After "Uptight (Everything's Alright)," Moy continued to collaborate with Wonder, co-writing such hits as "Nothing's Too Good For My Baby," "I'm Wondering" and "My Cherie Amour." It's thought that this studio shot of Sylvia and Stevie was taken when he recorded the vocal track for "Cherie," in January 1968. "I would stand in the control room," she later explained of their work together. "Stevie would be at the mike in the studio, and I would sing the song to him with the lyric. He would be listening on his headset to one line ahead, and singing the previous line, without missing a beat or a note."
The photo shows Sylvia and Stevie with three of the most lauded musicians of Motown's house band, otherwise known as the Funk Brothers. Behind her is James Jamerson, whose fluid, inventive bass lines powered a multitude of hits – among them, Stevie's "I Was Made To Love Her," "Shoo-Be-Doo-Be-Doo-Da-Day" and "For Once In My Life." Pictured at the keyboards is bandleader Earl Van Dyke, while immediately behind Wonder is guitarist Robert White. The latter's virtuosity was central to such Stevie hits as different in mood and tempo as "Uptight (Everything's Alright)" and "My Cherie Amour."
Sylvia Moy was one of a number of successful female songwriters at Motown; others included Valerie Simpson, Pam Sawyer, Gloria Jones, Marilyn McLeod and Janie Bradford. Raised and schooled in Detroit, she originally sought a singing career. While performing at the city's Caucus Club, Sylvia caught the attention of Mickey Stevenson and Marvin Gaye, and after an audition, was offered a Motown contract not only as an artist, but also a songwriter. She said that she could "lay the tracks, come up with the melodies and chords for the tracks – because I could play piano – and some guitar and drums." This skill evidently surpassed her singing potential: another of her earliest songwriting collaborations with Mickey Stevenson was "It Takes Two," a major hit for Marvin and Kim Weston.
[livefyre_shortcode]