Fifty years ago this summer, the Temptations drafted a document to relieve David Ruffin of his duties. When delivered, this proved to be a painful moment for all five of them – Ruffin, Otis Williams, Eddie Kendricks, Paul Williams and Melvin Franklin – but it enabled the group's career to continue and prosper, and gave birth to David's solo adventures.
And it resulted in "Cloud Nine."
In his autobiography, Temptations, founder member Otis Williams was candid about the reasons for the firing in June 1968 of Ruffin, whose ego and irresponsible behaviour had become unbearable. After Ruffin had told his fellow Temps that they should proceed without him for one particular show in Cleveland, during a ten-day run, the other four acted. Tensions stemming from the singer's behaviour had been building for some time; now, he received those walking papers.
Ruffin's replacement was Alabama-born Dennis Edwards, who had joined Motown earlier as a member of the Contours. Now came an even greater opportunity. His recording sessions with the Temptations began, including one date where it was clear that their producer of the time, Norman Whitfield, was influenced by the psychedelic soul of Sly & the Family Stone.
Whitfield and songwriting partner Barrett Strong had created a provocative song in "Cloud Nine," and the producer recorded the track and the Temptations' voices in the early fall of '68. Aside from the lyrics – widely considering to be drug references – it was a sonic departure for Motown which Otis Williams called "dark, threatening, even hostile." He continued, "[Norman's] choice of instrumentation was also radical for Motown: heavy electric guitars using effects like wah-wah pedals, different rhythms, and background-vocal arrangements where each of us sang different lines and parts, rather than doing the monolithic 'aah' and 'doo' patterns."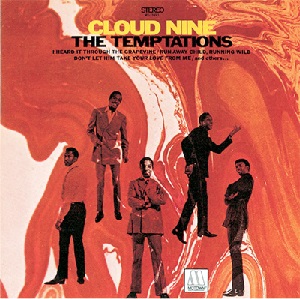 Edwards' gritty voice was perfect for the dynamic production, and when released as a 45 in late October, "Cloud Nine" was a Top 10 crossover success for the Temptations by January 1969. Two months later, it earned the distinction of becoming Motown Records' first Grammy® award, for Best R&B Performance by a Duo/Group. In between, the group's album Cloud Nine was released, which included the title track's follow-up, "Run Away Child, Running Wild," which also hit the Top 10. The album version of the latter ran to nine minutes-plus, highly unusual for a Motown recording, although in line with other sonic variations in popular music at that time – including the 7:20 version of "You Keep Me Hangin' On" recorded by Vanilla Fudge.
The Cloud Nine album was notable, too, for Paul Williams' distinctive baritone leading "Hey Girl," a Carole King/Gerry Goffin song, and "Don't Let Him Take Your Love From Me," previously recorded by Jimmy Ruffin. Also part of the long-player was the Temptations' take on "I Heard It Through The Grapevine." When "Cloud Nine" was in the Top 10 of the Billboard Hot 100, Marvin Gaye's version of the song was at Number One.
Cloud Nine is available to order on vinyl from the Classic Motown Store here and for an in-depth look at the Temptations' Cloud Nine album, read here.