ALBUM OF THE MONTH
FIVE REASONS TO LISTEN:
Opens with a timeless Smokey signature song, "The Tracks Of My Tears."
Four consecutive Top 20 pop hits, including "Ooo Baby Baby" and "My Girl Has Gone."
Title track voted into the Rock & Roll Hall of Fame, alongside "The Tracks Of My Tears."
The group's first Top 10 album on the Billboard pop charts.
Songs covered by Aretha Franklin, the Rolling Stones, Linda Ronstadt, Elvis Costello, Boyz II Men, Dolly Parton, Lenny Kravitz and more.
FOUR FAST FACTS:
Original release date: November 1, 1965.
No. 1 on the Billboard R&B LPs chart.
First-time billing as Smokey Robinson & the Miracles.
Three songs co-written by the group's longtime guitarist, Marv Tarplin.
VIDEO:
FULL TRACK LISTING:
DETAIL:
Going To A Go-Go was the ninth album by Smokey Robinson & the Miracles, and the first to feature their leader's name out front when it was released in 1965. Motown Records was firing on all cylinders that year, and the LP went to market in the company of Temptin' Temptations (Smokey song count: six), the Four Tops' Second Album and the Supremes' At The Copa. On the Billboard pop charts, Going To A Go-Go outpaced them all, peaking inside the Top 10 early in 1966.
"The Tracks Of My Tears" is the first track of Going To A Go-Go, yet even before Smokey sings, there is a melodic guitar figure which hints at the depth of the performance and lyrics to follow. "I told you before and I'll tell you again," Smokey noted in his autobiography, Inside My Life. "Marv Tarplin is a monster musician. He's inspired me all my life, and, especially in these formative years, he kicked my ass, coming up with music just begging for words."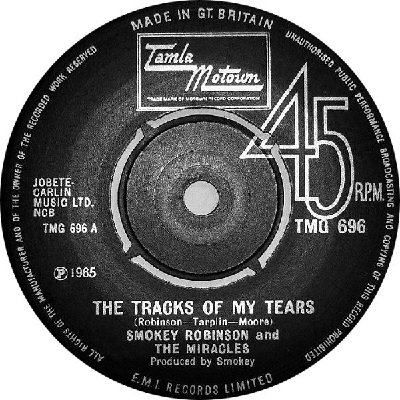 That is, of course, Tarplin's guitar work which opens "The Tracks Of My Years," and he was its co-writer with Robinson and fellow Miracle Warren "Pete" Moore. Harry Belafonte's "Banana Boat (Day-O)" was the melodic inspiration, Tarplin later recalled: "It's basically the same chord changes – three chords, turned around a little bit." Smokey wouldn't permit such modesty: "Subtlety was Marv's hallmark – the tasty riff, the slight suggestion, the soulful turn of phrase. With just a few notes, Marv could whip up an emotional hurricane." For his part, Robinson remembered starting "Tracks" on a Friday, working on it over the weekend, and playing at a Motown music meeting on Monday. " 'You crazy?' Berry asked when I was through. 'No. Why?' 'You got a hit, but you buried your hook. Bring it up at the end, man. Repeat that shit – that "It's easy to trace the tracks of my tears" refrain – until you wear it out.'"
Smokey may have acted promptly on that advice. According to The Complete Motown Singles Volume 5: 1965, he recorded the basic track for "Tears" in the Motown studios on a Wednesday (it was January 20, 1965). Strings were added ten days later, although everything else was not completed until mid-May. The Miracles were rather busy in March and April, performing across Britain with the first Tamla Motown tour package to cross the Atlantic. The line-up also featured the Earl Van Dyke Six, Martha & the Vandellas, Stevie Wonder and the Supremes, with the Miracles closing the show with an extended version of "Mickey's Monkey," joined on stage by all the other artists.
The Miracles' first 45 of '65 was "Ooo Baby Baby," an exquisite ballad written by Smokey, Tarplin, Moore and another Miracle, Bobby Rogers. It was recorded around the same time as "The Tracks Of My Tears," and released as a single March 5. Two weeks later, the group gave the song an early outing in a TV special taped in London, The Sound of Motown, hosted by Dusty Springfield. It was a stunning performance, repeated in Paris on April 13 when the Miracles played the Olympia theatre. "Merci, merci," said Smokey to applauding Parisians at the tune's close.
For the flipside of "Ooo Baby Baby," Motown chose "All That's Good," complete with undulating bass, a piano played like it's 3 a.m. and namechecks for Romeo and Juliet amid the artful lyrics. This was also the first Miracles' foreign release on the Tamla Motown label, newly minted by Motown's overseas distributor, EMI Records. "All That's Good" was written by Smokey and Pete Moore, and recorded in 1964. Other in-house versions were cut by Brenda Holloway's sister, Patrice, and Barbara McNair.
While "The Tracks Of My Tears" was climbing the Billboard Top 40 in summer '65, Smokey and the Miracles were recording "My Girl Has Gone," another melancholy tale underpinned by the masterly fretwork of Marv Tarplin. It was picked as the group's third single release that year, and actually peaked higher on the charts than "Tracks." The flipside was "Since You Won My Heart," a melodic ballad notable for being written and produced by Smokey with Motown's A&R chief, William "Mickey" Stevenson. The recording session appears to have taken place in Chicago in late 1963.
After three consecutive singles featuring ballads, it was time for the Miracles to party. Their final single of '65 was this album's title track, a stick of dancefloor dynamite fired up by the drums of Funk Brother Benny Benjamin. According to The Complete Motown Singles Volume 5: 1965, Marv Tarplin wrote his licks and the song's basic outline after hearing a Rolling Stones record – in which, he says, the British band was emulating him anyway. "Going To A Go-Go" was put on tape August 17-18 in the Hitsville studio, which must have been dazzled by the light of Smokey's internal rhymes: "It doesn't matter if you go stag/It doesn't matter if you go drag/You're sure to have some fun/I'm telling everyone/Most every taxi that you flag is/Going to a go-go."
Released in December 1965, "Going To A Go-Go" went on to become the Miracles' biggest pop hit of the following year, attaining No. 11 in February – the same month that Going To A Go-Go muscled its way up to No. 8 on the Billboard album best-sellers. That particular week, the Beatles were the only group above the Miracles who seemed to appeal to young America; the other seven chart slots were occupied by Frank Sinatra, Barbra Streisand, The Sound Of Music movie soundtrack, Herb Alpert & the Tijuana Brass (two albums!) and Roger Miller. No wonder that youngsters were flagging cabs to the go-go.
Unusual on Going To A Go-Go is "My Baby Changes Like The Weather," because it was neither penned by Smokey, nor recorded in Detroit. The writers were Hal Davis, who produced it with Marc Gordon, and Frank Wilson. These three were the heart of Motown's first outpost in Los Angeles, where the song was cut. Later, Davis and Gordon produced a version with the Vows, a little-known group who also sang background on West Coast recordings by Brenda Holloway and Stevie Wonder. Later still, Frank Wilson wrote and produced "Whole Lot Of Shakin' In My Heart (Since I Met You)," the Miracles' follow-up 45 to "Going To A Go-Go."
Remakes of the songs on Going To A Go-Go have flowed through popular music for decades, and in 1982, Elvis Costello was attracted to "From Head To Toe." The original is one of only two songs on this album written by Smokey Robinson alone. Here, it's almost a gospel rave-up, with a handclapping congregation and a brass section vamping like Fat Tuesday in N'Orleans. In 1967, Smokey produced an equally upbeat version with Chris Clark for her debut album, Soul Sounds.
Choice and contradictions are at the heart of two tracks, both completed in May 1965: "A Fork In The Road" and "Choosey Beggar." On the latter, the soprano tones of Smokey's wife, Claudette, help to create the wistful mood; she had ceased touring with the Miracles but continued to record with them. "A Fork In The Road" is virtually a twin of the album's opening track: tragic and deep, it warns of mistakes which cannot be rectified, broken souls which cannot be saved. "Your paths may never cross again/Make sure you take the right bend." A powerful and previously-unavailable live version by the Miracles, drawn from one of the renowned "Motown Mondays" nights at Detroit's riverside Roostertail club, appeared on a later reissue of Going To A Go-Go.
In the 21st century, a solo Smokey himself re-recorded two tracks from Going To A Go-Go as duets for his album, Smokey & Friends: "Ooo Baby Baby" with Ledisi, and "The Tracks Of My Tears" with Elton John. "It's an honor to have you sing these songs, which mean so much to me," he declared in liner notes to his album partners, who also included John Legend, Mary J. Blige and CeeLo Green. Some of them were too young to know exactly what a "go-go" was, but all recognized they were in the company of a master of lyric and melody. The honor was theirs.
JUST SAYIN':
" 'The Tracks Of My Tears' brought out something about Marv Tarplin and Smokey working together that always touched a dramatic chord with me. It became my favorite song of theirs. I began calling it a masterpiece." – Berry Gordy, writing in To Be Loved, his 1994 autobiography.
VOTE FOR YOUR FAVORITE TRACK ON THE ALBUM:
Producers: Hal Davis, Marc Gordon, William Robinson, William Stevenson.
Songwriters: Hal Davis, Warren Moore, William Robinson, Robert Rogers, William Stevenson, Marv Tarplin, Ronald White, Frank Wilson.
Remakes: "A Fork In The Road" (Rebbie Jackson, 1985), "From Head To Toe" (Curtis Lee, 1967; Chris Clark, 1967; Elvis Costello, 1982), "Going To A Go-Go" (Shalamar, 1977; the Rolling Stones, 1982; Phil Collins, 2010), "My Girl Has Gone" (Bobby Taylor, 1969; Edwyn Collins, 1990), "Ooo Baby Baby" (Ella Fitzgerald, 1969; Edwin Starr & Blinky, 1969; Shalamar, 1977; Linda Ronstadt, 1978; Sylvester, 1981; Todd Rundgren, 1973; Laura Nyro, 2001; the Temptations, 2006; Ledisi & Smokey Robinson, 2014; Lenny Kravitz, 2014), "The Tracks Of My Tears" (Johnny Rivers, 1967; Aretha Franklin, 1969; Bryan Ferry, 1973; Linda Ronstadt, 1975; LaToya Jackson, 1995; Michael McDonald, 2004; Billy Bragg, 2006; Boyz II Men, 2007; Dolly Parton, 2008; Rod Stewart & Smokey Robinson, 2009; Elton John & Smokey Robinson, 2014).