THE SUPREMES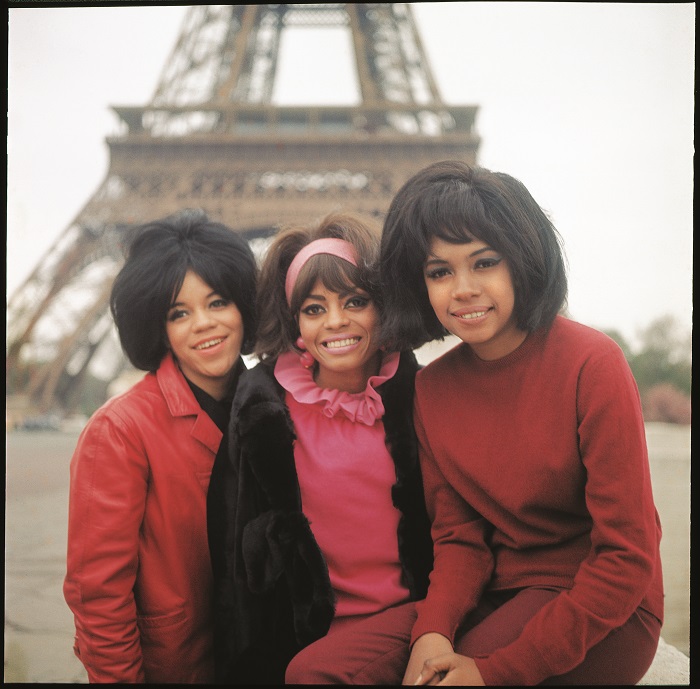 Florence Ballard, Diana Ross, Mary Wilson in Paris, 1965.
After completing the Motortown Revue's 1965 tour of the U.K., the Supremes crossed the English Channel for their final show on this European itinerary, in Paris. The performance at the city's celebrated Olympia concert hall took place on April 13, with the same artist line-up as for the British dates: Stevie Wonder, Martha & the Vandellas, the Miracles and the Supremes, all backed by Earl Van Dyke and the Soul Brothers. But while in the French capital, Diana, Flo and Mary took time to see the sights, with a photographer in tow. This shot finds the young women in their "civilian" clothes, gathered in front of the Eiffel Tower.
More images from the visit include the Supremes pictured at a sidewalk café and in front of the Tamla Motown tour bus – in the latter case, being simultaneously snapped by the boss himself, Berry Gordy. Other photographer identities from the trip are not so easy to determine. Bob Lampard, perhaps best known for his images of Jimi Hendrix, certainly shadowed the Motown crew in Paris that April, capturing Earl Van Dyke on film, for one, just as he had done some months earlier in the city with Marvin Gaye and manager Harvey Fuqua.
The Supremes had broken through internationally the previous year, when "Where Did Our Love Go" occupied the upper reaches of charts in Britain and France, among other countries. The trio's first visit to Europe took place in October 1964 to help promote "Baby Love," their second U.S. Number One. Their return visit in April '65 was timed to coincide with the launch of the Tamla Motown label in Europe, and "Stop! In The Name Of Love" was among the first singles released under that imprint. In France, the four-track extended-play (EP) was the dominant format, and "Stop!" was bundled together with three other Supremes tracks for release, complete with picture sleeve.
After the Motortown Revue's concert at the Olympia, artists and backroom staff gathered at the trendy Locomotive disco for the Tamla Motown launch. Berry Gordy gave a speech, and the French record company involved, Pathe Marconi, handed out a bumper promotional package – a rarity among record collectors today. After other members of the roadshow went home to Detroit, Berry and Diana Ross stayed in Paris for a short vacation – an occasion later depicted on Broadway in Motown The Musical. But there was little time to relax: Motown's next big challenge of 1965 was to prep the Supremes for their nightclub debut at New York's upscale Copacabana that July. The merry-go-round seldom slowed.