THE VELVELETTES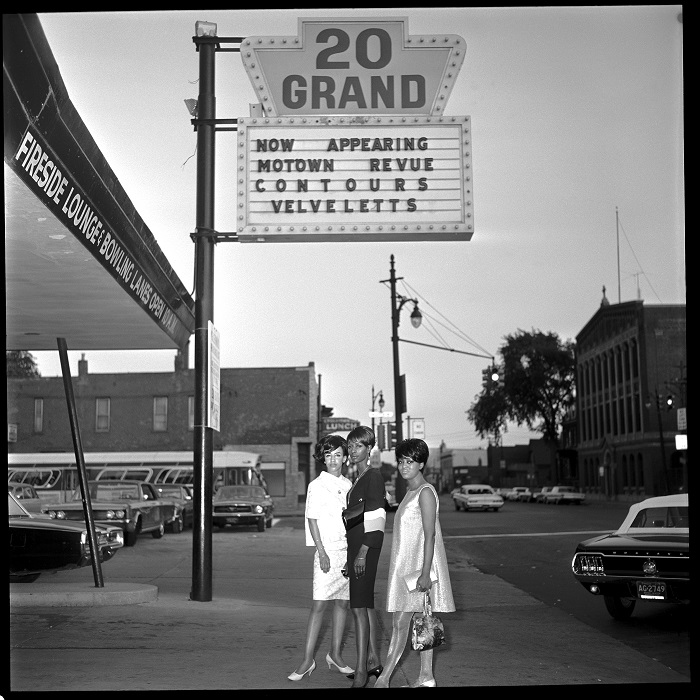 The group strikes a pose outside one of the most celebrated nightspots in Motown's Detroit history
Bop-bop-sookie-doo-wah! Almost by itself, that background vocal line guaranteed the Velvelettes' place in Hitsville history, as an unforgettable part of the group's third 45, "He Was Really Sayin' Somethin'." That was their highest-charted release on the Billboard R&B best-sellers, in early 1965; their previous hit was another girl-group milestone, "Needle In A Haystack." Both were produced by Norman Whitfield, relatively early in his own extraordinary career. "He was like a big brother to us all," the group affirmed in liner notes to The Very Best Of The Velvelettes, a 1999 Motown compilation.
Most Motown acts were expected to get busy with promotion, and the Velvelettes were no exception. Locally, they appeared in early 1964 at Detroit's Graystone Ballroom in a "Battle of the Stars" contest in which they were pitted against the Supremes – and won. That summer, the Velvelettes joined Dick Clark's Caravan of Stars (the Supremes were also on that roadshow) and criss-crossed the nation in the company of the Drifters, Brian Hyland, Lou Christie and other acts. The following year, they signed up for another Caravan tour, this one including the Zombies, Dee Dee Sharp and the Shangri-Las.
The photo taken outside the 20 Grand shows three Velvelettes, but the group was a quartet – or was it a quintet? – at the start, with Caldin (Carolyn) Gill, Mildred (Millie) Gill, Bertha Barbee and Norma Barbee. Betty Kelley was a fifth Velvelette; she later joined Martha & the Vandellas. They won a fraternity talent show at Western Michigan University in Kalamazoo, which eventually led them to audition at Motown in late 1962, and get signed. "Cal" Gill was lead singer, and their recording debut as the Velvelettes was "There He Goes," written and produced by the company's A&R chief, William "Mickey" Stevenson, and released in July 1963.
On Detroit's West Side, on 14th Street at the corner of Warren, the 20 Grand was a popular spot to see local and out-of-town music acts, whether performing live or lip-syncing at record hops. On the first floor, the location also featured a 22-lane bowling alley, very popular with Motown staff, while there were two performance lounges upstairs: one for youngsters, the other for adults. (Cal Gill once remembered begging Berry Gordy to let her join his crowd and slip into the adult area, which served alcohol.) The Velvelettes and the Contours played the 20 Grand in early June 1967, which is probably when this photo – showing Cal, Sandra Tilley and Annette Rogers – was taken. That was the year when Millie, Norma and Bertha left the line-up, with Cal recruiting new members until she disbanded the Velvelettes in 1969. They have occasionally reunited since then.