JIMMY RUFFIN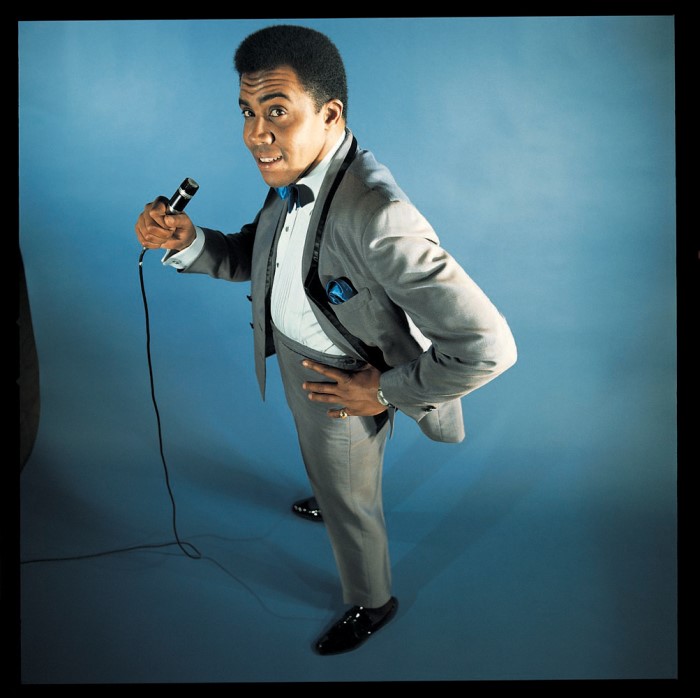 "Bits and pieces" eventually evolve into a Motown milestone
The Motown vault shows this picture to have been taken in late 1966, when Jimmy Ruffin had finally joined the ranks of the company's Top 10 hitmakers with "What Becomes Of The Brokenhearted." It may even have been his first proper photo session, despite the fact that the singer had been signed to Berry Gordy's enterprise since 1960. When his first album, Jimmy Ruffin Sings Top Ten, was released in January '67, a performance shot was used for the cover. Years later, Ruffin grumbled about it. "There's a picture of me taken live at the 20 Grand," he told author Bill Dahl. "With a big record like 'Brokenhearted,' why wouldn't they do a proper photo session?"
The above sharp-suited, bow-tied snap of Ruffin has been put to use many times since that time, long after he added his vocals to the track of "What Becomes Of The Brokenhearted" in late 1965. Seven months passed before it was released as a single, and another four before it reached the upper reaches of the Billboard Hot 100. Then again, Motown was rather busy that October: in addition to Ruffin's hit, the company had another three 45s in the Top 20, including the Four Tops' "Reach Out I'll Be There" (at Number One) and the Temptations' "Beauty Is Only Skin Deep," featuring the lead vocals of David Ruffin, Jimmy's younger brother.
In fact, it was David who originally pressed his elder sibling to consider joining Hitsville U.S.A. "My brother kept insisting that I audition," Jimmy is quoted as saying in liner notes for the first volume of The Complete Motown Singles. "Finally, I ended up going to Motown after some encouragement from people like Mary Wells and Marv Johnson." His first 45, "Don't Feel Sorry For Me," also marked the debut in 1961 of the Miracle label, but neither was a success. More than two years passed before Jimmy earned another Motown release, on its Soul imprint. "I recorded bits and pieces, but I didn't have any releases. I was working for Ford Motor Company and playing in Detroit on weekends."
"As Long As There Is L-O-V-E, Love," Ruffin's Soul single immediately before "What Becomes Of The Brokenhearted," was a Top 10 hit in Detroit, and he also had influential admirers in Chicago. One of them was prominent disc jockey E. Rodney Jones at radio station WVON, who was among the first to spin "Brokenhearted" – just as he did two years later with another Motown milestone, Marvin Gaye's "I Heard It Through The Grapevine." Jimmy's smash also caught the attention of radio programmers across the Atlantic, and it became a Top 10 title in Britain. Actually, it achieved that feat twice, when a 1974 reissue climbed into the Top 5 there. Ruffin began performing regularly in the U.K., and scored three consecutive Top 10 singles in 1970. There was no shortage of photographers taking his picture then.