It's what's on the label that counts.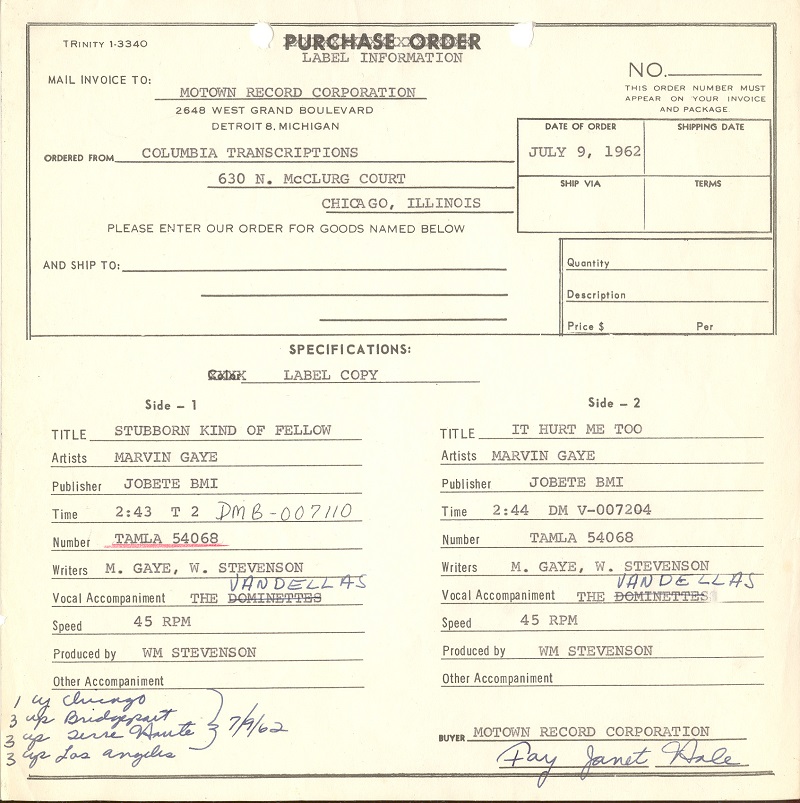 This was Marvin Gaye's first hit record, which cracked the Billboard Hot 100 two years after the would-be crooner had signed to Motown Records.  Or, more accurately, this is the label copy for "Stubborn Kind Of Fellow," written up by Fay Hale, one of the back-office staff whose efficiency and attention to detail was vital as the Detroit company's hit ratio – and, therefore, workload – began to increase.  Label copy is what appeared on the 45s when manufactured and released, identifying the artist, songwriter and producer, as well as less-glamorous data such as the catalogue number, running time, music publisher (Jobete Music was Motown's own) and affiliated performing right society (BMI).  This data was supplied to the pressing plants which Motown used across the country, and the notation on the bottom left suggests a degree of optimism for this particular "Fellow."  Master copies were evidently sent to Columbia Custom Pressings factories in Chicago and Hollywood, as well as Bridgeport, Connecticut, and Terre Haute, Indiana.
Marvin Gaye's first two commercially issued singles on the Tamla label were not hits.  "The songs," declared Motown A&R chief William "Mickey" Stevenson in his autobiography, "were too poppy, too Broadway and not enough soul, baby!"  Under orders from Berry Gordy to resolve the problem, Mickey and Marvin began writing together.  "I had my A&R job thing during the day, but at night Marvin and I would be writing songs up to midnight," he declared.  The pair worked on a couple of compositions which Stevenson said were intended for the Marvelettes.  One was "Beechwood 4-5789," the other was a yet-incomplete song which turned out to be "Stubborn Kind Of Fellow."  Marvin liked the way Mickey phrased his melody while seated at the piano, and told him to sing it again.  "I'd sing it again and then he would sing my melody with his words and his voice," recalled Stevenson.  Homing in on Marvin's gentle yet determined personality, the two men recorded a finished "Fellow" on June 29, 1962, and it was released less than a month later.  By October, Marvin Gaye was Motown's newest contender on the national record sales charts.
The Dominettes?  It is part of Motown lore that Martha Reeves' group – the former Del-Phis, comprising Rosalind Ashford, Annette Beard and Gloria Jean Williamson with Martha – sang behind Marvin Gaye on "Stubborn Kind Of Fellow," but when did they become the Vandellas?  She has said that the moment of decision occurred in August 1962, when Berry Gordy offered them a Motown contract in their own right after the girls cut several songs, including one he produced.  A group name was required.  "We only had fifteen minutes to pick a name," recalled Martha, "or be called 'the Tillies' or 'the Pansies,' or some corny name in jest."  But when the July 9 label copy for "Stubborn Kind Of Fellow" required the backing singers to be named, "The Dominettes" was evidently in the frame, at least for a moment.  Martha & the Dominettes?  You decide what history's verdict might have been.
Fay Hale's sign-off for the mastering and manufacturing paperwork for "Stubborn Kind Of Fellow" is but one of dozens of times her name appears in the surviving Hitsville documentation.  She joined in late 1961 as an assistant to Loucye Wakefield, the Gordy sister (Wakefield was her married name) who first oversaw sales, billing, collections and manufacturing for the company.  Both women had previously toiled together at the U.S. Army Reserves in Michigan, buying food and other supplies "for Nike missile sites, for the National Guard, that kind of thing," Fay revealed years later.  She also earned Motown creative credits, working with Amos Milburn, Little Stevie Wonder and Andre Williams, among others.  In 1966, Fay moved to California, helping Shelly Berger to run and expand Motown's West Coast activities.  By 1980, she was "head of processing," a measure of how corporate the business had become – and how far it had travelled since a stubborn kind of fellow scored his first success.
[livefyre_shortcode]