Motown's hot streak, a half-century ago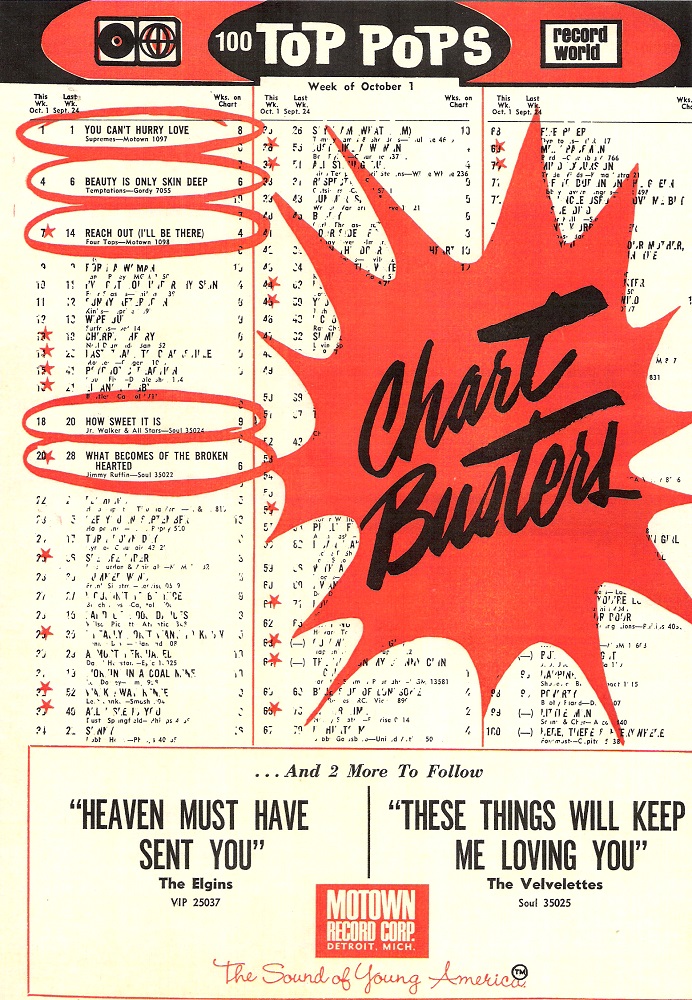 Motown earned major bragging rights on October 1, 1966, when this 100-position "Top Pops" chart was published in music industry trade magazine Record World. With three smash hits in the Top 10 and another two climbing the Top 20, the Detroit company was top of its game. Moreover, the Supremes' "You Can't Hurry Love" was holding at No. 1, whereas in rival trade paper Billboard, the single had relinquished the top slot (to the Association's "Cherish") the previous week. In Britain, "You Can't Hurry Love" was accelerating into the Top 3 this same week.
Another chart-topper was close behind.  The Four Tops' majestic "Reach Out I'll Be There" soared up the best-selling lists of Record World and Billboard simultaneously that fall, and would claim the summit by mid-October.  On the Billboard Hot 100, the record was to be Motown's 13th No. 1 and the Four Tops' second, after "I Can't Help Myself (Sugar Pie, Honey Bunch)" in June 1965.
Fast-rising Jr. Walker & the All Stars' "How Sweet It Is (To Be Loved By You)" was the group's follow-up groove to "(I'm A) Road Runner," and their third Top 20 achievement.  Meanwhile, Jimmy Ruffin's "What Becomes Of The Brokenhearted" was soon to become a Top 10 triumph on all the trade magazine charts, although it was to be his only such success at Motown.  In the U.K., the record reached the Top 10 twice, once upon its original release in '66, and again when reissued in 1974.  Jimmy was so popular in Britain that he eventually relocated to London, living there for many years.
The two new Motown 45s touted in this Record World advertisement were not to make chart history. The Elgins' "Heaven Must Have Sent You" was written and produced by the Holland/Dozier/Holland team responsible for "You Can't Hurry Love" and "Reach Out I'll Be There," but it could only reach the Top 50 of the Billboard Hot 100. It was, however, a Top 10 seller on the R&B charts and, five years later, a Top 3 pop smash in the U.K. The Velvelettes' "These Things Will Keep Me Loving You" claimed a more modest chart score, but maintained the group's reputation for musical excellence. To this day, they're still loved.
[livefyre_shortcode]