The Motown torch passes to a new generation. The Jackson 5 were a peerless multi-media phenomenon, leading Berry Gordy's kingdom into its second decade with a stunningly fresh sound and extraordinary stagecraft, paying homage to the past, illuminating the future. The brothers set new standards in global popularity, and helped to redefine contemporary music. More than four decades later, their glow does not fade.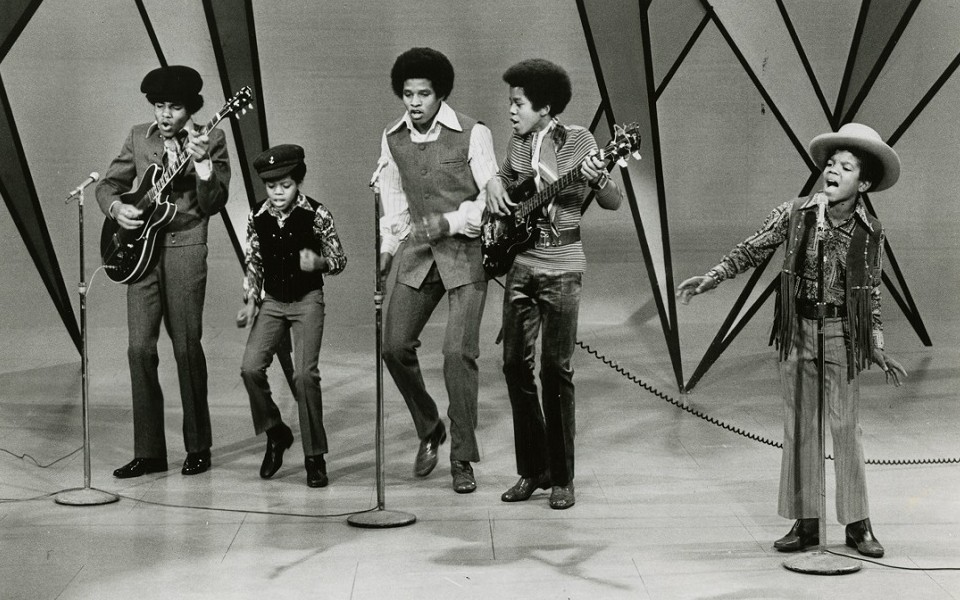 FAST FACTS:
First hit: "I Want You Back"
Biggest hit: "I'll Be There"
Top album: Diana Ross Presents The Jackson 5
Career highlight: first-ever act to have their first 4 charted singles hit No. 1
KEY INFORMATION:
Jackie, Tito, Jermaine, Marlon and Michael all hail from Gary, Indiana, where their father Joe, a crane operator at a steel mill, plays blues guitar at local clubs. Michael is the youngest son, born August 29, 1958. Joe begins marshalling the boys into a well-rehearsed family music group; their role models are the Temptations.
The brothers play talent shows and amateur competitions, developing their act. As the Jackson Five, they record for a local label. In 1967, the group plays Chicago's Regal Theater, on a bill topped by Gladys Knight & the Pips. She is impressed. At New York's Apollo Theatre, the youngsters meet Smokey Robinson. In 1968, the leader of another Motown act, Bobby Taylor, catches them in Chicago, and – like Gladys – lobbies the company on their behalf. Etc.
An audition is arranged for July '68 in Detroit. Berry Gordy, said to be uninterested in an act so young, is not present, but later sees the brothers on videotape. Among the songs they perform is an explosive version of Smokey Robinson's "Who's Lovin' You." The Motown founder is sold. In 1969, his company signs the Jackson 5; Bobby Taylor produces their first sessions. Then, they are relocated to Los Angeles, and a new round of recording takes place, with songwriters Deke Richards, Freddie Perren and Fonce Mizell. Mr. Gordy gets involved with one track in particular, "I Want You Back"
In August, the Jackson 5 are showcased at a media launch in Beverly Hills, hosted by Diana Ross. The group opens for the Supremes in concert in Los Angeles, then appear on TV as their first Motown single is released. "I Want You Back" explodes onto the airwaves, and fires up the charts, soon followed by their debut album, Diana Ross Presents the Jackson 5. By January, "I Want You Back" is Motown's first No. 1 of the 1970s.
The Jackson 5 become the first act in popular music history to reach No. 1 in Billboard with their first four charted singles: "I Want You Back," "ABC" (which unseats the Beatles' "Let It Be"), "The Love You Save" and "I'll Be There," which rules the roost for five weeks. Their first three albums reach the Top 5; the second and third spend a year on the charts. Jacksonmania takes hold.
More huge hits and coast-to-coast concert tours grip the nation. Jacksonmania spreads abroad: thousands greet the group at London's Heathrow Airport, and they appear on the U.K.'s prestigious Royal Variety Performance show. At home, Motown produces a successful Jackson 5 network TV special, Goin' Back To Indiana, and a hit Saturday-morning cartoon series.
Solo careers beckon. For Michael, "Got To Be There" is a major hit in 1971, followed by "Ben," an Oscar-nominated No. 1 from the movie of the same name. For Jermaine, "Daddy's Home" is a Top 10 success in '73. For the group, Lookin' Through The Windows is a Top 10 album in 1972, while "Dancing Machine" is a No. 2 smash in '74.
In 1976, Joe Jackson directs his sons to Epic Records, but without Jermaine, who marries Berry Gordy's daughter Hazel, and stays true at Motown. In 1980, Jermaine scores a Top 10 hit with "Let's Get Serious," co-written and produced by Stevie Wonder.
The Jackson 5 reunite for the 1983 television spectacular, Motown 25. The brothers perform a medley of their hits, and Michael thrillingly unveils the moonwalk during his solo performance of "Billie Jean," from his all-conquering album, Thriller.
In 2001, the Jackson 5 gather triumphantly one last time at New York's Madison Square Garden in a 30th anniversary special which commemorates Michael's solo career, and perform hits from their heyday. Subsequently, Michael's brothers continue singing together in concert for audiences around the world. The legacy endures as the 21st century advances.