ALBUM OF THE MONTH
FIVE REASONS TO LISTEN:
The creative essence of the Supremes' powerhouse partnership with songwriters/producers Eddie Holland, Lamont Dozier and Brian Holland.
Features the group's eighth and ninth No. 1 hits, "You Keep Me Hangin' On" and "Love Is Here And Now You're Gone."
Contains the first recording of "I'll Turn To Stone," later popularized by the Four Tops.
Includes the Supremes' take on earlier Motown hits by the Isley Brothers ("I Guess I'll Always Love You"), Martha & the Vandellas ("Heat Wave") and the Four Tops ("It's The Same Old Song").
Features H/D/H songs subsequently recorded by Elvis Costello, Vanilla Fudge, Kim Wilde, Reba McEntire, Michael Jackson, Phoebe Snow and Phil Collins, among others.
FOUR FAST FACTS:
Original LP release date: January 23, 1967.
The Supremes' tenth studio album, the first of their three LPs in '67.
Billboard chart peaks: No. 6 pop, No. 1 R&B.
Retitled The Supremes Sing Motown for international release.
VIDEO:
FULL TRACK LISTING:

DETAIL:
As 1967 began, the Supremes were superstars, at home and abroad. On record, Diana Ross, Mary Wilson and Florence Ballard had accumulated seven No. 1 hits on the Billboard Hot 100, including five consecutive chart-toppers. They had scored four Top 10 albums, including their first No. 1, 1966's The Supremes A' Go-Go, and were becoming fixtures on television, particularly The Ed Sullivan Show. And their concert schedule was full and relentless, including appearances at some of America's top nightclubs, a profitable path opened by their triumphant debut at New York's Copacabana in the summer of 1965.
The credit for this belongs to many at Motown, but creatively, it was the talent of Holland/Dozier/Holland – brothers Eddie and Brian, and Lamont Dozier – which fuelled the Supremes' rise, beginning with their breakthrough No. 1, "Where Did Our Love Go." H/D/H were responsible for all of their smash hits from 1964 through 1966. What better public recognition than to be featured in the title of the Supremes' first album of '67? And yet: "You have to remember that we did not know what we were doing," Dozier modestly told the authors of The Billboard Book Of No. 1 Rhythm & Blues Hits. "We were just going on pure instinct and feeling. There really were no rule books."
Rule books or not, the two triple-threat teams were at their peak when most of The Supremes Sing Holland/Dozier/Holland was recorded in 1966. The LP's release was preceded by "You Keep Me Hangin' On," a No. 1 single that November. That song was completed three months earlier, shortly after H/D/H finished another Motown masterpiece, "Reach Out I'll Be There" by the Four Tops. "We were trying to open up to different things," said Lamont Dozier of their way of working then. "That's why we loved what John [Lennon] and Paul [McCartney] were doing. There weren't too many people we really respected; we respected them because of their freeness."
"You Keep Me Hangin' On" proved to be one of Motown's most successful records, as well as one of its most compelling. (Producers Lamont Dozier and Brian Holland knew how to craft a distinctive intro – in this case, the ear-shredding morse-code riff played by guitarist Robert White.) It was the first song in the history of the Billboard Hot 100 to have three different versions reach the Top 10: the Supremes' original, a hard-rock remake by Vanilla Fudge in '68, and British popster Kim Wilde's revival in 1987. Lamont Dozier even sent Wilde a telegram when her version went to No. 1. "He said he really liked the fresh sound we'd given to his song," she recalled to Billboard author Fred Bronson, "and he thanked us for making him look good."
There have been 21st century renderings of "You Keep Me Hangin' On," too, including one in 2005 by Australian vocal quartet Human Nature, whose enduring popularity in Las Vegas was largely due to their Motown tribute act, and another by the cast of Glee during the TV show's opening season in 2009. Others who have recorded the song include Wilson Pickett, Tom Jones, Madness, Jackie Wilson, Reba McEntire and South African jazz trumpeter Hugh Masekela, whose mellow 1970 take can be found on The Complete Motown Singles: Vol. 10.
The second 45 from The Supremes Sing Holland/Dozier/Holland was "Love Is Here And Now You're Gone," released in January 1967. It was No. 1 by March. The track was recorded the previous summer not in Detroit, but in Los Angeles. "We did it at the Columbia studios, the big room on Sunset [Boulevard] where they used to do film scores," explained Dozier. "We had about 60 musicians, so we made sure we had four songs. The whole thing was a totally different sound for us." The record has another California connection: it was released during the same month as the Supremes were cutting material for a never-released (at the time) album of songs associated with Walt Disney films.
"Love Is Here And Now You're Gone" appealed to other artists, including Michael Jackson, Donnie Elbert and Phil Collins. "Remove This Doubt," another track on The Supremes Sing Holland/Dozier/Holland, caught the ear of Elvis Costello, who chose it for his eclectic album of revivals and remakes, Kojak Variety, in 1995. "Going Down For The Third Time," originally intended by H/D/H for Motown act the Elgins, was covered by Phoebe Snow on her 1976 LP, Second Childhood. "I'll Turn To Stone" was remade by singer/songwriter Jackie DeShannon in 1968. (The Supremes had carved their "Stone" in the spring of 1966, although the Four Tops' version, made three months later, is better known in the U.K., where it became a staple of the "Northern Soul" dance-club circuit.)
In addition, "I'll Turn To Stone" is one of two compositions on The Supremes Sing Holland/Dozier/Holland which credits a fourth songwriter: R. Dean Taylor. A Canadian musician who joined Motown in 1964, he was mentored by Brian Holland before becoming a hit artist in his own right in Britain with 1968's "Gotta See Jane" and in America with 1970's "Indiana Wants Me." Taylor once told the Detroit Free Press, "I must have played tambourine on every Motown record made, just so I could watch all those pros in action. I even did footstomps on 'Baby Love.' During a session I'd walk over and ask Brian Holland, 'Why'd you do that,' and he'd take time to tell me."
The second H/D/H/Taylor tune is "Mother You, Smother You," committed to tape by the Supremes at Hitsville during the first half of 1966. Then, as noted in The Complete Motown Singles: Vol. 6, it figured in a "Record A Record With The Supremes" contest that fall on Detroit's WKNR ("Keener 13") run by disc jockey Scott Regen. Contestants submitted samples of their singing, and the prize winner proved to be a local high school student, Christine Schumacher, who then recorded "Mother You, Smother You" on top of the Supremes' backing vocals. The result was manufactured as a limited-edition, give-away 45, and played extensively by the station. "This was a hugely successful promotion for Keener," remembered Regen – who also wrote the liner notes for The Supremes Sing Holland/Dozier/Holland.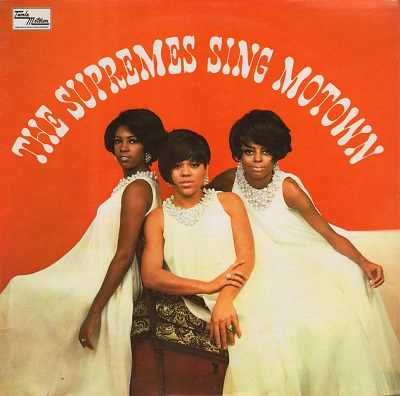 Motown's distributor in many international markets was Britain's EMI Records, which apparently felt that the H/D/H identity wasn't an album title asset outside North America. Consequently, The Supremes Sing Holland/Dozier/Holland was issued as The Supremes Sing Motown in a number of countries in Europe and elsewhere with a different cover photo of the group. In the U.K., the album came out three months after its U.S. release, spending 16 weeks on the charts that summer and gaining a Top 20 slot.
The group's many live appearances provided ample promotional opportunities for the H/D/H album and its 1967 successors, The Supremes Sing Rodgers & Hart and Diana Ross and the Supremes Greatest Hits. Motown employed General Artists Corp. to maximize their concert revenue, with upscale bookings in Puerto Rico, Miami, New York, Washington D.C. and Los Angeles, among other sites. Their midyear run at the Flamingo Hotel in Las Vegas was notable for another, tragic reason; those were the last days and nights in the Supremes for Florence Ballard, ejected in July as a result of internal conflict and Motown business decisions. With Cindy Birdsong as Flo's replacement, they were now billed as Diana Ross & the Supremes. In August, the new line-up triumphed at Detroit's Roostertail Club during the record company's first national sales convention, and spent November with their Greatest Hits at No. 1 on the Billboard charts. Nineteen of that double-album's 20 tracks were written and produced by Holland/Dozier/Holland.
JUST SAYIN':
"As the Supremes became more and more popular, we knew that along with how hard we were working and the magic we were creating, we were also lucky.  We had a strong life force, and things just happened for us" – Diana Ross, from secrets of a sparrow, her 1993 autobiography.  
VOTE FOR YOUR FAVORITE TRACK ON THE ALBUM:
Producers: Lamont Dozier and Brian Holland.
Songwriters: Lamont Dozier, Brian Holland, Edward Holland Jr., R. Dean Taylor.
Pre-makes: "Love Is Like A Heat Wave" (Martha & The Vandellas, 1963), "It's The Same Old Song" (The Four Tops, 1965), "I Guess I'll Always Love You" (The Isley Brothers, 1966).
Re-makes: "Going Down For The Third Time" (Phoebe Snow, 1976); "I'll Turn To Stone (Dennis Edwards, 1967; Jackie DeShannon, 1968; Barbara Randolph, 1968); "Love Is Here And Now You're Gone" (Donnie Elbert, 1972; Michael Jackson, 1972; Phil Collins, 2010), "Remove This Doubt" (Elvis Costello, 1995); "You Keep Me Hangin' On (Vanilla Fudge, 1967; Wilson Pickett, 1969; Kim Wilde, 1986; Reba McEntire, 1995; Human Nature, 2005; Madness, 2005; The Glee Cast, 2009).