Classic Motown gets its grooves ready for Record Store Day April 22, with the planned worldwide release of two vinyl packages on that date.
The first is diana, the biggest-selling album by the Queen of Motown, first issued in 1980. It was written, played and produced for Diana Ross by Nile Rodgers and Bernard Edwards of Chic, one of music's hottest creative teams of the time. The set unleashed the hit singles "Upside Down," "I'm Coming Out" and "My Old Piano."
Yet when first delivered to Motown, the original tapes of the album were considered too "far out" by Diana and her usual engineering team. A remix was applied to make the record more commercial to their ears, which is what music fans heard in 1980. The original mixes became something of a holy grail for diehard followers of both Diana and Chic, and they were finally released by Motown in 2003 as part of a CD deluxe edition.
Now, for the first time, the "alternative" diana is to be available as a 2LP vinyl set on Record Store Day. "Our concept was to make [the album] more avant-garde, and [Motown's] was to make it a little bit more accessible and commercial," Nile Rodgers declared in liner notes for the 2003 edition. "We were going to take our names off the record. Thank God, cooler heads prevailed and said: 'There's something great here, but it has to be made more accessible'."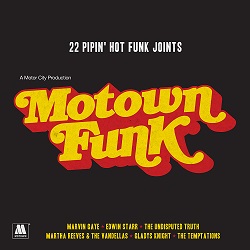 The second Classic Motown release for Record Store Day is Motown Funk, a 22-track, 2LP set on see-through red vinyl. It features tracks from the late 1960s and '70s by such artists as the Temptations, Gladys Knight & the Pips, Marvin Gaye, the Commodores, Edwin Starr, the Undisputed Truth and the Four Tops.
The material underscores the grit and funk of Motown's house band – known, appropriately, as the Funk Brothers – and demonstrates how essential they were to the success and influence of the Motown sound. Motown Funk also includes tracks by artists less familiar than the company's usual headliners, including Sisters Love, Willie Hutch and Barbara McNair. Another act featured are Frankie Valli & the Four Seasons, whose "Sun Country" originates from the Jersey boys' one and only album for Motown's MoWest subsidiary label. Another MoWest act, Odyssey, is represented on Motown Funk by "Our Lives Are Shaped By What We Love," first released in 1972.