JAMES JAMERSON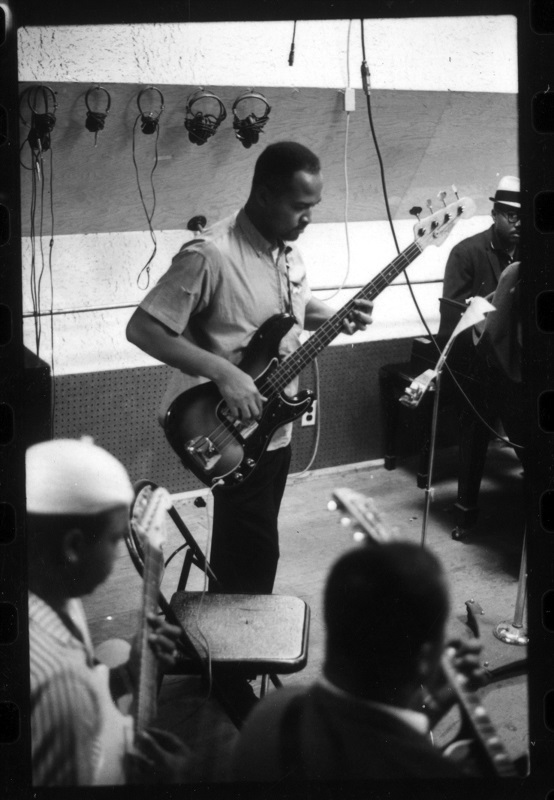 The musician whose bass lines were the bedrock of Motown's greatest hits stands among his fellow players in the recording studio where those masterpieces were created.
The heartbeat of the classic Motown sound, bassist James Jamerson is photographed here in the basement recording studio (nicknamed the "Snakepit") of the company's 1960s headquarters on West Grand Boulevard, Detroit. It can be said that no single musician defined that sound, but Jamerson came close: he was among a handful whose extraordinary playing was identifiable on records which helped to build the legend. They include Martha & the Vandellas' "Dancing In The Street," the Temptations' "My Girl," the Four Tops' "Reach Out I'll Be There," and Marvin Gaye's "What's Going On." All four of those Motown signature hits were noted in the Rock & Roll Hall of Fame's credits for Jamerson when he was posthumously inducted in 2000.
In the above image, Jamerson is playing his trademark 1962 Fender Precision bass, dubbed "the funk machine," although the date of the session is unknown. Guitarist Eddie Willis (in the white cap) is shown with his Stratocaster, while to his right, Robert White is seen with his Gibson L-5. The keyboardist, partially obscured, is Motown bandleader Earl Van Dyke. They and other essential players were celebrated in the 2002 movie, Standing In The Shadows Of Motown, inspired by the musician who helped bring them overdue acclaim, Allan "Dr. Licks" Slutsky. His 1989 biography of Jamerson, bearing the same title as the film, was a foundation stone of that recognition. In the book, the bassist's many admirers are quoted; one is Paul McCartney, who said that Jamerson's "style of bass playing for Motown was one of my major influences when I was learning electric bass."
Motown seldom identified the individual names of its studio band during the 1960s, and their first significant credits on album artwork appeared in 1971 on releases by Marvin Gaye and Valerie Simpson. The first substantial interview with James Jamerson was that done by writer Nelson George in 1984 for Musician magazine, which ultimately led to his authoritative Motown book, Where Did Our Love Go. Talking about his style and that of drummer Benny Benjamin, Jamerson told George, "We didn't need sheet music. I started to play, he started the beat, we'd look at each other and know whether we needed a triplet, quarter triplet, or double time or whatever. We could feel the groove together."
Jamerson was born January 29, 1938, in South Carolina; he moved to Detroit in the the early '50s, and began playing with those working with and for Motown founder Berry Gordy, Jr. towards the end of that decade. He died prematurely August 2, 1983 in Los Angeles at age 45. Aside from his induction into the Rock & Roll Hall of Fame, the musician was recognized with a Grammy lifetime achievement award in 2004. He and his fellow Funk Brothers (the nickname given to the Motown house band) were memorialized with a star on the Hollywood Walk of Fame in 2013. His cousin, musician Anthony McKnight, has been striving for years to have Jamerson's achievements acknowledged by the South Carolina Hall of Fame, and has started an online petition to that end. That recognition, to paraphrase the title of a Stevie Wonder hit on which Jamerson is recognizably heard, has not yet been signed, sealed and delivered.