THE ISLEY BROTHERS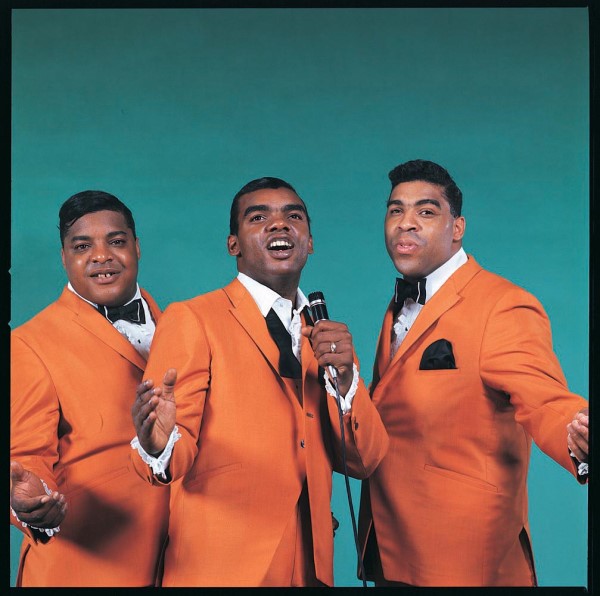 Suited, booted and soulful: O'Kelly, Ronald, Rudolph.
Photo sessions were evidently not a priority for the Isley Brothers during their short but distinguished stay at Motown Records from 1965-68. The artwork of their first album there, This Old Heart Of Mine, featured anonymous young lovers, leaning on a beach ball and gazing into each other's eyes, as surf splashed behind them. No sign of the brothers, front or back. Neither were they pictured on their third Tamla album, Doin' Their Thing, released shortly after leaving Berry Gordy's business to set up their own label, T-Neck. Only their second Tamla title, Soul On The Rocks, displayed Ronald, Rudy and O'Kelly on the front cover, relaxing by rocks – although the three were still suited and booted.
The colourful image shown above comes from what's thought to be the Isleys' first Motown photo call, sometime in 1966. Pictures from the shoot have since been put to plentiful use, not least for the jacket of a unique U.K. album release, Tamla Motown Presents The Isley Brothers. In 1968, the trio had particularly impressed the kingdom's record buyers, who turned a reissue of their first Tamla 45, "This Old Heart Of Mine (Is Weak For You)" into a Top 3 pop smash – a higher chart position that the record even achieved in the United States. (For more about the Isleys' career, read here)
In 1972, EMI Records, Motown's London-based international licensee, compiled and issued the 12-track Tamla Motown Presents The Isley Brothers via its well-established budget-price label, Music For Pleasure. The front cover featured the Isleys in those unmistakeable orange suits from '66, but more significant was the fact that a number of the album's tracks had not even been released in the U.S. by then – a coup for British Motown fans.
The Isleys' output at Hitsville U.S.A. may have been modest compared to some of the company's other acts, but its calibre has never been in doubt. "This Old Heart Of Mine (Is Weak For You)" is regarded as one of the finest works by the Holland/Dozier/Holland team, while "I Guess I'll Always Love You" is another much-loved H/D/H recording with Ron, Rudy and O'Kelly. The latter single was a Top 20 success in Britain in 1969, as was "Behind A Painted Smile," which beamed into the Top 5 later that year. Back home, the latter track had been thought fit only for the B side of the Isleys' last Motown recording, "All Because I Love You." By then, the orange suits were history, and the born-again brothers felt more comfortable dressed in dashikis.