The Miracles: hearth and home for Christmas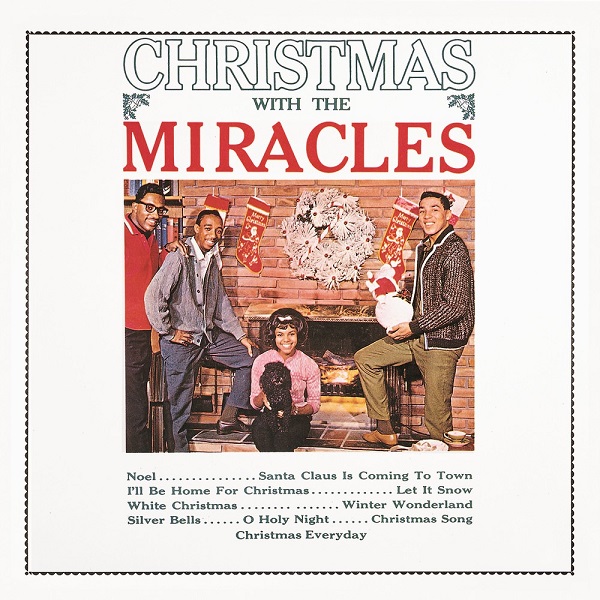 From left:  Bobby Rogers, Ronnie White, Claudette Robinson (with Suzette) and Smokey Robinson, 1963
Smokey Robinson must have greeted Christmas with satisfaction in 1963. It wrapped up not only the Miracles' best year to date – with two Top 10 pop smashes, "You've Really Got A Hold On Me" and "Mickey's Monkey" – but also, as a songwriter and producer, he had created back-to-back Top 20 pop hits for Mary Wells with "Two Lovers" and "Laughing Boy." Meanwhile, his group in concert had been seen by more fans than ever, via the Motortown Revue's three-month midyear run, followed by a six-week repeat in the fall. The latter closed with two days (and eight shows) in November at Detroit's Fox Theater, with standing room only.
The fall of '63 also saw the release of Motown Records' first-ever holiday album, Christmas With The Miracles. It comprised 10 festive tracks recorded at Hitsville and Detroit's Graystone Ballroom that summer and in August 1962. All but one were standards, including "Santa Claus Is Coming To Town," "White Christmas," "Noel", "Let It Snow" (featuring Claudette Robinson's lead vocal) and "The Christmas Song." Ron White produced six songs, while Smokey oversaw four, including his own composition, "Christmas Everyday." The LP came out in late October.
The artwork for Christmas With The Miracles was designed in-house at the record company, with a cover photo taken at the Livonia home of sales and promotion chief Barney Ales. "I was the only one [at Motown] with a fireplace," Ales recalled. "My wife Mitzi got the Miracles sitting on the hearth, with Claudette holding our first dog, a black poodle called Suzette." Pictured on the front of the LP sleeve were Suzette and four of the group; member Pete Moore was on military service. "Smokey saved all the Miracles' royalties for Pete until he got out of the army," said Ales. "That's how Smokey was."
Barney Ales was co-writer with Berry Gordy of Motown's very first holiday 45, "Xmas Twist," by the Twistin' Kings – in effect, the company's house band. It was issued in November 1961, and also included in the Kings' album, Twistin' The World Around. Two years later came Christmas With The Miracles, supported by a single, "The Christmas Song," although that was only a promotional release. In 1970, the group re-recorded the song for their second Christmas album, The Season For Miracles.
"Family and friends made the holidays heavenly," wrote Claudette Robinson in liner notes for a 1999 compilation of the group's seasonal sides, Our Very Best Christmas, "by bringing us dinner backstage with all the trimmings: turkey, dressing, ham, candied yams, collard greens, green beans with white potatoes, macaroni and cheese, mashed potatoes and gravy, sweet potato pie, sock-it-to-me cake, Jello-o, peach cobbler, etc. – etc., etc. etc.!!!" She added, "Being HOME for CHRISTMAS was the greatest gift that we, the Miracles, could have been given."
Listen to the album here to get you in the Christmas spirit: