The Tamla Motown U.K. Revue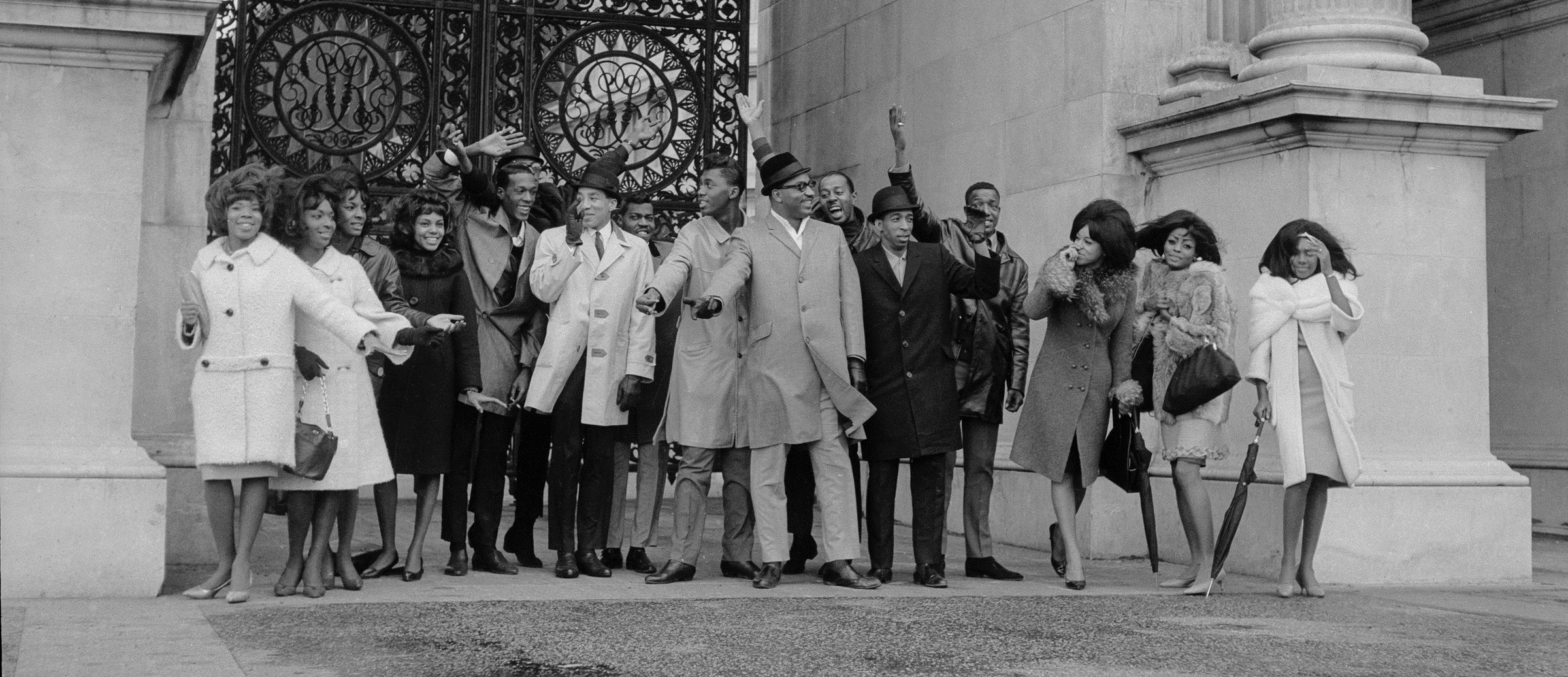 From left to right: Rosalind Ashford, Betty Kelley, Martha Reeves, Claudette Robinson, Eddie Kendricks, David Ruffin (hidden), Smokey Robinson, Pete Moore, Otis Williams, Bobby Rogers, Melvin Franklin, Ronnie White, Paul Williams, Florence Ballard, Diana Ross and Mary Wilson.  Stevie Wonder and the Earl Van Dyke Six are on the tour, but not shown here.
With 1964 as the year when Motown Records made its international breakthrough with hits by Mary Wells and the Supremes, Berry Gordy Jr. wanted to raise awareness of his company's brand and unique sound, as well as its artists. Up to then, Motown's music was released in Britain on the Stateside label, part of EMI. Gordy persuaded EMI to set up the Tamla Motown label, combining the names of two of Gordy's U.S. imprints, and the launch was set for March 1965.
To support the unveiling of Tamla Motown, Gordy arranged for a U.K. concert tour of four of his prime acts – Martha & the Vandellas, Stevie Wonder, Smokey Robinson & the Miracles (this was an early deployment of the fuller name) and the Supremes – to play in 20 cities in England, Scotland and Wales during March and April 1965. Backing the stars were the Earl Van Dyke Sextet, and British hitmaker Georgie Fame was added to the line-up for extra boxoffice appeal.
The tour was a critical success, but a commercial disappointment. However, it proved to be an important milestone in Motown's international rollout, raising awareness of the label and its extraordinary stable of talent, and laying the groundwork for the years ahead, when audiences in Europe and elsewhere would come to know – and buy – the music of Hitsville U.S.A.