ALBUM OF THE MONTH
FIVE REASONS TO LISTEN:
The group's first four consecutive No. 1 hits on the Billboard pop charts, kicking off with "I Want You Back."
Their twelve Top 10 hits on the Billboard R&B charts, including five which reached No. 1.
Michael's first solo No. 1, "Ben," nominated for an Academy Award.
The brothers' thirteen U.K. chart-riders, including "I Want You Back," which was a Top 10 success – twice.
Hit J5 versions of songs associated with others, including Jackson Browne's "Doctor My Eyes" and Bill Withers' "Ain't No Sunshine."
FOUR FAST FACTS:
Motown founder Berry Gordy co-wrote eight of the album's hits.
"Ben" reached around the world: it was No. 1 in Australia for eight weeks.
In Britain, "One Day In Your Life" topped the charts, its best chart ranking anywhere.
The album's earliest song: "Rockin' Robin," a No. 1 in 1958 for Bobby Day.
VIDEO:
FULL TRACK LISTING:
DETAIL:
The tracks assembled on this album – the Jackson 5's magnetic music and Michael's peerless solo sides – have together been bought by millions of people since their original release by Motown Records. The songs are in the memory banks of millions more, and they continue to be played on radio, television and online in every corner of the globe. The brothers themselves still perform many of these hits in concert, while dozens of next-generation stars have featured them – and still do – in such TV talent and music shows as American Idol, Pop Idol, The Voice and Glee.
There's a special place in music history for "I Want You Back," the Jackson 5's Motown debut. It was released on October 7, 1969, and eleven days later, Diana Ross introduced the group and the song to millions watching ABC-TV's The Hollywood Place. The excitement was palpable. By January, the single topped the charts, and the world would never be the same again for Michael, Jermaine, Jackie, Tito and Marlon.
"I Want You Back" was the work of The Corporation, an identity given by Motown founder Berry Gordy to a team of his company's songwriters and producers in Los Angeles: Freddie Perren, Alphonso (Fonce) Mizell and Deke Richards, plus Gordy himself. "I knew this thing went up to a high E flat," said Perren about the song in The Billboard Book of Number One Rhythm & Blues Hits, "and thought, 'Wow, this guy has really got to sing high to get this.' " In fact, as Freddie was working on the song for lead singer Michael, he was constantly wondering if reaching that note was possible. "Finally," he recalled, "we took a try at it – and he just hit it the first time."
The smash hit that "I Want You Back" became? It was only the beginning. The Jackson 5 followed it with three more Number Ones during 1970, to become the first group ever to claim the peak of the Billboard Hot 100 with their first four charted records. The Corporation created the equally electric "ABC" (No. 1 in April) and "The Love You Save" (No. 1 in June), while a different team – Gordy again, but this time with Hal Davis, Bob West and Willie Hutch – composed "I'll Be There," which topped the best-sellers in October. The song "grabbed me from the moment I heard the demo," wrote Michael in his autobiography, Moonwalk. "I didn't even know what a harpsichord was until that record's opening notes were played for us." Forty-seven years later, Jermaine Jackson performed "I'll Be There" to an audience of millions with a Welsh community choir competing in the final of British TV's latest talent contest, Pitch Battle.
With "Mama's Pearl," the Corporation reprised the high voltage of "I Want You Back," but the Osmonds and the Temptations held the brothers from achieving a fifth consecutive No. 1 on the Billboard pop and R&B best-sellers, respectively. Their return to the R&B summit took place with "Never Can Say Goodbye," written by Clifton Davis, an evangelist's son who had become an actor and songwriter in Los Angeles. Producer Hal Davis (no relation) originally heard the song through thin walls at Motown's California offices, and approached Clifton. "I said, 'That's a hit, can I cut it?' He said, 'Yeah, who've you got?' And I said, 'I'll cut it on the Jackson 5 right away.' He said, 'When you gonna cut it?' I said, 'Tonight.' "
Clifton Davis was also responsible for writing another Jackson 5 trip to the Top 10, with "Lookin' Through The Windows" in 1972. Just a few months earlier, Michael had made his solo debut with "Got To Be There." At the time, the Jacksons and the Osmonds were seen as rivals, and Donny Osmond had just released his first solo single. "Why can't [Michael] have a solo career and be with the Jackson 5," asked Motown A&R assistant Suzee Ikeda, whom Michael once described as "his other half." Berry Gordy apparently agreed, and "Got To Be There" was the outcome. It reached No. 2 on the Billboard charts, and one slot higher on the Cash Box Top 100.
Next, Michael revived a "bird" song from two decades earlier: "Rockin' Robin," a late 1950s No. 1 for Bobby Day. This remake was produced by two Hal Davis proteges, Mel Larson and Jerry Marcellino, and arranged by James Anthony Carmichael. (The latter was to help make a string of hits for the Commodores, but not before they toured the U.S. in 1971 as an opening act for the Jackson 5.) In Michael's hands, "Rockin' Robin" flew into the Top 5 in April '72.
His next achievement was even more memorable. "Ben meant a lot to me," Michael declared in Moonwalk. "Nothing had ever excited me as much as going to the studio to put my voice on film. I had a great time." Both the film and the song were unusual, built around the story of a dying young man who befriended a rat. "A lot of people thought the movie was a bit odd," admitted Michael, "but I was not one of them." The lyrics of the song were the work of Don Black, best known for another movie about animals, Born Free. "Since that was about a lion, I suppose he figured I'd be a good choice to write about a rat," Black recalled in The Billboard Book of Number One Hits. "Ben" became Michael's first solo No. 1.
The Jackson 5's popularity was truly global. In 1972, they toured Europe, including an appearance at the Royal Variety Performance show in London, attended by the Queen Mother. "England was our jumping-off point," Michael remembered, "and it was different from any place we'd been before, but the farther we travelled, the more exotic the world looked." In 1973, the brothers played concerts in Asia. Michael was certainly affected, "because these countries made me understand there was more to life than the things you could hold in your hand or see with your eyes."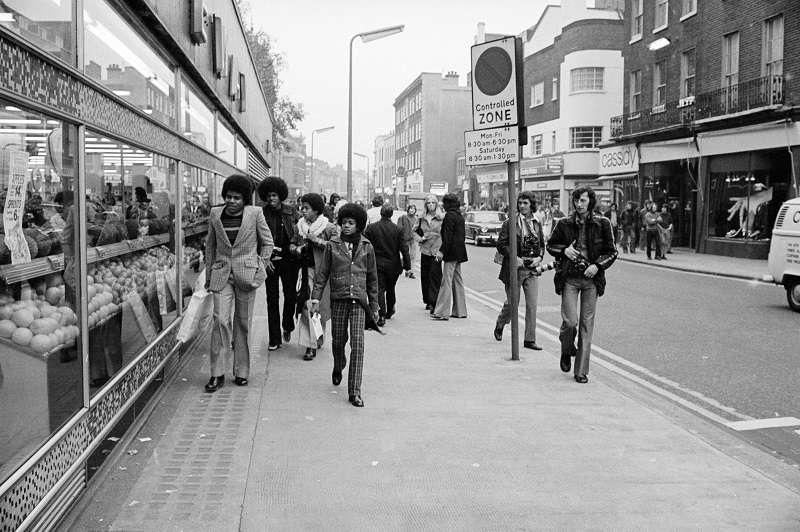 The Jackson 5's hits abroad included a couple which were not released as singles at home – namely, "Doctor My Eyes," a song by California singer/songwriter Jackson Browne, and for Michael, Bill Withers' "Ain't No Sunshine." The latter maintained the Jackson movie connections; his recording was arranged by Eddy Manson, an experienced film score composer. Another Hollywood moment was Michael's interpretation of "Happy (Love Theme From Lady Sings The Blues)" on his solo LP, Music & Me.
His next solo album, Forever, Michael, was notable for a link to Motown's past. Three tracks, including "We're Almost There," were written by a different set of musical brothers, Eddie and Brian Holland. These were two-thirds of the Holland/Dozier/Holland triumvirate, prime movers in Motown's creative and commercial explosion in the 1960s, who delivered worldwide hits for the Supremes, Martha & the Vandellas, the Four Tops and more. Eddie, Brian and Lamont Dozier left Motown in 1968, but in the mid '70s, the Hollands wrote and produced for several of the company's artists, Michael among them.
Yet the most popular track from Forever, Michael turned out to be "One Day In Your Life," a tender ballad co-written and produced by Sam Brown III. It was chosen as a U.K. single in 1975 by one of Motown's team in London, John Marshall. The release did not sell strongly on first release, but Marshall's instinct for a hit proved was validated when "One Day In Your Life" was reissued six years later, and climbed all the way to No. 1.
In the wake of his global Thriller conquest in the early '80s, Michael returned to the upper reaches of the U.K. charts with music made for Motown. This time, the hit was "Farewell My Summer Love," a track produced years earlier by Freddie Perren and Fonce Mizell. It was marketed as a discovery in "the platinum vaults of Motown," and journeyed to the Top 10 in 1984. (By contrast, "Farewell My Summer Love" was not as successful in the U.S.)
The Brits long maintained their affection for the Jacksons' Motown years. A local remix of "I Want You Back" took the record back to the U.K. Top 10 in the spring of '88, and several years later, a similar remix treatment was given to "It's Your Thing." That song, first recorded by the Isley Brothers, had become part of the Jackson 5's concert set in 1970. They performed it during the opening leg of their record-breaking U.S. tour that year, as captured in Live At The Forum, a subsequent souvenir (released in 2010) of the music and mayhem which greeted the young brothers from Gary, Indiana, as the world was falling at their feet.
JUST SAYIN':
"If you ever heard a young entertainer sing his or her heart out once in your life, I don't care who it was and where it happened, but I guarantee you: the experience was nothing like the night I saw Michael Jackson and his four brothers. When the performance was over, everyone knew they had just witnessed something very special; something just short of a miracle, and as close as you can come to a phenomenon." – Deke Richards, a member of The Corporation, writing in liner notes to Come And Get It: The Rare Pearls, a 2012 set of previously unreleased Jackson 5 recordings.
VOTE FOR YOUR FAVORITE TRACK ON THE ALBUM:
Producers: Sam Brown III, The Corporation (Freddie Perren, Alphonso Mizell, Berry Gordy, Deke Richards), Hal Davis, Brian Holland, Mel Larson, Jerry Marcellino, Fonce Mizell, Freddie Perren, Bobby Taylor.
Songwriters: Renee Armand, Don Black, Sam Brown III, Jackson Browne, Don Fenceton, Brian Holland, Edward Holland Jr., O'Kelly Isley, Ronald Isley, Rudolph Isley, Michel Legrand, William "Smokey" Robinson, Keni St. Lewis, Walter Scharf, Jimmie Thomas, Elliot Willensky, Bill Withers.
Pre-makes: "Ain't No Sunshine" (Bill Withers, 1971), "Doctor My Eyes" Jackson Browne, 1972), "Happy (Love Theme From Lady Sings The Blues)" (Bobby Darin, 1972), "It's Your Thing" (Isley Brothers, 1969), "Rockin' Robin" (Bobby Day, 1958).
Re-makes: "Got To Be There" (Chaka Khan, 1982; Boyz II Men, 2007), "I Want You Back" (Cleopatra, 1998; Human Nature, 2005; K.T. Tunstall, 2007; Smokey Robinson, 2009; Sheryl Crow, 2010), "I'll Be There" (Andy Williams, 1971; Replacements, 1985; Mariah Carey, 1992; LaToya Jackson, 1995; Marcus Miller, 2012), "Never Can Say Goodbye" (Isaac Hayes, 1971; James Brown, 1972; Gloria Gaynor, 1974; Sheena Easton, 2000).